Although virtual reality has made a significant impact in numerous industries over the past few years, it is likely that the majority of your clients have yet to experience it. VR headsets have become more accessible, agile, and user-friendly than ever before, but it can still be quite intimidating for clients when confronted with unfamiliar technology. For fear of looking foolish, your clients may feel apprehensive about trying on a headset for the first time, especially in a business setting.
We have had the opportunity to connect with our clients and learn that the best way to ease new users into the world of VR is to introduce them to VR in person. Being able to walk through the process in person allows you to control the experience, making it as engaging and collaborative as possible. Plus, guiding your clients through their first experience in-person gives them the added assurance and confidence of your support throughout their time in VR.
To help you engage with your clients, we have outlined 3 simple ways you can use VR for client presentations and how this technology plays a specific role in improving communication and understanding.
Mobile VR Headsets = Opportunity for Greater Interaction
In the last year, we've seen a shift in the VR market with several new mobile VR/XR headsets entering the market. Meta, known for its portable standalone questline, shook things up last year when they announced the Meta Quest Pro, their first headset that had a focus on not just VR, but AR, making it one of the first mainstream XR devices available to consumers. They followed this up most recently with their Meta Quest 3 headset which also incorporated those XR features. At the same time, Apple announced their Apple Vision+, a portable headset with a focus on AR and multitasking.
Manufacturers of VR headsets have taken cues from their customers and focused their improvements on accessibility and quality. VR has become convenient and travel-friendly, allowing you to grab-and-go between various presentations while providing your client with a higher level of realism. Previously, the only VR headsets available were tethered, making it incredibly inconvenient to bring the experience to your client. Packing up the wires, the headset and the sensors can be complex and time-consuming - two qualities that do not make an impressive business presentation.
With the continuing line of new standalone VR headsets, using VR for business has become easier for all companies, big and small. If you're looking for a recommendation of which headset you should get for yourself, you can check out our headset guide. A handheld introduction to the world of VR like this will help your clients feel like they have the tools to communicate better with you, be more involved in the design process, and have a stronger voice in important decisions.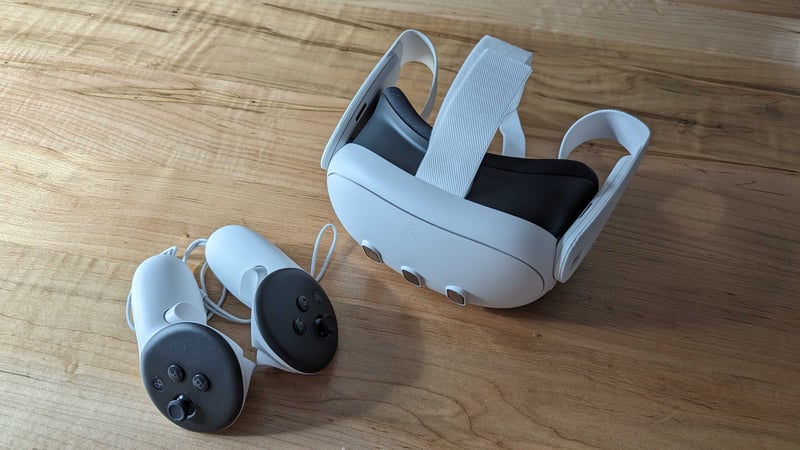 The Meta Quest Line offers affordable standalone headsets for around $400
But what if my clients are resistant to VR?
You may very well have clients who feel overwhelmed or even threatened by the thought of being expected to use VR technology. The best way to approach this resistance is to listen to their concerns, answer questions they might have, and explain that you're communicating with virtual reality to make it easier for them to understand your designs and your process. VR is, ultimately, for them—not you. It might also be helpful to show them how easy it is to use and navigate by handing them a headset and walking them through this unfamiliar experience.
Also, make sure you have some ways to pivot if they truly are averse to VR. We recommend taking the straps off the headset, this means they can just hold it up to their face and take it down if they feel claustrophobic or motion sick. With Yulio, you can also view a VR project on a computer monitor using our fish tank view method. It is a great option for those who don't want to put on a headset.
Communicate Better During the Design Process
VR can be a highly effective communication medium in both the early and final decision-making stages. 3D design programs like SketchUp and AutoCAD are great for showing the exact specs and layout of the project. Although it may make perfect sense for architects and designers, for the untrained eye, it can look very confusing and disorienting. VR builds a bridge where architects and designers can still showcase their vision in a way that is clearly understood by their clients.
VR in the Early Stages
VR allows you to quickly do basic blocking and show your clients various layouts. This will help them understand the space they're working with right from the start, and it'll help set you on the right track early on based on their feedback. Plus, since they can visualize and understand the floorplans and sketches, presenting in VR can help them feel more involved in the process. The simple act of including VR in business presentations can empower your clients through a mode of perfect understanding.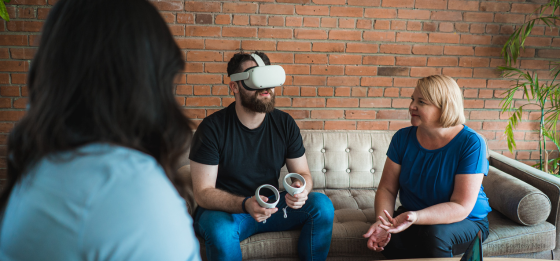 The Final Stages
With highly detailed, photo-realistic renderings, you can showcase the finished product to your clients in all its glory, and get much clearer feedback. Virtual reality has been a great tool for those in construction or in the visual design industry as it is able to point out errors and weak points before costly mistakes happen. Not only is VR the ultimate validation tool, but presenting your final renderings in VR has the added benefit of helping your clients feel more reassured of the real-life design they'll be getting, and be happier with the finished product when everything's completed.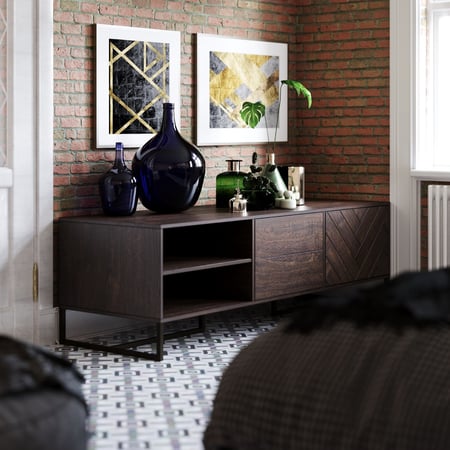 Showcasing beautifully rendered images like this from KiSP Visualizations helps your clients give exact and useful feedback.
Collaborate with Ease
Once you've got your clients feeling comfortable with the VR headsets, you can host collaboration sessions to generate discussions as well as collect feedback. Using a tool like Yulio's Collaborate feature, you can see what your clients are seeing, guide them to a spotlighted area, and meet with all stakeholders in the same virtual space. Hosting a Collaborate session is a great way to get your foot-in-the-door to initiate effective discussions with your clients.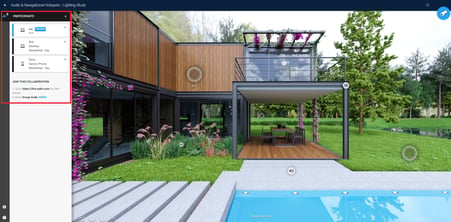 Host a Collaborate session for an engaging client presentation.
Plus, the beauty of this feature is that even if your clients cannot make a meeting, Collaborate has the ability to host remote participants. We understand how deadlines can quickly change so we designed this feature to be virtually frictionless, working around both you and your client's schedules.
One last tip we would like to share with you is to be mindful of the balance between the VR experience and interacting with your clients. Using VR during the entire meeting can become overwhelming and distracting, affecting the effectiveness of your presentation. It is important when meeting with clients in-person to spend some time with the goggles off (always remember that technology can never replace human interaction!).
The New Way to Conduct Client-Facing Meetings
Step into your client's shoes for a minute. Wouldn't you prefer an architect or designer that brings an added experience to your meetings? Especially if that tool can breathe life into their interpretation of your vision? It's not difficult incorporating VR into your design workflow. With the cost of headsets consistently becoming more affordable to robust VR presentation platforms, there are little to no barriers to begin adopting this disruptive technology. It's time to change how you usually meet with clients and make it extraordinary.
---
Curious to use VR for client presentations moving forward? Enroll in our free 5-day email course to begin learning about business-ready VR. For an in-depth guide on conducting VR business presentations, check out our Whitepaper that will cover all you need to know. Get inspired and start today!