Since 2014, e-commerce has become one of the fastest-growing industries in the world, and it shows no signs of slowing down. Back in 2014, the e-commerce market was making about $1.3 trillion. Fast forward to 2019, e-commerce has more than doubled its sales and has become the only trillion-dollar industry growing at a double-digit percentage each year.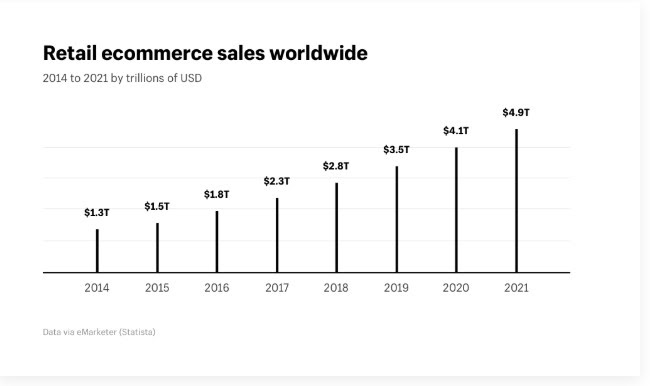 Retrieved from:https://ecommerceguide.com/guides/what-is-ecommerce/
In spite of the growth, many businesses still use brick and mortar locations for retail sales and building customer relationships.
Brick-and-Mortar vs. E-Commerce
The traditional showroom has proven to be a tried and true solution for businesses showcasing their products to potential customers. And while e-commerce is the next phase in purchasing patterns, there is a significant audience of consumers who still prefer to make purchases in person.
Hands-on experience with certain products, like investment items, makes a world of a difference to some consumers. Most consumers would not purchase vehicles, furniture, or pieces of art without experiencing the product first. Although e-commerce sites have become incredibly sophisticated and convenient, they have yet to resolve the challenge of accurately representing scale. Online retailers can share their product's specifications, but measurement errors result in purchases being returned for being too small, too large, or just not what was expected. Plus, nothing really beats in-person experience the product.
On the other hand, having a brick-and-mortar location means that both retailer and consumer are restricted geographically. While you may deliver an incredible showroom experience, your model is built on the basis of asking your clients to come to you.
Thankfully, there is a solution.
Virtual showrooms have become the solution that combines the convenience of e-commerce without compromising your client's in-depth interaction with your products. Blending VR into your showroom experience is not only engaging for your audience but allows them to personally engage with your products.
The process for creating a virtual showroom is simple and straightforward. Here are the 4 steps you should take for an extraordinary showroom experience.
Accessorize your Project with Hotspots
Yulio's hotspot feature allows you to enhance your VR showroom by providing extra information or directing your viewers to the next scene. Yulio currently has 3 different types of hotspots that would be perfect to incorporate into your virtual showroom.
Text Hotspots: This versatile hotspot allows you to share extra information about a specific product in your showroom. Use text hotspots to give a brief description of a product's specifications, as well as any additional information that you foresee would be useful for your client to know.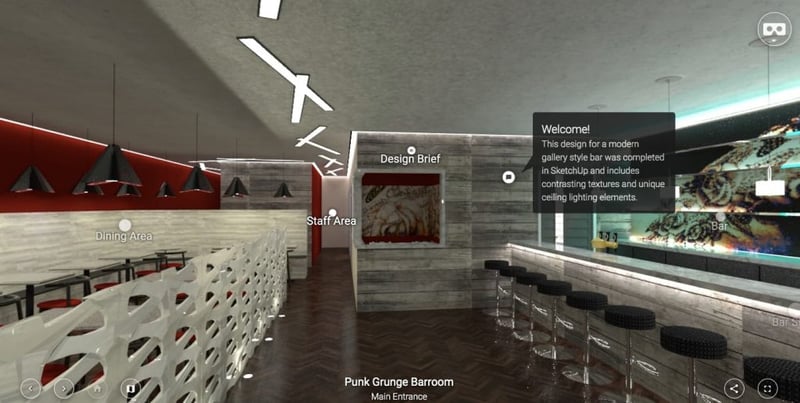 Use Yulio's Text Hotspot feature to share more information about your virtual showroom's space!
Image Hotspots: Adding an image into your scene helps your client understand more about your product in a visual way. This is a great feature if your product has any color, material, or shape variations. Although you could use a text hotspot for an in-depth description of the variants, letting your clients see the difference can help them in their decision-making process.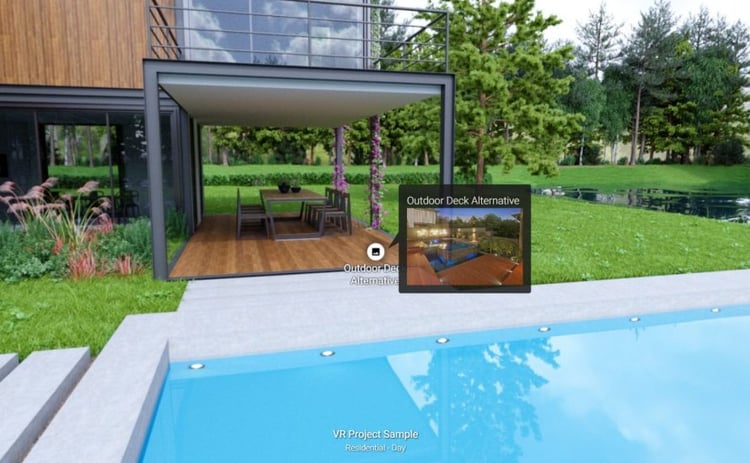 You can use Image Hotspots to highlight a specific product or to showcase the piece's different options.
Navigational Hotspots: Not only do navigational hotspots make your virtual showroom interactive, but this hotspot allows your clients to explore your whole showroom from different angles. Make the most out of this hotspot by including them into the various sections of your showroom. This allows your clients to quickly find what they're looking for in your virtual showroom.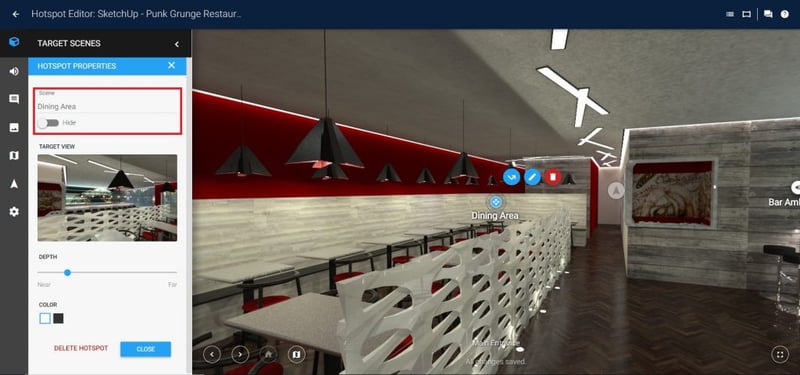 Navigational Hotspots transport your clients from one point in your showroom to another.
All of Yulio's hotspot features are powered by the latest in gaze and go technology. Simply look at the hotspot to trigger the feature.
Upload your Floor Plan
Once you have added all the necessary hotspots into your virtual showroom, it's time to add a floorplan. Floorplan navigation allows you to create a navigation overlay layer in your project. This helps your clients better orient themselves in your showroom and to navigate with ease.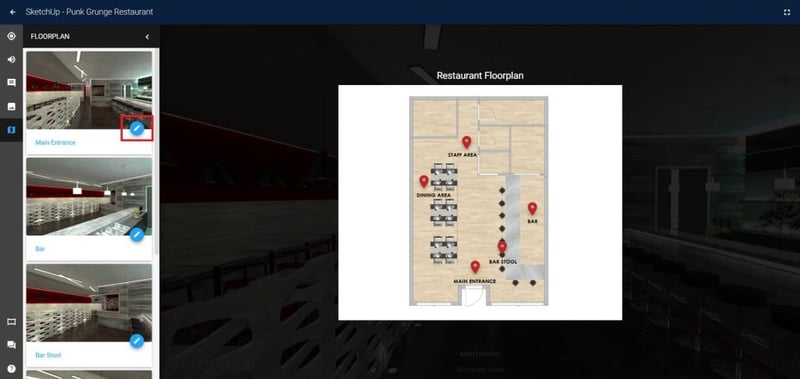 Navigating through your showroom has never been simpler - your clients can now get from point A to B with ease.
This feature is particularly useful if you have a larger virtual showroom. Yulio's navigational hotspots allow your clients to quickly zip through to the next scene, however, it can be a little annoying going through multiple hotspots to get to where they wanted to go. This is where floorplan navigation comes in handy.
This feature is presented in a "doll-house" view, giving a 2D bird's eye view of your whole showroom. All your clients have to do is to access the floorplan view and select where they wanted to go.
Custom Branding
We know that with any showroom - physical or virtual - your main goal is two-fold: helping your customers decide on the right products with confidence, and having a great experience with your business. Being able to execute these two goals will help your clients learn more about who you are as a company as well as why they should choose you moving forward.
It's important to remember that your company is not just a business but also a brand. Branding allows your clients to easily recognize your business and the experiences you offer, giving you the opportunity to reinforce your company's image.
One simple step you can take to connect your clients to your virtual showroom is to add your own custom branding.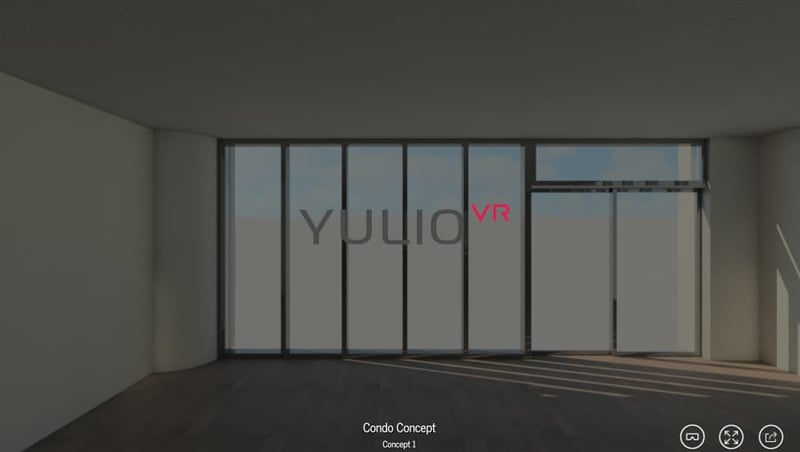 Add in your own logo to allow your audience to connect with your brand and products.
Once stepping into your virtual showroom, your audience will be instantly greeted by your custom branding. Yulio's Custom Branding feature allows you to add the logo of your company or organization into your virtual showroom. We created this feature to perform in this way as it allows your business to welcome your audience into your VR experience. Plus, first impressions are everything. Having your branding pop up in the first 5-seconds allows your clients a way to connect with your business in an interactive way.
This feature is available on all Yulio plans, allowing anyone with a Yulio account the opportunity to leverage your brand in VR.
Set your Default Starting View
Yulio's default starting view feature gives you the opportunity to make the best first impression on your clients. Previously, your rendered image or 360 photo would have to be exported just right in order to get the "money shot" of your showroom. Although it was technically doable, if you wanted to change the view a few degrees over, you would have to either reshoot your photo or rerender your image again.
Here is one example of a not so ideal default starting view.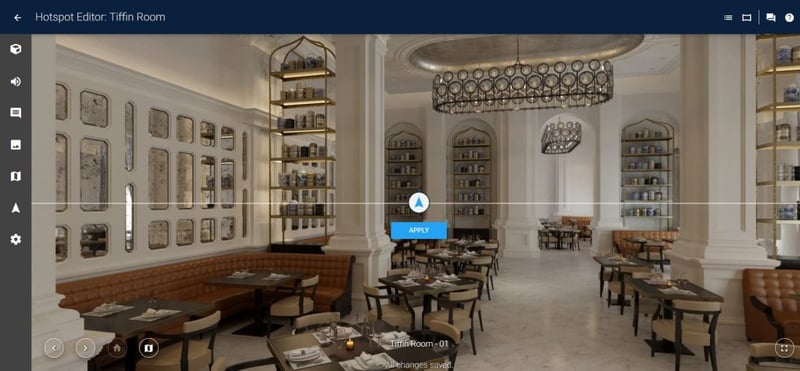 Now, with the Default Starting View feature, you can showcase the highlight of your VR showroom.
That's why Yulio created a simple fix to help you give your clients the best introduction to your virtual showroom possible.
Whether it's a certain area of your showroom you would prefer to highlight or a new collection you want to draw your client's attention to, this feature gives you the added flexibility and control over what you want to show your clients.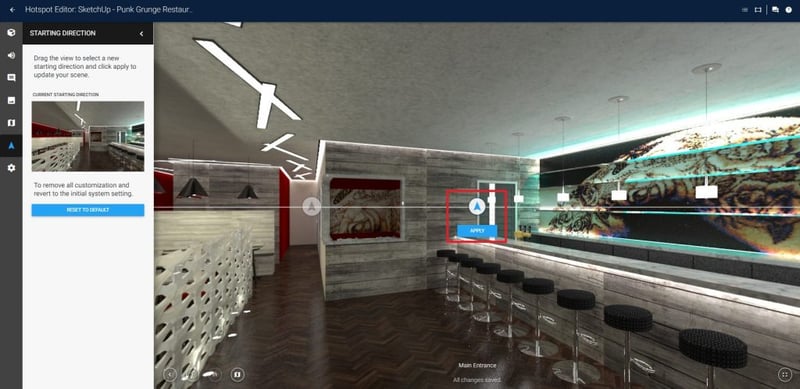 Begin every scene with your "money shot" with Yulio's Default Starting View feature.
The Future of Showrooms
Virtual showrooms are a key way to bring some of the benefits of a brick-and-mortar showroom to your e-commerce marketing. Not only can you showcase your products in a new and interactive way, but you can also share your virtual showroom with anyone in the world. Whether you want to share your virtual showroom on your social media platforms, include it in your next email campaign, or embed it onto your website, your business can now reach a wider audience by taking your showroom digital.
It's also important to remember that the main purpose of a physical or virtual showroom is to share extra information that will help your client on their purchase journey. Ultimately, having a virtual showroom without including extra information defeats the purpose of having a showroom at all. Utilize these 4 features to curate an unforgettable virtual showroom experience.
---
Here at Yulio, we strive for excellence in performance and integrity when it comes to our product, and customer service. To discover how you can use VR for showroom sales, check out this 2-page brochure to help you get started. To learn more about us and what we offer, please visit our page or take our product tour.