As technology continues to advance, Virtual Reality (VR) is increasingly being used to enhance customer experiences and improve business operations. One area where this technology is particularly useful is in VR vehicle dealerships. In the automotive and boating industries, VR technology is being used to create virtual showrooms, allowing customers to explore and customize vehicles from the comfort of their own homes.
In this article, we'll explore the steps a business would take to create its own VR vehicle dealerships. Whether you're a car dealership looking to implement VR technology or simply curious about the future of retail for cars, bikes, boats, and recreational vehicles, read on to discover the tools and resources you will need to create a VR vehicle dealership and bring your customer an immersive and interactive experience.
Step 1: Choose the Right VR Platform
Choosing the right VR platform for your VR Vehicle Dealership is a critical decision that will impact your customers' experience, as well as your bottom line. Many VR platforms are available, each with its strengths and weaknesses, so it's important to do your research and choose the platform that best fits your dealership's needs. Some important factors to consider when choosing a VR platform include cost, ease of use, and compatibility with your existing software and hardware. As well, you want something that will be intuitive for customers to use and embed on your website and share across social channels.

At Yulio, our VR platform is flexible to meet the many needs of any kind of showroom because we make it easy to use your showroom online, and as a lead generation tool.
Step 2: Gather Your Vehicle Assets
To create a VR vehicle dealership, you'll need 3D models of your vehicles. You can either create these models yourself or hire a 3D modeling company to create them for you. Make sure that these 3D models are compatible with your VR platform and design technology. 3D Vehicle models commonly have the following features in their models:
Exterior - The exterior of the vehicle should be accurately modeled with all the details, such as the body shape, doors, wheels, and lights. If there are several finishes or colors for your vehicle, make sure you have models for each to highlight how customizable your vehicle is.
Interior - The interior of the vehicle should be accurately modeled with all the details, such as the dashboard, seats, and steering wheel. If there are optional add-ons you want to feature, you will have to make sure you have models that show those as well.
Functionality – If possible, the 3D models should be interactive, allowing customers to interact with the vehicle's features. This could include opening and closing doors or storage areas to highlight cargo space.
Step 3: Design Your Virtual Showroom
Once you've chosen your VR platform, the next step is to design your virtual showroom. This is where your customers will interact with your vehicles, so it's important to create a showroom that is visually appealing and easy to navigate.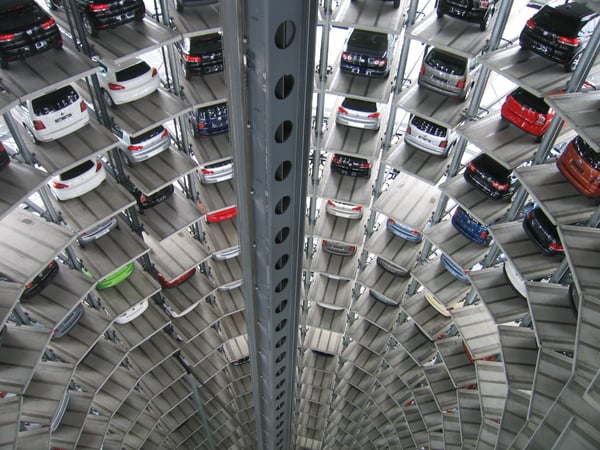 If you have an in-house visualization or design team that uses software compatible with your VR platform, this is a task that would be suited to them. However, you can also work with an external team to help visualize your virtual space. No, matter whom you work with here are some factors you should consider:
Lighting – Even in a virtual space, lighting is crucial to any environment. Make sure to experiment with whatever lighting engine you are using to make sure are creating a warm bright environment.
Space – Even though you don't have to worry about having enough space in a VR space, you still need to be smart with your space. Don't make things too busy and overwhelm your customers.
Branding – You want to make sure that your space isn't too generic and is well-branded with your company colors, logos, and more. This way if your VR space is shared it can easily be linked to your organization.
Product Information – Add text, video, or audio hotspots that allow people to explore your product's features more in-depth.
Product context - In the case where you might be using a VR vehicle dealership to sell recreational vehicles (Boats, ATVs, etc.) you may want to create a virtual environment that relates to how that vehicle will be used, such as in the water or a dirt trail.
Step 4: Launch and Promote Your VR Vehicle Dealership
The next step is to launch and promote your VR vehicle dealership. You'll want to employ some strategies to make sure your customers are aware of it. When launching your VR vehicle dealership, consider the following:
Social videos - Promote your VR showroom through social media specifically showing videos from inside the virtual showroom to show exactly how people can interact with your product.
Email Campaign – Make sure your current clients are prospects are informed and send out a link to your VR vehicle showroom to them directly.
Engagement - Encourage customers to engage with your VR showroom by offering incentives and discounts.
Incentive examples: Check out our virtual showroom for a free consultation or exclusive offers.
Chat - Consider adding live chat to answer questions and turn your VR vehicle dealership into an interactive sale tool.
Step 5: Track Your Showroom Data
Now that your VR vehicle dealership is live and in the hands of your clients, you can now take advantage of the data collected through your VR platform. You can track how exactly your customers are interacting with your products in the virtual showroom. Are they interacting with a specific product more often? What features are people investigating more than others? You can take this data and continue to update and configure your showroom to tailor it to your client's needs.
Stand Out With your VR Vehicle Showroom
Building a VR Vehicle Dealership can revolutionize the way vehicle manufacturers do business and provide customers with a fully immersive and personalized shopping experience. By creating virtual showrooms, customers can explore and customize vehicles, making the buying experience more engaging and enjoyable. Additionally, VR technology can help dealerships to reduce overhead costs, attract new customers, and stand out from the competition.