Virtual Reality isn't a new piece of technology. While the VR revolution started years ago, many people are still feeling intimidated by the technology and haven't had first-hand experience with it. What's tried and true is often what we stick to, and new changes, let alone brand new technologies, will always come with a tad of hesitancy. However, whether it's the overall fear of the unknown or uncertainty of how to get started, the majority of people view VR as inaccessible, expensive, and a tool they will need to relearn how to use or navigate.
The good news is that many of the concerns are misconceptions that surround virtual reality and its applications. From the true cost of starting up to the actual value that VR can bring to your processes, we're here to share 5 reasons why you shouldn't feel intimidated by VR and answer the age-old question of: "is VR worth it?".
Let's dive right in.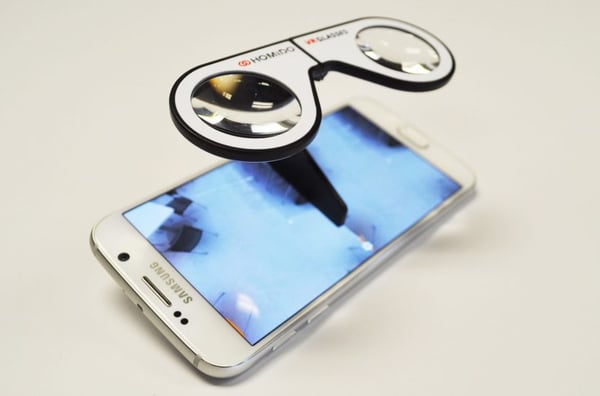 1. Technology you Already Know and Love
Contrary to popular belief, VR does not always require any new learning. While this belief is founded on navigating VR headsets, there are simple plus budget-friendly solutions that will allow you to view your VR experiences on devices you're already familiar with. If you're hoping to try VR before making a large investment, chances are you're already halfway there.
The majority of modern smartphones already come equipped to support viewing in virtual reality. All you would need to actually experience the immersive environments is a smartphone VR viewer like a Google Cardboard. Plus, an added bonus is that many VR applications like our Yulio VR Viewer app are free to download. Not only is this a really inexpensive way to get started with VR, but you also won't need to navigate a new piece of unfamiliar hardware. Which leads us to our next point.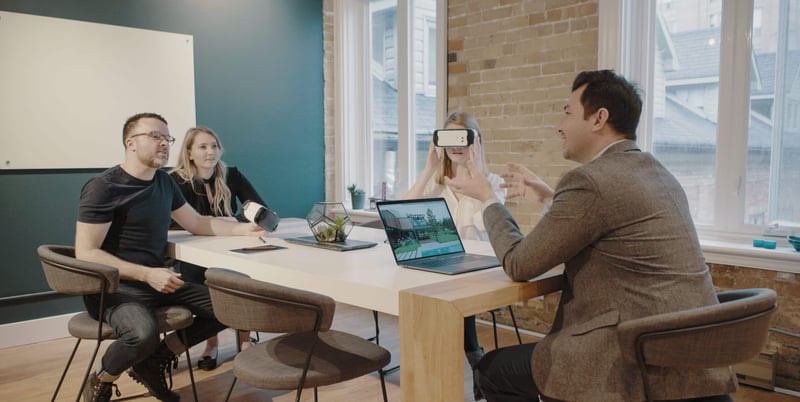 2. It's Intuitive
Now, this is relevant depending on how you're hoping to use VR, but VR applications and platforms for business have been built to solve various barriers in your workflows. Whether you're looking to improve communication with your clients or hoping to impress them with new tech and an incredible experience, the platforms are built ultimately by experts who understand your points of friction to serve the end-user.
Especially for certain industries that utilize CAD programs and 3D modeling tools, chances are you're already creating content that would be compatible for VR experiences. And this is where platforms like Yulio can step in. From over 10,000 hours of user testing, we have figured out and created a new way and solution for designers to share, present, and communicate with their clients that remove ambiguity and promote clarity. And with our line of features and free CAD plugins, you can transform your CAD files into full 360 immersive experiences with just a few clicks.
Try it for yourself and see how truly simple and intuitive it is to navigate our platform.
3. It's Inexpensive
Just a few years ago, the standard cost to get started with VR was going to set you back well over a couple thousand dollars. That's because the only consumer-friendly option at the time were tethered headsets. While they offer a truly stunning and spectacular immersive experience, they also require a PC that is powerful enough to support the VR headset. Not only does this add to the cost to start, but users after purchasing the hardware would also need to carve out a designated space to set up the computer, external sensors, and the VR headset itself.
Thankfully, the mobile standalone VR headset revolution has begun and now users can truly grand and go virtual reality as they please. Standalone VR headsets differ from their tethered counterparts as it doesn't require a supporting PC nor does it require any set up of external sensors as it's all built into the headset. This means fewer start-up costs, and also significantly reduces the risk of damaging the various parts of the VR rig. But the best news of all is that these advancements in technology have significantly brought the price of a VR headset like the Oculus Quest 2 to just around $300USD. So not only are you getting a much more powerful, compact, and mobile machine, you're saving big on what you would spend on the tethered option.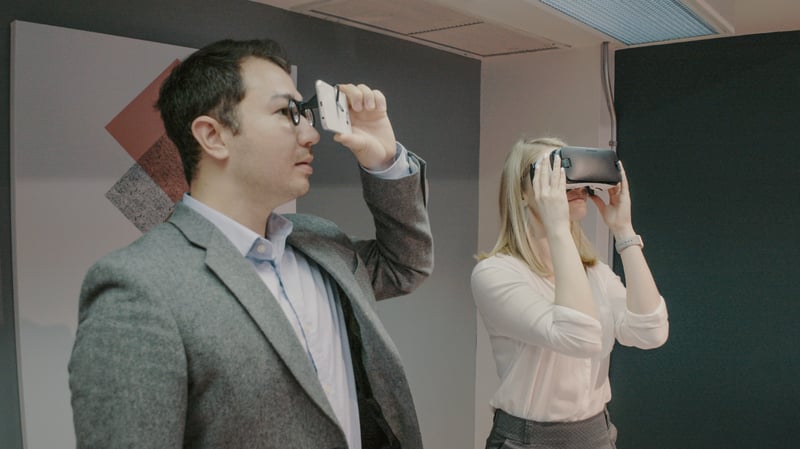 4. There are Solutions for Everyone
Now we know that VR headsets may not be for everyone - sometimes a tight budget just might now allow for the extra cost. But don't worry, there are solutions for every professional from every industry.
While the Google Cardboard is one of the most well-known smartphone VR viewers, our personal favourite are the Homido Minis. This alternative to the traditional VR headsets is small, compact, and lightweight, making it easy to take with you on the go or to keep in a laptop carrier. Plus, they're a great inexpensive option running around $20 a piece and can be purchased on Amazon. Although these are fantastic for in-person trade shows and presentations, we have also seen our users send Homidos to their clients during the height of the pandemic and even now during the hybrid work model.
However, beyond headsets, there are a variety of VR platforms that will be sure to fit your needs. Just this past year, we have welcomed users from a myriad of industries, ranging from art gallery curators to boat showroom sales reps. The possibilities are endless when it comes to VR, and if you're ever looking to talk with experts in the field on how you can get started, our team will always be happy to chat.
5. A Small Investment for Top-Notch ROI
And finally, using virtual reality can help you save on time and help you work much more efficiently, especially when it comes to communicating with clients. Here's what Lizzy French of Storr Office Environments had to say about her experience with using VR and Yulio -
"[Using Yulio] saves more than half the meetings. Typically if I have a million dollar project, I might normally have 6 in-person meetings. I'd say with VR it's reduced to 2 or maybe 3 due to deeper understanding. But even more than that, it builds the client's confidence in us, they trust us more because they now realize "ok, they're not just trying to make a sale, they understand what we're trying to achieve". It proves that our vision is all aligned."
For under a grand a year, users like Lizzy are able to do much more than close projects: they're able to build rapport with their clients and demonstrate clearly their values in customer excellence. So while you can work much quicker with VR, the technology is a double-edged sword, allowing you to save on time while providing an outstanding experience.
Is VR Worth It? Absolutely.
While you may still have your questions and concerns about VR, there is no denying how the technology can help speed up your time to close as well as provide your clients with a clear and memorable experience. And at the end of the day, time is just as valuable of a resource as any other. So join in the community of professionals who have overcome their hesitancy - cut your meetings in half and share your vision with zero ambiguity with the power of VR.
---
If you're interested in a full cost breakdown of what a designer should expect when starting up with VR, check out this infographic we have created. However, if you're still hesitant about starting with VR, check out this free resource that will take you through the questions and considerations you need to look into before making the jump.