Whether you're a small or large interior design firm, the competition for landing the next big project is constantly growing steadily. With an oversaturated market of talents and creators mixed with brand new tech advancements happening daily, clients' wants and desires are getting ever increasingly demanding. It's important to have the necessary tools and skills to navigate standing out from other firms and designers to impress potential clients and win bids.
Prior to just a few years ago, tools like Virtual Reality (VR) were only reserved for businesses that had both a research and development team to learn how to manipulate this technology to their advantage and most importantly the resources and means to invest in it. The good news is that is no longer the case - VR applications for interior design has advanced to the point where easy to use cost-effective solutions are widely available and are now the norm. However, small interior design firms especially often feel uncertain whether this piece of technology is more than just a tech trend or business novelty, and whether it is worth the cost investment and the time for adoption.
While we go further in-depth with how exactly VR can help you stand out from your interior design competitors in our Making Small Firms Big whitepaper, today we'll be exploring a few points to consider from our free online resource.
1. Improve ROI
When it comes to VR's track record of headset sales and tech adoption, there is one giant elephant in the room that we need to first address. There is a significant difference between consumer and business markets. Most people when they hear about Virtual Reality may think of Beat Saber, virtual gaming or other forms of entertainment media. However, a consumer purchasing a headset for recreational use is a personal investment, not a tool that addresses the business needs of designers.
One common misconception smaller firms believe is that VR technology is costly and one that will be phased out in just a matter of time. While that may be true with tethered rigs like the HTC Vive or Oculus Rift S, it's not the case with mobile VR. Tethered rigs are headsets that require being plugged into an external high-performance computer to support the hardware. Most tethered headsets roughly cost $1,000 and another $5,000 for the computer to run them. However, for a quality standalone headsets like the Oculus Quest or viewing from your smartphone, you're looking at roughly a $300 investment. And with a VR viewing platform like Yulio, our licenses start at just $50 monthly. Even if you're looking to invest in a handful of headsets for each person on your team, the total cost to get started with mobile VR is a fraction of the price of just one tethered headset.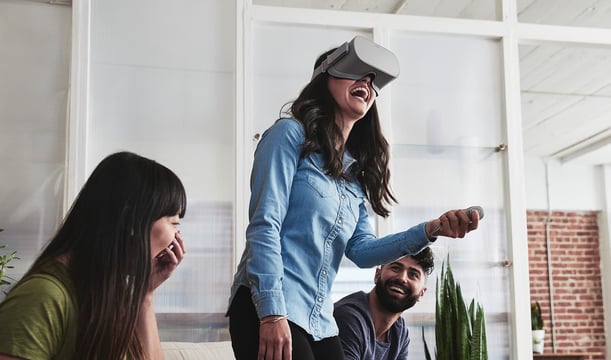 The Oculus Go headset is affordable yet allows designers to bring stunning VR experiences to their clients.


Landing just one job would easily pay for all the hardware and the yearly VR viewing license. We have seen our Yulio clients of larger firms send a headset to key decision-makers, which in the end was a small price to pay when fighting for larger contracts against interior design competitors. There's nothing quite like exploring an immersive interactive experience that most of your clients have not had the opportunity to explore before and doing it in a way that won't break the bank.
2. Creating a Perfect Understanding
One of the most defining characteristics of using VR in business is its ability to communicate with the user, participant, or your client easily. Visualization, namely spatial visualization, is a skill that all architects, interior designers and contract design professionals possess. However, perhaps you have had first-hand experience of your clients saying "I'm just not seeing it".
Chances are your pitches are a compilation of 3D models, photorealistic renderings, line drawings, and floor plans. And while all the pieces of media in your presentation serve a purpose and are completely representative of your vision, the disconnect most likely stems from your client's inability to fully read, decipher, and comprehend what they're looking at. A classic example is reading floor plans. To a trained design professional, it comes like second nature to understand the arrangement and flow of a project from a floor plan. However, for your clients, it can be quite challenging trying to digest the size and scale of what you envision by looking at a series of labelled lines and boxes.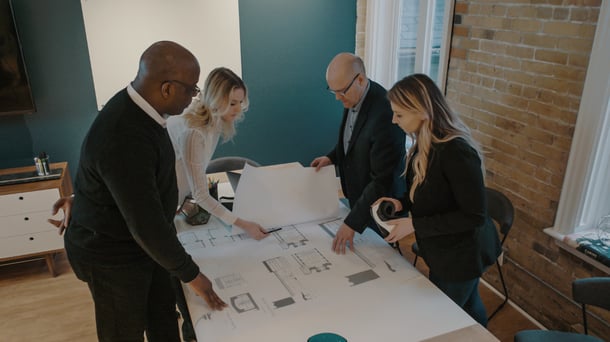 It's important to have the right tools to help your clients understand your vision better.
Lizzy French of Storr Office Environments is one of the pioneers of VR technology in her company and design team. French shared with our team how Yulio "saves more than half the meetings. Typically if I have a million-dollar project, I might normally have 6 in-person meetings. I'd say with the VR it's reduced to 2 or maybe 3 due to deeper understanding". French goes on to say how seeing and understanding through the lens of a VR experience is able to speed up the client's ability to make quick yet informed decisions.
There's no "we'll get back to you". We can get people to make a decision in the showroom and get it ordered for them.
3. Avoid Costly Mistakes
If you have been practicing for a while, you may have had the unfortunate experience of hearing your client start off their sentence with "I thought…" or "I wasn't expecting…". This signals that there was some sort of communication where your project ultimately didn't meet your client's expectations. Perhaps your client wasn't able to fully describe their vision or you misunderstood a piece of their feedback.
The bottom line is that there was some mismatched expectation along the way which has led to you and your team now spending the time and budget going back and revising the space. However, with how seamlessly VR can create a perfect understanding between designer and client, a clearer line of communication can help avoid costly mistakes further down the road.
Virtual Reality is a no-nonsense platform, where what you see is really what you get. And since making changes based on your client's feedback is an inevitable process for every designer, showcasing the latest iteration with VR gives your clients the ability to see up close whether your tweaks to their project were what they were looking for. This helps cut down the constant back and forth between designer and client and helps reduce the amount of mid-project changes which can end up being costly in terms of time, budget, and even more importantly, the relationship you have with your clients.
VR: The Tool that Makes Small Firms Big
Some of the most common barriers interior designers face can be answered with a simple yet impactful VR presentation. Not only can you communicate with your clients much more clearly with VR, but this immersive technology can speed up parts of your workflow, helping you close and deliver projects quicker than other interior design competitors. It is the combination of heightened efficiency and a stunning and unique experience that can elevate smaller firms to shine when competing with larger interior design firms. VR truly is the tool that makes small firms big.
---
To learn more about how VR can help make your small interior design firm big, click here to continue reading our free online resource. For additional tools and questions to ask before investing in a VR viewing platform, check out our Whitepaper on areas you need to consider before committing.