Educators are constantly faced with the task of encouraging their students to engage in their learning versus memorizing their material. However, many traditional class-engagement activities are unpopular or even loathed by students. While presentations, skits, and getting called on in class all serve the purpose of forcing students to learn class material, at the end of the day, they are tactics students avoid and may still leave them with a shallow understanding of the topic.
This is why virtual reality has been one of the tools steadily gaining popularity in education. Through addressing holes in traditional communication, virtual reality allows students to visualize and understand the curriculum better. Allowing students to jump into an environment to interact with dinosaurs or get acquainted with the most influential individuals in history, VR provides an unforgettable and effective learning experience and is poised to transform the system.
Today, we'll be exploring 5 of our favourite uses for VR in education. Some of these cases are sure to inspire the next generation.
1. Queen's University VR Training Centre
Queen's University is one of the top post-secondary schools in Canada. Located in Kingston, Ontario, this university has continually pushed the envelope in research and adopting the latest in technology for a best learning environment.
During fall of 2018, Queen's announced their collaboration with SimforHealth and HTC Vive to create Canada's first ever medical virtual reality training centre. This new facility aims to take their already stellar medical school curriculum to the next level.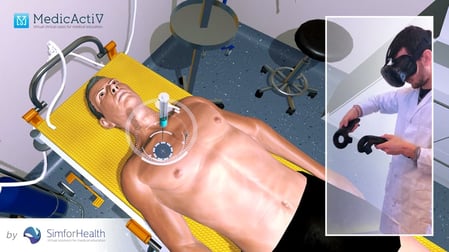 Physicians are now able to perform simulated procedures for better learning. Retrieved from: https://bit.ly/2k446LI
Prior to simulated training experiences, medical practitioners would perform their first procedures or do most of their learning on the patients themselves. Being able to experience various clinical situations before needing to practice on patients allows for a safer environment for both parties. As Dr. Dan Howes, the Director of the Queen's Faculty of Health Sciences Clinical Simulation Centre puts it, "the result will be a safer, more effective medical training."
2. History in the Classroom
Of all school subjects, history has perhaps the worst reputation for holding students' interest. Whether it be world history or national history, the subject can't seem to catch a break with students. One teacher from Read Mountain Middle School in Botetourt, Virginia was able to revitalize the subject by making history exciting for her 7th graders.
One day, a student in history teacher Kate Hutchison's class brought in a cardboard VR headset from a restaurant. She was instantly inspired when she saw that you could turn one of the most distracting classroom items into an effective learning tool. Seeing the potential for VR, Hutchison arranged for more headsets to be donated to her classroom.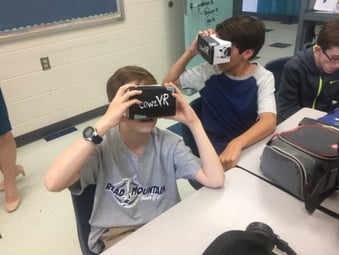 Some of Hutchison's students learning with VR! Retrieved from: https://bit.ly/2lUTCyE


Initially, the teacher recalls that she didn't use VR too often as she was still trying to introduce the technology to her students. After seeing her student's amazement and how engaged they became with the material, Hutchison began using it 3-4 times a month to introduce new topics to her kids. Her classroom lit up as the students were able to be transported into the environment that they're learning about.
This new immersive and interactive approach to learning was able to help students understand the material much more clearly than reading about it in textbooks. Ms. Hutchison was able to begin using this technology for new approaches to engage her students in a much deeper and meaningful way.
3. National Museum of Finland
The National Museum of Finland has a fun new interactive piece that allows viewers to turn back time to experience Finland back in 1863. This VR exhibit showcased an experience where viewers were transported into R. W. Ekman's painting "The Opening of the Diet 1863 by Alexander II".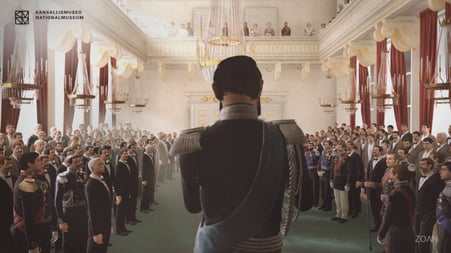 Step inside of this remarkable painting and get a unique perspective of the Diet of Finland. Retrieved from: https://bit.ly/2lC78He
The Diet of Finland was a legislative body that formed during the Finnish war and existed from 1809 to 1906. From gaining a better understanding of the Diet of Finland to chatting with the Emperor, this new interactive experience takes visitors on a unique adventure into history. Through roaming the Hall of Mirrors to hearing from the representatives of the various social classes, this exhibition combined its physical historic artifacts with a digital walkthrough for a holistic view of its rich history.
"We have gone a step further with history professionals, analysing what each person might have thought that day. It allows visitors to feel like they were a part of the events of the parliament session,"
Miikka Rosendahl, CEO of Zoan
4. The Cabinet of Virtual Reality
The National Museum of Natural History in Paris has dedicated a VR space in conjunction with one of their permanent exhibitions, "Journey into the heart of Evolution". Called The Cabinet of Virtual Reality, this exhibit takes visitors back in time to experience a special arctic expedition amongst other evolution-based simulations.
Users are first transported into Sector 1, a territory in the Arctic that is 20 meters below sea level, to see what it was like in 1950. Afterwards, visitors are then teleported 150 years into the future to see what the Arctic Sea could look like in the future taking into account the harmful effects of global warming. Some of their other VR experiences include exploring the microorganisms we need to survive and observing the symbiotic relationship between some of the most iconic species.
This latest addition to the Gallery of Evolution showcases this French museum's intentional steps to deepen their visitor's knowledge through the use of digital technology. The National Museum of Natural History has been incredibly successful in utilizing virtual reality as an educational tool "to promote scientific knowledge [by] combining emotion with discovery". With clear and effective education at its core, this next step boasts the museum's continual commitment of disseminating knowledge to a greater audience through the latest media solutions.
5. Ryerson University
Since 2016, Toronto's Ryerson University's Architecture and Interior Design programs have been leading the charge in integrating VR into their curriculum. Through various Architecture Science summer camps to A&D undergraduate courses, professors Vincent Hui and Jonathon Anderson have been transforming their classrooms with virtual reality.
Our Yulio platform helps students understand the size and scale of their projects through being able to experience it.
With their partnership with our Yulio virtual reality platform, both Hui and Anderson have been able to empower their students throughout the whole design process. Students are now able to step into their own design in VR to grasp the concept of scale and proportion in a whole new way. Instead of viewing their projects on a 2-dimensional screen, students are now able to immediately understand what works and what changes they need to make. Learning how to design for contractors is a steep learning curve as it requires an advanced understanding of spatial awareness. Now, with the ability to step into their design, students are better equipped to create spaces with a purpose.
"Yulio [has] completely removed the technical complexity and made it solely about delivering the best possible user experience for designer and viewer. "
Jonathon Anderson, Assistant Professor of Interior Design
VR in Education - Changing the Game
Virtual reality is a transformative tool for both educators and students. Not only does it address the holes in communication an understanding, but the novel experience stimulates the student's brain increasing their ability to retain and recall information. Rather than letting students just memorize content, give them the opportunity to truly learn it in an immersive environment that encourages a true understanding of the material. Turn the classroom from a chore to an enjoyable experience with utilizing VR in education.
---
Here at Yulio, we strive for excellence in performance and integrity when it comes to our product, and customer service. To learn more about virtual reality and how it can enhance your business workflow, sign up for our FREE 5-day email course. To stay up to date with the latest in digital realities, follow us on Facebook, Twitter or Linkedin for more exciting stories and announcements!