Ever since businesses began integrating VR into their workflows, the majority of use cases were from incorporating the technology into the sales process. From sales pitches to presenting better at trade shows, VR has been an instrumental tool in helping salespeople win bids and close sales much faster. However, while VR is a natural sales tool, one of its biggest untapped potential is as a powerful marketing machine.
VR equips businesses with an effective way of explaining complex products or services that may be difficult for the average consumer to understand. Especially for B2B or commercial design businesses, VR allows marketers to show rather than tell why their product or service solves a problem their target audience may be experiencing.
Now before we get into how exactly using VR in marketing makes a difference, let's briefly explore our recommendations for VR hardware and software.
Hardware
With new headsets entering the market every day, VR hardware has become even more inexpensive and accessible than ever before. And while there is a wide range of VR hardware solutions to choose from, we highly recommend marketing teams to invest in custom-branded VR headsets. Our top picks for cost-effective custom solutions are the Google Cardboard and the Homido Mini.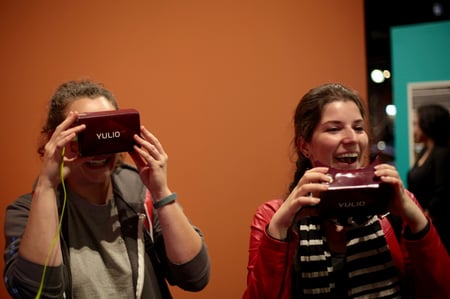 We brought our very own Yulio-branded Google Cardboards to an event - it was a huge success!
These headsets are great to give out during events or around the office without breaking the bank. Plus, a giveaway headset is much more impactful than a simple flyer or brochure - it's the kind of thing that'll be passed around the office or taken home. It's also much more likely to be used or at least kept around for a while (rather than thrown straight into the recycling).
Software
While hardware is one half of the equation, the true VR experience happens inside your headset. When searching for a VR technology provider, be sure to choose one that has a wide variety of useful features as well as customize its technology. Whether it be branding intermediary web pages with your logo or the ability to add specs and details into your project, having a flexible yet simple to navigate platform will make a world of a difference.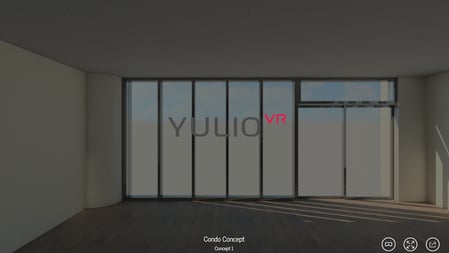 Branding is everything, so find a solution that gives you the added flexibility to include your name onto your assets.


With this brief overview of a few hardware and software considerations, let's dive into specific ways you can use VR in marketing.
Drive Views and Interaction with Embed
While most company websites feature a "hero image" at the top of every page, it can easily become boring and repetitive - two words that do not describe an eye-catching site. The main goal of having a business website is to attract and generate views from prospects seeking your product or service as a solution to their needs. Hooking your visitor's attention is crucial in enticing them to stay, learn more about your product or service, and why they should choose you.
Still to this day, virtual reality evokes the "wow" response from most people, so it's prime time to capitalize on this reaction to attract potential customers.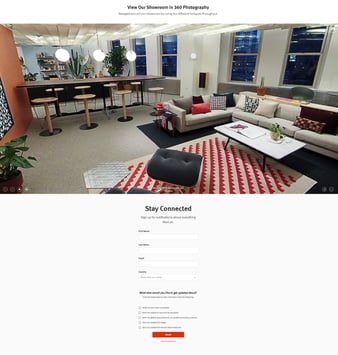 Here's a great example of embedding VR into your website!


Think about it from your client's perspective. When comparing a company that uses traditional methods like static images and text copies versus one that has an interactive experience embedded into their website - which page would attract your attention more? Presenting your product or service with VR on your website is guaranteed to make you stand out from your competitors can be more impactful for prospects. Remember, the "hero image" space is the first thing your visitors will see - don't waste the opportunity and make it count.
Sharing: Social and Email
One key benefit that comes from a VR platform that is accessible through a web browser versus a desktop app is how share-friendly it can be. We built our platform with distinct consideration into how VR would be a valuable tool in the digital marketing sphere, which is why we made it simple to share your project on any social media platform.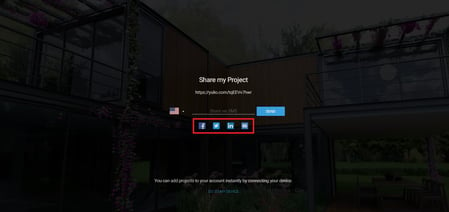 We've made sharing your VR project simple for you. Simply click on the platform and you're done!


More than ever before, businesses, even B2B companies, need to develop their social presence and voice on digital platforms. While the traditional marketing emails are a tried-and-true method of creating a degree of brand awareness, the digital social spheres are becoming a powerful way to market your product or service. Social media has become a popular method for businesses to reach out to a greater audience in hopes of finding a prospect looking for what they can provide.
Whether you're drafting up content for your next monthly newsletter or looking for something extra to include in your next email campaign, including a VR project is a great way to keep this traditional marketing method fresh. Not only does it help you include brand new content into your emails, but it can also help you nurture your viewers and give them a reason to stick around for more exciting updates and announcements your company may have in the future.
Sharing your VR projects on a social media platform is a great way to draw a larger audience in to learn more about your business and what you offer. It's important to find a VR solution that fully integrates with various social media channels. For example, all Yulio project links embedded in Tweets will generate your project's thumbnail - and we all know that posts with images have much higher click-through rates. The beauty of sharing your projects via social media and email is that you can track engagement with your designs through your analytics platforms. Combine this with viewer analytics such as those offered by Yulio and you've got powerful knowledge about which platform your audience connects with most.
Enhance your Social Presence
We touched on this briefly in the previous section, however it's vital to emphasize the importance of your social presence in regards to business today. In 2018 alone, there were more than 3 billion people actively using social media or any digital platform. And while all those people in that large number may not be your target audience, there is a huge potential of a significant untapped market you have yet to engage with.
As we continue to press deeper into the digital transformation, having a digital presence is what will define your business's reliability, credibility, and authority.
Picture you are in the midst of looking for someone to fill a newly opened position with your company. In this new digital age, recruiters are heading to digital platforms like LinkedIn to learn more about the various candidates wanting the job. In fact, 87% of recruiters find LinkedIn most effective when vetting candidates during the hiring process. While this may seem like an unrelated example, this statistic should give you a glimpse into how social platforms have a newfound authority and influence over people's judgement. If you received a name card from a salesperson but can't find their website or LinkedIn profile after looking them up online, many people's first assumption is that this company is not well established.
The best part of curating your social presence is that you have full control over the story and message you want to share. Getting your business associated with VR technology is a surefire way to position your company as an industry leader and technological innovator. Plus, it never hurts to get your name out there in a positive light. A reputation that is excited about the future and embraces the new draws the attention away from your competitors and onto your business.
Don't Underestimate VR in Marketing
Marketers are always seeking new ways to communicate their story better, generate overall brand awareness, and to preserve their business's reputation. And while most businesses are apprehensive to venture outside of their current marketing methods, adopting the latest in technology is the only way to achieve their goals in a technologically advanced era. Simple switches like changing static images to VR experiences or adding an extra resource to your next marketing campaign could make a huge difference in attracting new visitors and potential clients to your business. Tap into the limitless and powerful ways of using VR in marketing.
---
Interested in trying out our VR platform for yourself? Sign up for our FREE 30-day trial to have the full Yulio experience. For more general information about this future-proof solution and how to integrate business-ready VR into your workflow, sign up for our 5-day email course.