Brighton Community Development, Saskatoon
Yulio is proud to be the official Virtual Reality (VR) technology providers for Brighton, a new community development launched in Saskatoon on Saturday, September 10, 2016. The highlight of the launch was the opening of the 4,800 square-foot Information Centre, which invites community members and potential buyers to experience the finished development in Virtual Reality. This is the first use of VR as a tool for public real estate visualization at such large scale: over 800 acres of undeveloped public space are currently being showcased through the Information Centre's VR displays. It's exciting to see what direction VR in real estate may be heading into.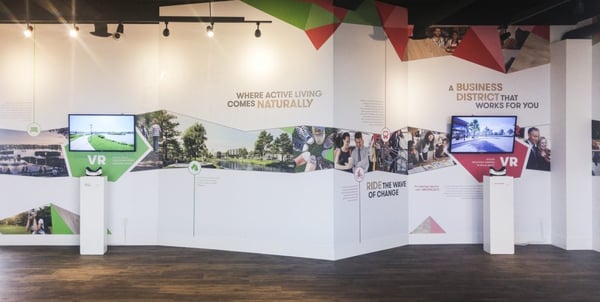 Industry Leaders Work Together
The Information Centre is the result of the combined efforts of Dream, the largest commercial real estate development company in Canada, and Norm Li, Toronto's most prestigious architectural visualization studio. As the industry's leading VR platform, Yulio was the logical choice as the best technology to display the Brighton community to the public.
The Time is Right for Virtual Reality
The impressive installation confirms what many are saying about Virtual Reality in architecture, real estate and construction industries: that Virtual Reality is next logical medium for design and visualization. Much like the CAD and BIM revolutions of recent decades, VR is giving architects, designers and construction engineers an even greater ability to create, visualize and problem-solve prior to construction. Hype and buzz aside, serious adoption of VR technology is still limited to the industry's forward-thinking technological innovators. Yet those early adopters who are actively experimenting with the technology are reaping serious rewards. Now, VR in real estate is booming and proves to be promising with this development.
Coming Soon: New VR Capabilities for Yulio Users
The installation also debuts Yulio's new Kiosk capability, a display-driven feature that combines live video streaming with a responsive interface that transforms the display into a rolling panorama when the headsets are inactive. The new feature has certainly made an impact; according to Brad Zurevinski, general manager of Dream Development in Saskatoon, "Visitors can put on the virtual reality goggles and step outside to get a 360-degree view of what future areas of Brighton will look like upon completion. A large screen TV will also provide a view of what the person is looking at through the virtual reality goggles." Live-streaming capabilities like that featured in Yulio's Kiosk mode make VR technology even more impactful for viewers by transforming a typically solitary experience (viewing VR in individual headsets) into a collaborative, presentation-based medium ideal for community-focused projects like the Brighton development. Yulio's Kiosk feature is set to be released to users later in the year. Interested in getting VR technology into your business? Find out more at www.yulio.com or email hello@yulio.com to book a live demonstration of Yulio.