We are Yulio. From the day we opened our doors back in 2016 to now, the vision for Yulio has not changed. Our mission is to build the best VR presentation platform on the market with our 3 core pillars: simple, mobile and affordable. We believe that building a program around these principles helps keep our promise of being a future-proof and frictionless tool for business. With 20 years of graphics-powered business expertise and 1000+ hours of user testing, we made sure we built Yulio to be an intuitive yet effective tool for you to tell your visual stories better.


We couldn't achieve all we have without everyone in our Yulio family!
As we continue to grow and learn with our 3 core pillars in mind, we have specifically targeted 3 areas to be able to work towards achieving our mission. Through making our platform highly customizable, easily shareable, and providing a variety of ways to view/present your project, Yulio is your one-stop tool for creating stunning VR presentations.
Viewing and Presenting with Yulio VR
When we were in the process of creating our Yulio VR program, we knew that we had to build a platform that worked with how our users wanted to use VR in their presentation, not the other way around. What that meant for us was to get started on creating various modes and features that empowered our users to share VR at any given time.
Collaborate
When we were in the process of creating our Yulio VR platform, one of our biggest priorities was to figure out how exactly we would make this tool fit for business. One barrier that inspired one of our most used features was how VR could easily turn into an isolating experience. Due to the nature of how VR headsets work, only one person can be immersed in any VR experience at a given time. We saw this barrier a serious point of friction for those wanting to incorporate VR into their business presentation, so our world-class dev team to help us execute a solution.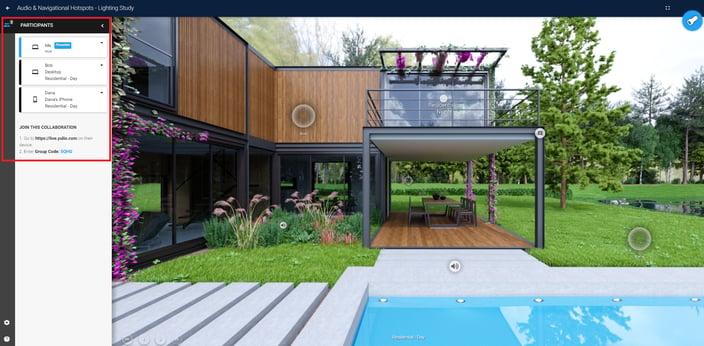 Collaborate is Yulio's most used feature. We know many businesses who have wanted to incorporate VR into their client meetings but were concerned about how the person viewing the project may seem singled out, and the presenter wouldn't know what the team is looking at. Just like the name suggests, this feature allows clients to collaborate with their fellow colleagues as well as engage with your presentation. This feature makes presentations more inclusive, and gives more control and power to the presenter. Whether you have a new product you want to highlight or collect some specific feedback from an area, part of the presenter's controls with Collaborate is the ability to direct your viewer's attention. Plus, it can be used in person or remotely, making it essentially a VR video conference.
Explore Mode
Explore Mode is one of our latest presenter mode additions and is part of the Collaborate feature. With this latest option, you can auto-pan throughout a scene to let your viewers explore the full VR project at their own pace. When we were initially testing out our Collaborate feature, our team recognized that there must have been a better way to keep our user's clients engaged in their presentation. Rather than having just a static image projected on a screen, we realized we could make the VR presentation much more engaging and to give our user's clients the opportunity to review the project during times of discussion. Whether it be in your next client-facing meeting or loaded on a screen at a tradeshow, Explore Mode is a great way to showcase your whole VR project to your clients.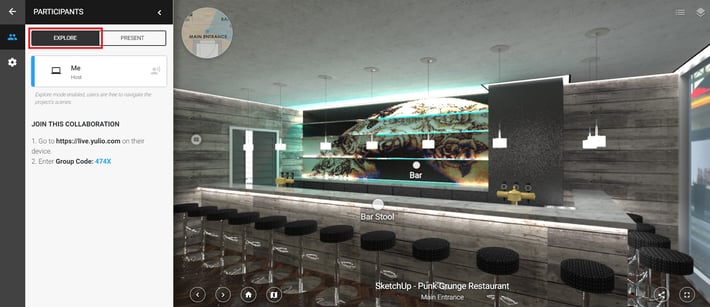 Fishtank Viewer
When launching a Collaborate session or turning on Explore Mode, these features are best used when projected on a screen. However, some projects you have taken on require working with a client that corresponds remotely. Or perhaps you're not 100% sure if there will be a screen available for you to use in your upcoming meeting with your client. This is why we created a robust web browser viewer that allows you to explore your VR projects from any device.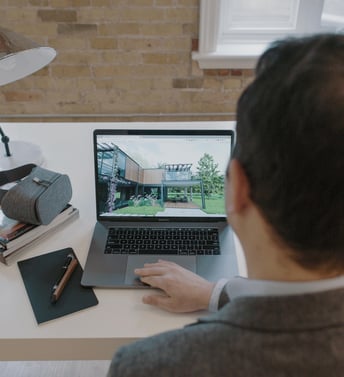 Our Yulio Fishtank viewer works like experiencing VR in a VR headset. The only defining difference is that instead of gazing to trigger the next scene, all you have to do is click on our hotspot triggers (more on this in the following section!). Although launching a Collaborate session is very quick and easy to set up, we understand that sometimes you need to use your computer to showcase your VR experience. And while looking at a VR experience on a computer screen cannot compare to the level of immersion you get from a headset experience, our online viewer mimics the 360 illusion, making it a great middle-ground viewing option. Both options are fully supported, and world-class.
Project Authoring and Customization
Here at Yulio, we invest our time and effort in creating the best user experience possible. As we continue working towards being the best VR presentation platform available, we have created an extensive arsenal of features that will help enhance your VR project and take your presentations to the next level. Whether it be our list of hotspots (buttons that trigger information from the author) or the various ways to navigate your project, authoring is simple and adds a human touch to your VR presentation.
Text Hotspots: Want to add some more information to your VR project? The Text Hotspot feature allows you to share a brief description of your VR experience. Whether it be a product's specifications or giving a glimpse into the designer's intent, Text Hotspots are the perfect way to share additional information.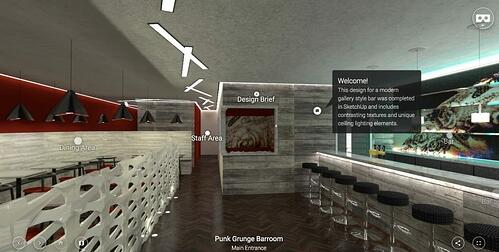 Image Hotspots: This feature allows you to add an image to your scene to help share another product or perspective in a visual way. Image Hotspots are great if you want to feature a product's range of color, material, or shape variations. It's also valuable for interior designers or architects as you can include previous iterations to highlight the changes they have made or showcase the same scene in daytime or nighttime. While you can always use Text Hotspots for an in-depth description, inserting an Image Hotspot allows you to share the same information visually.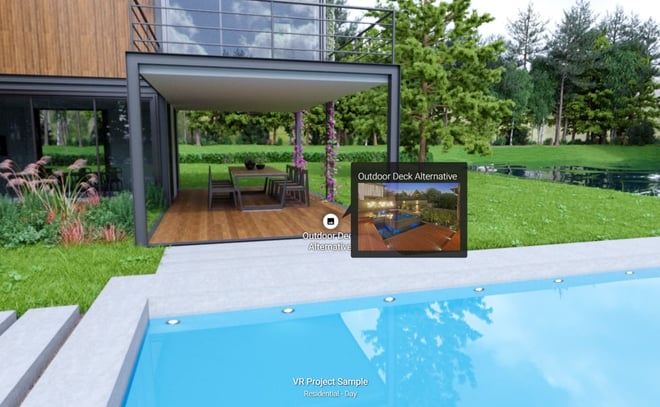 Navigational Hotspots: Navigational Hotspots are a great way to explore your VR project through point to point navigation. If you're viewing your project on a computer, all you have to do is click on the hotspot to move into another scene. However, when viewing a project with the Yulio Viewer app, simply gaze at the hotspot to navigate through. Gaze and go is one method of navigation, which gives an added illusion for users to "walk through" the VR experience. This hotspot is a fantastic way to allow your clients to explore a project from different angles in an interactive way.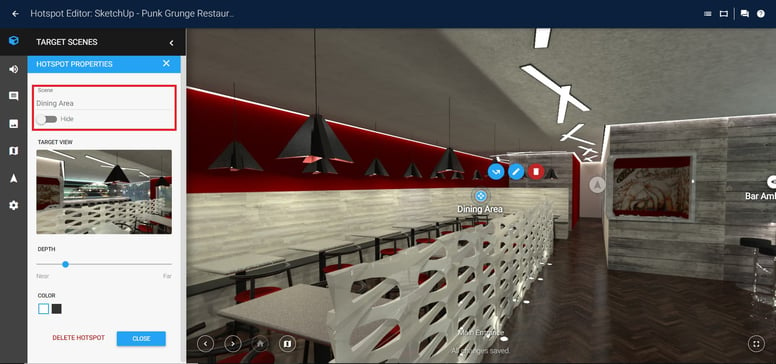 Audio Hotspots: Adding audio into your VR project is simple and can be helpful when describing certain design choices or providing details of specific objects. Our Yulio platform supports files the majority of audio files that are no bigger than 100MB and under 2 minutes in length. Adding audio hotspots gives an added human element to your VR experience, as it connects a voice to whoever in your VR project.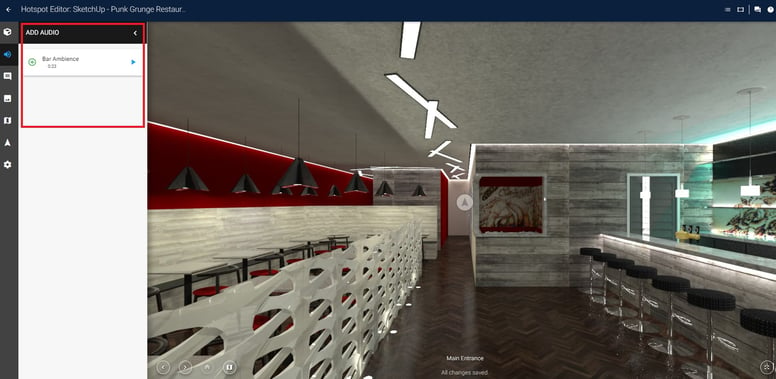 Video Hotspots: Basic Video Hotspots are available for all Yulio users, giving you the ability to insert YouTube videos into your VR experiences. Video's are another effective visual tool that can help you connect and communicate more clearly with your clients. So if you have a summary of a product's specifications, highlights of a brand new line that will be launching, or a visual story you'd like to share, Video Hotspots are a great and interactive piece of media you can add into your VR projects. Plus, if you have a welcome message from the CEO of your company or a general introductory message of your company mission, values and goals, you can insert that clip for a warm and impressive VR experience.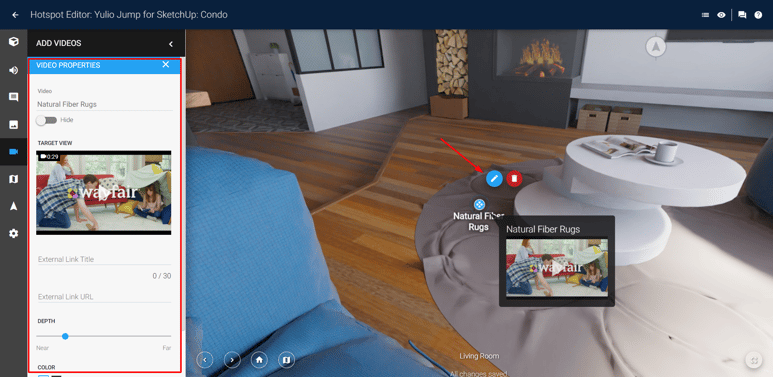 FloorPlan Navigation: Floorplan navigation allows you to create a navigation overlay layer in your project. Navigating your project via floorplan can help whoever viewing your project better orient themselves in the scene. We understand that it could become quite annoying navigating through multiple hotspots in intricate projects, which is why floorplan navigation can be really handy. This feature can be particularly useful for those showcasing a large virtual showroom or a detailed project with many scenes.
Default Starting View: Use our Default Starting View feature to highlight the best part of your project. Often times, after uploading your rendered scene, the first thing you may see in VR is a wall or an unflattering view of your design. With this feature, you can custom set your "money shot" view to impress your clients instantly.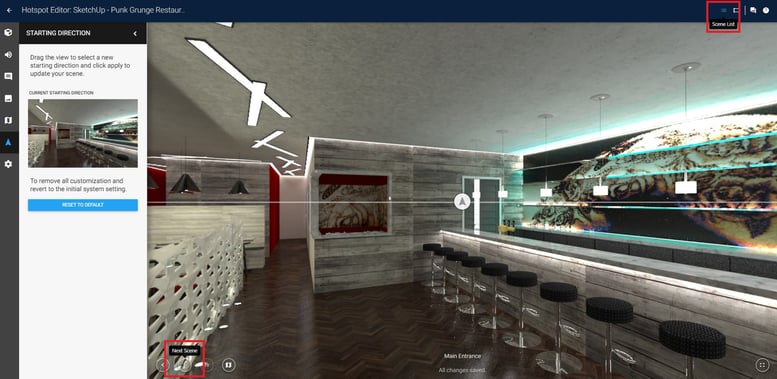 Social Sharing
Today, our world is hyperconnected. With the advancement of everyday technologies like cellphones or computers, staying connected is not only easier but is crucial to your business. While many tried-and-true marketing methods are still wildly popular, tapping into digital platforms, social media and ranking for SEO have become an important part of shaping your brand's reputation and legitimacy. Today, if a company doesn't show up when searching it on Google, many people would automatically think that it's not well established or even a scam.
With recognizing the rise and power of digital marketing, we knew that we had to incorporate a simple and quick way to share your projects with Yulio.
Most companies today maintain a variety of social media accounts and are actively posting and engaging with their audience. Whether it be Facebook, Twitter or LinkedIn, we understand the need for businesses to develop their social presence and voice on various digital platforms.
Although it comes with its own set of challenges, we chose to host our Yulio VR platform online instead of creating a desktop app. One key benefit of doing this, and our main motivator, is that it easily connects to other web-based platforms. Hosting our platform on a desktop app can make sharing more challenging and less convenient, and we always want to get rid of any kind of friction our users may face when using our platform. So to provide our users with the opportunity to share their projects with ease, simply click on the platform you want to share your project on and you're done!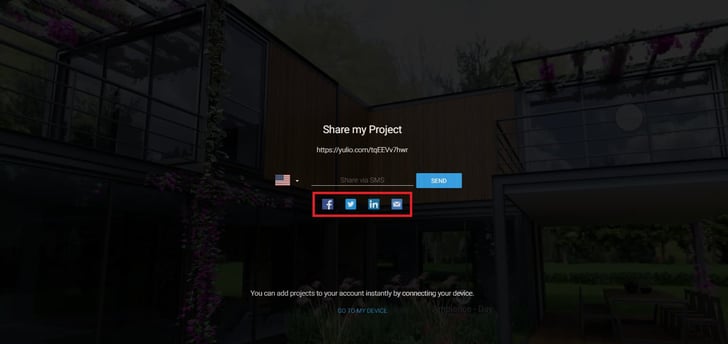 And if you want to share a project specifically with your clients and not post it on a public forum, you can choose to share your project via text message or email. We will generate a unique URL so you can share your projects easily with your clients.
Embed
Along with developing your company's social presence, we have also included an embed feature on our Yulio platform. Whether you are looking for a way to freshen up your website or to include an interactive piece of media in your next blog post, our embed feature allows you to seamlessly incorporate your VR projects onto any web page.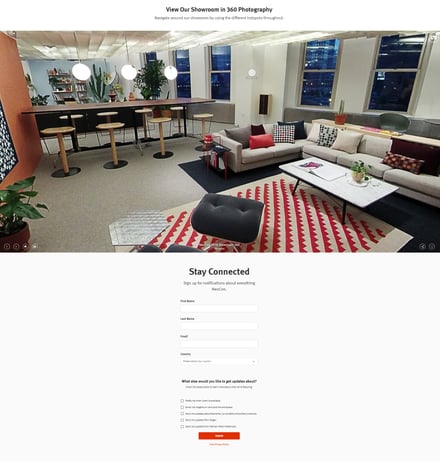 Most websites feature a static picture as their hero image. And while it serves its purpose of creating a page more visually pleasing, you can now incorporate engaging media that will be sure to catch your visitor's attention. Plus, there is no harm having your business associated with a piece of disruptive advanced technology. Now with the power of VR, position your company as an industry leader and technological innovator to really stand out from your competition.
Yulio VR - The Best is Yet to Come
It might seem strange, but we have parked a real motorcycle in the middle of our office that we all pass by and see every day. While this may seem like a "normal" startup culture, this bike serves a much more significant purpose.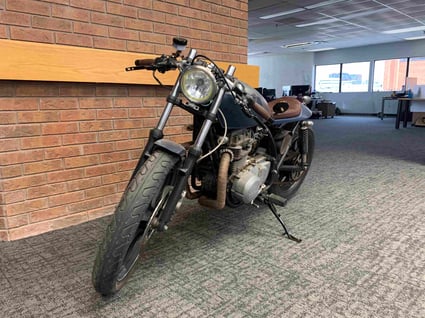 Although VR has become extremely affordable and high quality compared to what it was before, it still has a long way to go before the lines between reality and the virtual are truly blurred. And as with all businesses, we are still a work in process. That bike in the middle of our office serves as our promise to all of you that we won't stop improving virtual reality until the experience feels as immersive and visceral as riding the bike. We're on our way, and we hope you will join us on our journey.
---
We hope you enjoyed getting to know a little bit more about our story and our Yulio VR platform. If you would like to incorporate VR into your upcoming presentation, sign up for our FREE 30-day trial to try it out for yourself. To see all of these features and modes in action, book a demo today for an in-depth walk through of our program.