Just a year ago, tens of millions of professionals made the historic transition to remote work to avoid exposure to the novel COVID-19 virus - many of you reading this probably have or are still working from home. However, after a year and half of navigating lockdown after lockdown, many have gotten the green light to head back to their offices barring some new rules and regulations.
The Hybrid Workplace model is a term you probably have heard floating around for the past few months. Experts at WeWork defines this working situation as:
"A type of work environment that combines aspects of remote working and in-office working. In a typical hybrid workplace, some or all employees have the freedom to choose where and when they work, dividing their time between working from home and working from a central office."

- Steve Hogarty, WeWork
The majority of businesses have started adopting this new work model as a way to gradually transition their employees back to the office to both ensure their safety and reintroduce them to life back in the office. While the hybrid environment is a fantastic employee-centred model, it comes with its own sets of challenges, including those that are specific to this period.
Since most professionals got their "OK" at around the same time, it can be challenging keeping up to date and organized with client schedules and collaborating on their projects during this mass migration back to the office. Not to mention how each business can and will implement their own version of the hybrid workplace. Some may opt for a half-and-half model where half of the team or a department will be in office on a particular day. Or others may choose to go completely remote indefinitely.
While there is no denying the critical role technology has served during the year and a half long remote work period, businesses will need to continue relying on platforms and applications just like virtual reality to ensure they can collaborate and work with their clients. Here are 3 supporting tips on how VR can help you stay flexible and enhance your client collaboration moving forward.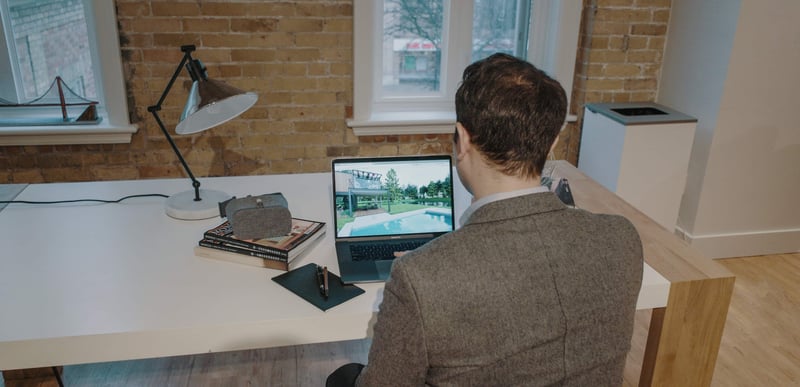 Communicate Through Technology
If you're new to the concept of virtual reality or applying it to your business, here's a quick overview of what it can do for your client collaboration:
Allow Your Clients to Truly Experience your Design - it's important to keep in mind that your clients will most likely not possess the same ability to read and understand floor plans or even your 2D renders. VR is able to transport your clients right into your design to experience it for themselves and the closest way to being in your space without actually stepping foot into it.
Understand Instantly - just like you would when entering a physical space, when your clients enter your experience, they will be able to get a real feel for your proposal and design intent.
Bring your Vision to Life - VR particularly excels in showcasing spaces that currently don't yet exist, in those that do exist but are a long distance away or in environments too large, expensive or complex to model. The sky's the limit with what you can showcase in VR, the only limitation is your imagination.
One of the biggest factors to look out for is checking for how flexible and accessible the platform is for both your team and your clients. Mobile VR platforms are perfect for the current hybrid work environment as it doesn't matter where you or your clients are located - all you need to do is send them a link and start your presentation. This removes one of the largest barriers to the hybrid environment as location is no longer a point of friction. Plus, it allows you to pitch, present, or collect feedback in a much more efficient and interactive way.
Guide and Moderate Their Viewing Experience
Especially for clients where it may be their first time experiencing virtual reality, it is crucial your clients feel comfortable and grounded when entering your experience. While this is the perfect opportunity to work and collaborate with your clients, this can be a make or break step. Nothing will deflate the excitement out of your meeting than a client struggling to launch or view your project. So take the time to brief them, let them know where they are and where you're taking them.
Here are a few tips that can help with the flow of your transition into your VR experience as well as guiding your clients through your virtual space:
Give a quick overview of the software (and hardware if they're using it) such as clicking on hotspots or using gaze-and-go if they are viewing on a headset
Allot 3-5 minutes to let them get adjusted to the environment - encourage them to look up, down, and all around
Point out the different hotspots and their corresponding icons so they can read, view or listen to extra information about your project
Highlight certain features that would be of interest to them
Remind them that they can navigate with a floorplan if you have uploaded one or where to locate your other iterations in your Scene Options folder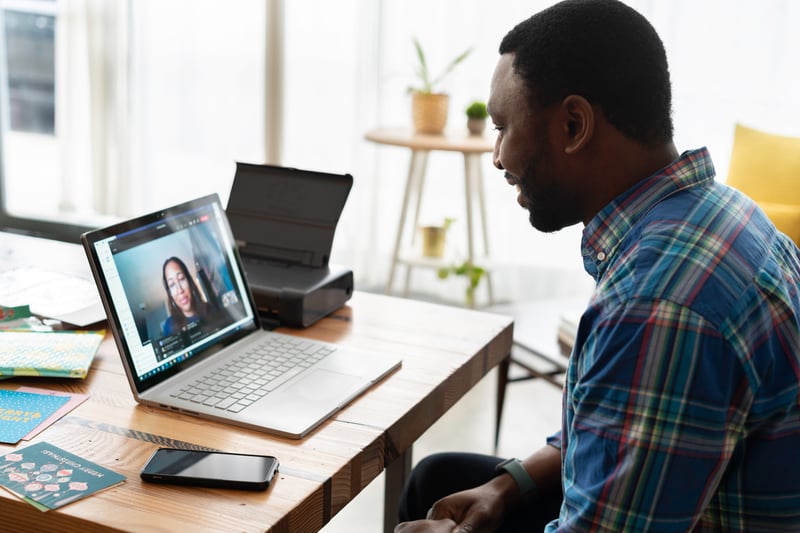 Don't Let Technology Replace Human to Human Connection
While your meetings, for the time being, may not be face-to-face, remember to be aware that the technology is not hogging or overtaking your presentation. Although you may most likely use VR for the purpose of impressing your clients and effectively conveying your story, at the end of the day your design and ideas must be the highlight - the platform is merely there to enhance your presentation.
Even though you may be presenting on Zoom, don't forget to make eye contact with your clients. One practice our clients as well as our team found helpful was to practice the full sequence of when you're hoping to jump into your VR experience, guiding your clients through your project, and how to transition out to discuss further details. This not only helps further refine your presentation but doing a run through helps you identify whether you're relying too much on VR or amp it up a little. This objectivity ensures you won't stay in VR excessively and brings the focus back to your design itself.
---
We hope that these tips were helpful in encouraging better client collaboration as you navigate the hybrid workplace. If you haven't gone through our 30-day free trial, don't hesitate to sign up. Experience the power of virtual reality for yourself and get access to our platform and its full line of features.