In the past decade, remote work has increased at a staggering rate. New reports from 2022 show that 58% of Americans work from home for at least 1 day a week, and 87% of Americans would work remotely or flexibly if given the opportunity. However, while this new workplace trend has become a lot more popular, the statistics don't usually show the difficult process of transitioning out of the office and into working remotely. Whether it be a single person within a team or the whole department itself, finding tools and establishing processes to support employees can be a challenging journey with plenty of downtimes. It is during this time of transition that technology can step up and keep us connected with our teams as well as support our interactions with clients.

The good news is that we have built the Yulio platform and its features to support any design or sales team working remotely. From the beginning, we planned for a variety of workplace scenarios to ensure that Yulio would be the most agile and seamless tool to present and share your design ideas with your internal teams or with your clients. Our line of future-proof features is able to support and accommodate designers working from home or sales reps pitching with video conference tools. So, whether you're an interior designer, architect, or commercial furniture salesperson, explore how you can create immersive remote presentations for business with Yulio.
Collaborate From Your Home
Collaborate is Yulio's most used feature, giving our users the opportunity to connect with their own team or with their clients in virtual space. When we were developing our Yulio VR platform, one of the barriers we needed to address was how virtual reality can sometimes feel like an isolating experience. VR headset design means that each device is only able to support one user at a time, and is in many ways a blindfold, which makes the wearer feel self-conscious, and leaves others in the room out of the presentation. Yulio Collaborate overcomes this issue, letting multiple headsets or browsers meet in virtual space, and clearly show what each person is looking at.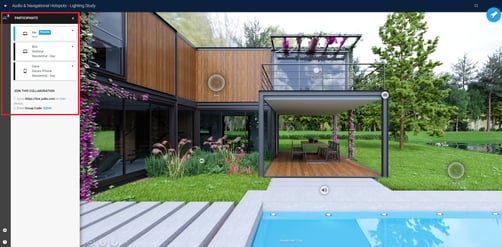 Collaborate allows you to connect with your team as well as engage your clients who are working remotely


Just like the name suggests, Collaborate allows you to collaborate with your colleagues or clients in presenting and exploring your vision for a project. As the presenter, you can guide those who join your immersive remote presentations to explore your project to take a more in-depth look at your design. Now with Collaborate, simply click and drag to the area to highlight any key features you have included in your project. If at any moment your colleague points out an area for improvement or your client would like to change any specific areas, you can pass on presenter controls to whomever to see which part to edit later.
While you can use the Collaborate during any client-facing meetings, this feature was also designed to help support those who are working remotely. Any video conferencing platform like GoToMeeting or Zoom pairs perfectly with Collaborate, or use it on your own to just meet in virtual space. Whether you're checking in with your team on any improvements you can make to your project or moving the sales cycle forward with your pitch, collaborating in a VR space is more immersive and tangible than any other presentation with images. Your clients will better understand size and scale, and be more engaged with VR than other formats. Especially at a time like now when they are likely conducting all meetings remotely.
Don't Worry About Headsets
While you can view your projects or join a Collaborate session using a VR headset like the Oculus Go, the hardware isn't mandatory. We understand that many of your clients do not have any form of VR headset to use at home. Our desktop browser-friendly option is a first class experience that you can start using today.

Our Fishtank Viewer allows your team and your clients to experience your project in full 360.


Our Fishtank View option allows your clients or the rest of your team to explore your project with their computer or phone. This browser mode allows you to experience your scenes as an interactive 360-degree panorama directly in your internet browser. Viewing on Fishtank is a completely accessible tool as it doesn't require any extra pieces of hardware and allows anyone with any device to experience your project. And since your projects can be viewed directly in your browser, your team and especially your clients will not need to navigate unzipping files or downloading any special software to view your designs.
Create Content Remotely
Here at Yulio, we understand how time-consuming, inconvenient and how unfriendly rendering out projects remotely can be. While it's ideal to produce visually stunning and photorealistic images for every project, the reality is that most people's home machine does not have enough processing power to be able to support rendering efficiently. The entire rendering process relies on a variety of variables like the hardware capacity, how complex the model is, and the type of quality you would like to achieve. Even on a powerful machine, rendering can take anywhere from 30 minutes for a below-average project or days for a high-quality image. Creating renders from home is just not efficient or sustainable. And with the need for social distancing, having designers head into the office to finish off projects completely defeats the purpose of our society's current need.
Cloud-based rendering is one solution design teams should start seriously considering for firms currently working remotely. Even during normal working conditions, cloud-based rendering is a great tool to help churn out projects quickly, efficiently with better results compared to your CAD program's native renderer.


Here is a project we rendered with the CET Designer native renderer (left) and Yulio Jump (right)

One of the most obvious benefits of cloud rendering is its ability to significantly shave down your rendering time. With channeling powerful rendering engines, cloud rendering utilizes parallel computing to help you render out projects in minutes. Plus, since it's hosted using the cloud versus a desktop application, your computer will be free to complete any other outstanding tasks while waiting for your project to finish rendering. The best news about cloud-based rendering is that there are platforms that are extremely affordable. We understand that times are tough for many businesses, and in keeping with our commitment to making Yulio mobile, simple and affordable, our cloud rendering platform, Yulio Jump, licenses are available and come with unlimited renders. So don't be limited in this time and continue creating using a cloud-based renderer.

We know that each industry, firm and person has a design software that they prefer using. To make Yulio and the power of cloud rendering accessible to all, we have cloud-based rendering plugins for many of today's most popular design software including
Revit
CET Designer
Sketchup
With just some setup and a few clicks, you can easily turn your designs and projects into stunning VR presentations.
Yulio - The Best Remote Work Tool for your Firm
While getting used to working remotely may feel disruptive, it doesn't have to be difficult. We have designed our platform specifically to be the go-to tool for your client-facing meetings as well as the best remote work tool for your firm. And with years of experience and listening to our valued users, we have developed Yulio to be able to seamlessly fit into your design or sales workflows. So while this time of uncertainty and social isolation can be challenging, allow us to make it easier for you and your team to find success with creating immersive remote presentations.
---
If you would like to hear more about Yulio, our features or to see our platform in action, click here to book a demo today. If you would like more information on how to seamlessly integrate VR into your firm for maximum ROI, please click here.
Updated March 9th, 2022