Although VR has been around for a number of years, applying it to industries outside of entertainment still hasn't reached a tipping point to practical business use. Compared to other legendary business presentation tools, VR is a relatively new phenomenon, especially when pinned to the likes of Microsoft's infamous PowerPoint application. As the majority of companies are still at the stage of familiarizing themselves with the technology, their workflows surrounding using VR for business presentations are quite rudimentary. Small but key steps are often overlooked or sometimes completely forgotten.
But that's okay because we're here to help.
We understand that VR can quickly become impractical when there isn't a strong system to back up the technology. And as much as you want to "wow" your audience, when the technology doesn't perform up to your standards, it's not worth keeping around for long.
So, let's dive into our top 5 practical VR tips for an outstanding business presentation that you can easily incorporate into your workflow.
1. Think Mobility
When using a VR headset, there are two options: tethered or standalone. Tethered simply refers to headsets that require a powerful CPU to support the experience. Standalone refers to headsets that are mobile and will be easier to take with you wherever you go. While tethered experiences on average are higher quality due to the headset's 6-degrees of freedom configuration, the lack of flexibility is a limiting factor for using VR in business. We have heard from our architecture and design clients that about 80% of meetings take place at the clients' office, and there is limited interest in coming in to use a tethered set up.
As the VR market continues to advance, more and more robust standalone devices and "offline" goggles will become available. Here are the two VR headsets we recommend investing in:
Oculus Go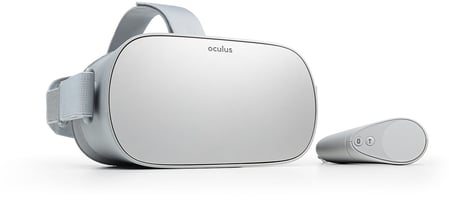 The Oculus Go was one of the first standalone headsets to hit the market.
The Oculus Go is a standalone headset that allows you to take VR with you on the go and is currently selling for as low as $199USD. Instead of asking their clients to come to the office to get strapped in a VR rig, your salesperson can now take the experience to them. Since the Oculus Go is a digital device, it needs to be charged. We recommend charging the headset after each meeting to enable it to fully function as a piece of mobile VR hardware.
Homido Mini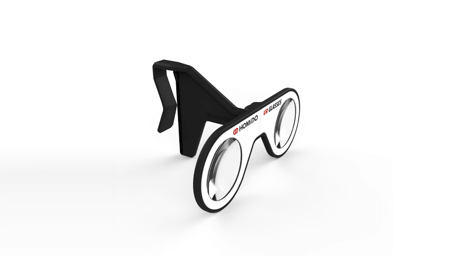 Attach the Homido's to your mobile device for a simple and quick VR experience.
The Homido Mini is an "offline" goggle, which simply means that you can still experience VR without a digital device. Because you don't need to charge the Homido's, this is a great VR 'headset' to keep inside your laptop case or even in your pocket. With its foldable design, the Homido's allow for maximum flexibility. Not to mention, they are highly customizable and are a great affordable alternative (available on Amazon for $10.99USD). However, since Homido's aren't a standalone device, the VR experience will be less high-quality than the Oculus Go.
2. Bring a Wifi Router
When setting up your VR presentation, one of the worst things that could happen is having a poor or even non-existent wifi connection. Not only is it uncomfortable and awkward, but it can also seem unprofessional and reflect poorly on your company.
This is why we recommend bringing a portable wifi router along with you just in case the network connection is patchy.
Portable wifi routers are similar to what you may have at your home, but is powered by a SIM card instead of being plugged into a phone cable. By bringing your own wifi router, it allows you to set up your own private internet connection. And depending on the router you choose, you can connect more than a couple devices to the network. This is perfect for VR presentations since you can connect your computer to view your project in the fishtank mode, your Oculus Go to access our Yulio Viewer App, and a mobile device. With bringing your own portable router, your presentation's success will not be affected by extraneous factors.
3. Remember It May Be Their First VR Experience
Virtual reality is a really exciting piece of technology, and your clients may be looking forward to your VR-centered presentation. Before handing them the headset, bear in mind that since VR is still gaining traction in business, there's a great chance that your meeting is your clients' first VR experience. It's important to guide your clients through getting acquainted with a 3-dimensional environment so that they will be able to take the full experience in.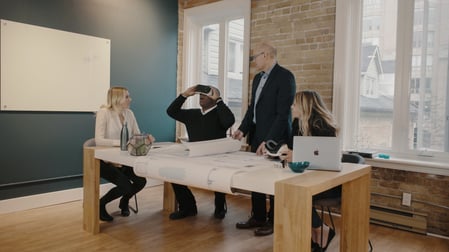 While VR is very exciting, it's important to guide your clients through the experience to get the most out of it.


Here are a few practical VR tips to help your clients get familiar in a 3D environment:
Advise against using sudden movements or quickly looking around the VR environment
Begin by telling them to look to their left, right, up and down
Slowly introduce them to the various hotspots in the project and how to navigate through the project
Remind them at any moment they feel dizzy or uncomfortable to take the headset off
VR motion sickness is a concern for many first time users. It takes time to become comfortable navigating through a 3D environment, so this is extremely important to keep in mind when sharing VR with your clients. You can assure them that a design project is less likely to make them feel ill than a game or movie, because they can control any motion themselves.
4. Remove the Straps
Now you may be thinking, don't you need to wear the straps to even use VR? For a more immersive experience, using the straps would help create a greater illusion between our reality and digital reality. However, from our experience, some people may feel uncomfortable using the straps.
Clients may feel blindfolded and are concerned that they may look foolish in front of their colleagues or superiors. Plus, many people don't want to mess up their hair. This may sound silly, however, when conducting a business presentation with your clients, you want to make sure you have removed every barrier possible that would cause them to feel uncomfortable. And since your meeting may be their first time experiencing VR, take this precautionary step to make it easier for your clients to remove the headset if they are feeling overwhelmed. It also creates a 'pop in and out' experience that we believe is the best use for business VR - look inside, put the headset down and discuss, and look again. This is far easier with no straps.
With the Homido Mini, you won't need to worry about taking any straps off since the goggles are a clip-on accessory for your smartphone. Oculus has made removing the straps very simple. Simply release the velcro from either side and on top of the headset and you're good to go.
5. Give Your Headsets Some TLC After Every Meeting
Our last practical VR tip may seem self-explanatory, but it's still worth mentioning.
After every meeting, don't forget to wipe down and disinfect your VR headsets.
This tip wouldn't apply to you if your business opts to order a Homido goggle each for your clients since it will become their personal device. However, if your business decides or has already invested in an Oculus Go, the device will most likely be shared amongst your company or passed around with your clients. Not only does giving your headset a quick wipedown help maintain its cleanliness, but it's also a good habit to keep up so the hardware doesn't become grimy after extended use. Keeping your Go in pristine condition enables the headset to truly continue being a grab-and-go headset. It's a small step, but absolutely relevant for a great VR presentation.
Begin Presenting Like Never Before
We hope you were able to find these simple and practical VR tips useful and achievable when using the technology in your next presentation. These suggestions may seem insignificant but are simple steps your company can take to ensure your clients are able to enjoy VR in its full capacity.
---
Here at Yulio, we strive for excellence in performance and integrity when it comes to our product, and customer service. To learn more about how VR can enhance your business workflow, sign up for our FREE 5-day email course. For more information on designing for VR and a full checklist to keep you on track, check out our FREE "How to Design in VR" Whitepaper.