For designers, navigating change and adapting to a new normal has not been easy. The COVID-19 situation is probably the largest and most vivid global economic disruptor most of us can recall. While previous world events were at most a few months of inconvenience, many of us are heading into our fifth month of remote work, and there seems to be no end in sight.
With many existing projects put on hold and other new and unique ones with urgent deadlines, one question all designers can ask themselves during this time is:
How can I improve the efficiency of my daily operations?


Efficiency is a key element in ensuring that designers are able maximize their time in order to move onto the next project quicker. Although there isn't one perfect antidote or plan especially during these unique circumstances, we've identified 7 key areas designers can revisit to ensure their firm is prepared for the post-COVID-19 world and beyond - let's dive in.
1. Streamline Project Workflows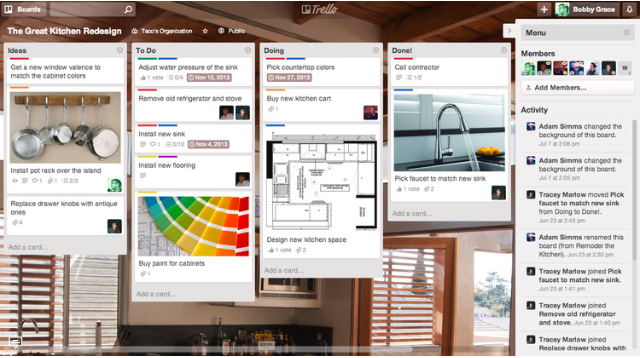 Investing in online tools can help keep your team accountable and organised. Image courtesy from: Trello


Knowing the progress of a project relative to the original projected schedule is important in ensuring your firm is functioning as efficiently as possible. Investing in online organisational tools may be the best way in keeping everyone on your team in the loop as well as improve reporting accuracy when updating your clients. While we are by no means an architectural firm, one organisational tool our marketing team enjoys using is AirTable. However, you can easily find productivity applications like Trello that specifically applies to those in the AEC industry. Not only can it keep track of all stages of your projects in a clean layout, but you can also track each task's progress and check in with each other if someone is blocked.
2. Make Billing Easy
In a normal year, Q3 is the time when people take time off to go on holidays with their families, so it's quite natural for businesses to experience a bit of a lull. While most people won't be doing as much travelling this year, the fact of the matter is that budgets are tight, so designers must eradicate any points of friction that would delay clients from paying their invoice. The best case scenario is for the whole payment process to be fulfilled with just one click. However, if that isn't possible, check to see if there are any steps that can be removed or if an online system/tool can help you accept payment more efficiently.
3. Communicate, Communicate, Communicate
We're all entering into a unique sort of limbo state, where some businesses have returned to their offices while others are still working from home. Some companies have even started to consider implementing more work from home days for their employees moving forward. One challenge that many of us faced during this period of remote work was staying connected with our team members. When we were all working in the same space, all we had to do to get a second pair of eyes or a second opinion was to look up from our desk to see who's available. And while it's quite simple and straightforward to set up a quick video conference or call a colleague, the fear of interrupting their focus or the need to solve our problems on our own is what can stop us from reaching out for help. However, what could have been solved in a matter of minutes with a colleague ended up taking a few hours when trying to solve it on your own. It's critical to find the right communication tools that can help bridge this gap so that you can be more efficient with your time. We like to use Slack if we have a quick question for someone in our team. Whatever tool or methods you use, make sure mastering communication is a priority.
4. Layout Processes for Remote Meetings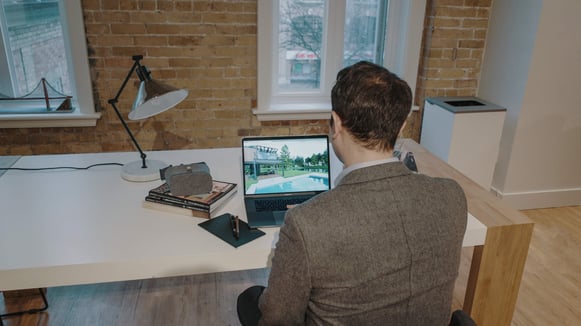 Remote meetings will continue to be the go-to tool now and beyond.


While many countries and states are beginning to head into their final stages of their reopening plan, we have yet to reach the light at the end of the tunnel. With certain cities becoming the next virus hotspot and others finally seeing a decrease of confirmed cases, remote meetings will continue to be a staple even when you are able to head back to the physical office. Plus, even after businesses, shops, and centers are able to open at full capacity, your clients or perhaps even you might not feel all too comfortable conducting in-person meetings until it's confirmed that the virus is completely a thing of the past. Use this time to develop and smooth out processes for various circumstances that will allow you to host remote meetings easily in the post-COVID-19 world.
5. Check Your Platforms
If your firm has a number of accounts on social platforms, now may be a good time to login and check if there are any missed messages or notifications from visitors. While it is good practice to monitor your accounts on a weekly basis, it's understandable to let this one area slide from your list of to-do's. However, it's worthwhile to quickly check if anyone has left any comments or tried to reach out through a direct message. You never know if these seemingly random visitors may actually turn out to be a fantastic opportunity for your business.
6. Explore Remote Tools & Technologies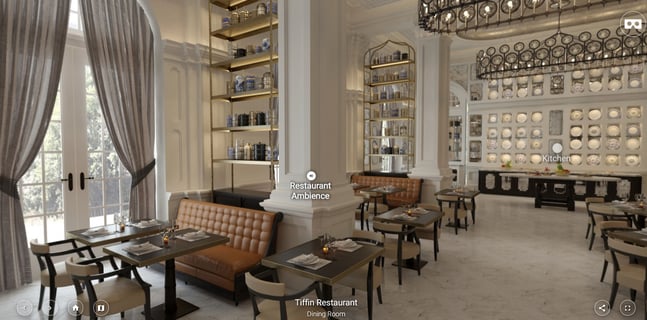 Explore remote technologies that will help you work smarter, not harder. View the full project here.


For many of us, Zoom fatigue and dread over video conferences has started to creep in. While remote meetings are and will continue to be a necessary method to connect with your clients, you can easily take your presentation to the next level. One platform that has gained significant traction during these past few months are 3D or Virtual Showrooms for business. So many businesses that relied on physical showrooms were forced to close down their locations to do their part in reducing the spread of COVID-19. With 3D showrooms, industries like interior design or even contract furniture can simply upload their renderings to a VR viewer platform and share the experience with their clients. Not only does this provide them a solution to showcase their designs and products during this season, but it also allows them to present and share them with their clients regardless of location.
7. Stay Open to New Ideas
While this last point doesn't just apply to a post-COVID-19 world, we all need a periodic reminder to venture past our comfort zones. It's easy to become so familiar with certain workflows and processes that we sometimes forget to explore other avenues that could help us exceed our goals. Coming out of what seems to be a quasi-hibernation period, look into a new method or technology you've been meaning to try for some time because now is the perfect time to awaken your sense of innovation.
Navigate the Post-COVID-19 World with Confidence
Amidst so much uncertainty, it's crucial to prioritise what's important and to make sure everything is running as smoothly and as efficiently as possible. Ultimately, optimising your day-to-day operations will help you overcome these difficult times, and to ensure a firm foundation has been laid for when we are able to return to our offices.
---
Our Yulio platform was created with the designer in mind. To learn more about our VR viewing platform, click here to head over to our Product Tour page. For more guidance on how to start designing for your first VR project, click the link below for our free guide.