The COVID-19 pandemic has challenged architects and designers to rethink systems in order to create spaces that are stunning while prioritizing health and safety. While this unexpected global event certainly has forced all of us to stop and examine our operations, the coronavirus pandemic has given designers the opportunity to return to what they do best: to create and innovate.
There is no doubt that COVID-19 has changed design and the industry as a whole. And while some may be holding out until our world returns back to normal, chances are that we all will need to adapt to a new normal - one that combines the best practices from before the pandemic, and the lessons we will learn coming out of it.
With healthcare professionals still learning about the virus and new discoveries still being made every day, there are a number of COVID-19-inspired trends that may be sticking around even when this pandemic blows over.
1. Flexible Solutions

Whether it be furnishing offices with rolling chairs or moveable barriers, flexible spaces will be a defining feature of COVID-19 compliant design.
All of us have experienced how unpredictable this virus is. In just less than a month, malls, schools, and businesses have all had to close their doors and start the long period of quarantining at home. However, as many cities and countries have started implementing phase 3 of their reopening plans, professionals are beginning to cautiously head back to work. We all need to be prepared at a moments notice to begin working remotely or switching up the office's configuration to be COVID-19 compliant. One trend that is starting to pick up steam is the need for flexible solutions that can adapt quickly to the unpredictable changes of what is allowed and what isn't. Whether it be adding wheels to furniture solutions or clip-on partitions, spaces that can be modified easily will continue to be popular.
2. Socially Distant Public Areas
In the era where social distancing is not only a trend but a necessity, many spaces that sport common areas will need to change. Some retailers like UNIQLO and restaurants have even established mandatory temperature checks before you're able to enter into the premises. One thing's for sure though, any space that is considered a shared area will need to be reimagined, reconfigured or reconsidered in order to provide enough space to keep everyone safe.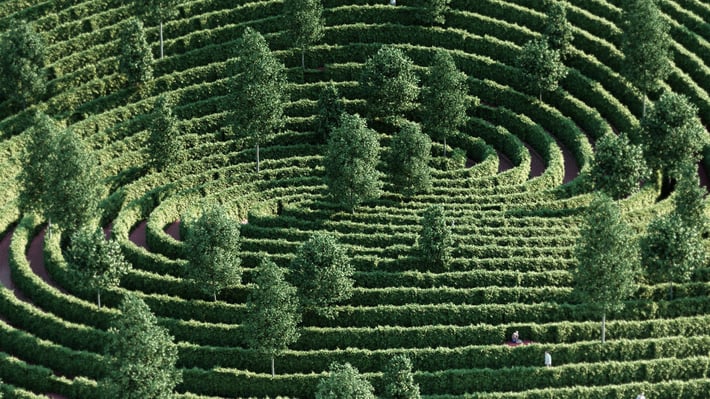 Parc de la Distance is truly a stunning socially distant solution. Image retrieved: https://bit.ly/3jWRb8b
Architects like Studio Precht have been proposing projects redesigning public spaces like parks that will encourage visitors to abide by the rules of physical distancing. "Parc de la Distance" is a brand new concept where parks are shaped like fingerprints, guiding visitors through concentric circles for a safe maze-like adventure.
3. Presenting and Pitching Remotely
While this isn't necessarily a design trend, architects and designers have started adopting a variety of remote tools that enable them to work and connect with clients regardless of location. Video conferencing platforms like Zoom and GoToMeeting have become an essential tool for so many businesses during this time, and the commercial design industry is no exception. Although in-person meetings in your client's area may not even be possible at this moment, these remote work tools are able to provide a solution that can help bridge gaps you may be experiencing in your workflows.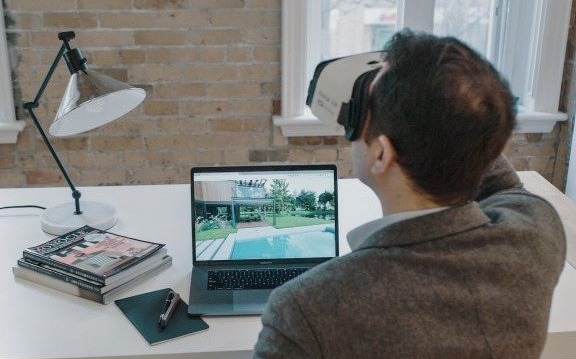 Architects and designers have been adopting immersive technologies to pitch and present to their clients remotely.


However, many firms have started integrating immersive technologies like Virtual Reality (VR) and Augmented Reality (AR) into their workflows. These technologies have been able to play a role in the designer's workflow by allowing teams to collaborate between each iteration, or hosting exceptional remote meetings that can aid clients in visualizing their spaces. Through showing rather than telling, designers can build a line of perfect communication between them and their clients.
4. Stricter Directions of Traffic

Foot traffic markers will be increasingly important in order to limit contact between individuals. Created by our partners at KiSP Inc.
During your most recent grocery run, did you notice the arrows on the floor? One distinct way COVID-19 has changed design is in forcing individuals to follow certain directions when navigating isles of supermarkets and retail stores. Prior to this pandemic, designers mostly paid attention to traffic control in the sense that it would make spaces much more effective and efficient. However, with COVID-19, designers now need to consider the flow of an area in order to establish the best way to direct individuals in a given space. This design element has become a crucial part in de-densifying cramped areas and limiting foot traffic to reduce the likelihood of transmitting germs.
5. Lightweight Designs
Lastly, lightweight structures that are mobile and easy to maneuver will be a popular design structure moving forward. Not only does it make it simple and easy for an individual to maneuver on their own, but having solutions that can easily be moved from one side to another will allow for spaces to adapt as quickly as the latest updates on restrictions.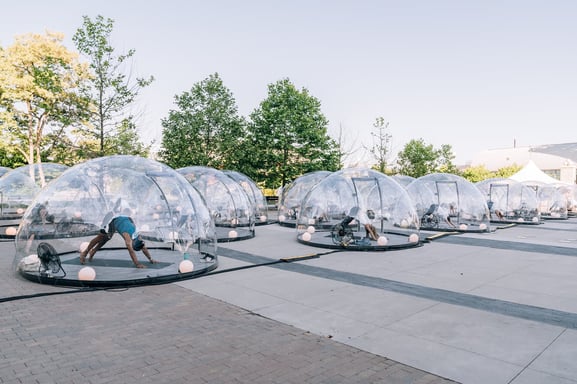 This sleek, lightweight, and functional design has given enthusiasts the option to attend their classes safely.
One of our personal favourite stories of creative design solutions is from Lmnts Outdoor Studio. Since the lockdown has prevented people from heading to fitness classes or gyms, Lmnts Outdoor Studio was able to innovate a simple yet charming design to give people a space to do yoga and fitness workouts safely. With its partnerships with local hot yoga and fitness studios, Lmnts Outdoor Studio allowed fitness buffs a great solution to attend a fitness class while still following the social distancing guidelines.
How COVID-19 Has Changed Design
This pandemic has certainly posed a brand new set of challenges for both architects and designers. However, it has also given the design industry a chance to revisit their roots of seeing a design problem, and proposing solutions that will answer to these barriers. With the ever-changing climate of the COVID-19 pandemic, many of these design trends may be the future of architecture and design.
---
Yulio is a VR presentation platform, built from the ground up to support architects and designers to visualize their projects in an impactful way. To learn more about how you can implement VR into your workflows, click here to access our free online whitepaper. To discover more about Yulio, our line of features and capabilities, click here to visit our Product Tour page.