For real estate agents, the process of selling homes to clients is sometimes stressful, tiring, and drags on too long, diminishing the ROI on their time spent. While online listings and photo tours have become table stakes for digitally savvy agents, prospective can still feel that a listing can fall flat when they arrive on site.
Augmented Reality and Virtual Reality have become popular tools to speed up the closing process by creating a perfect understanding for their clients. Instead of the current way of viewing static images on their devices, providing an immersive experience allows individuals interested in a listing to experience the property for themselves and is a key way AR and VR in Real Estate is changing the game.
Before we jump into the top 5 reasons why you need to incorporate AR and VR into your real estate business, let's first explore the largest hurdles when purchasing a property.
Picture Yourself in your Client's Shoes
For most people, investing in a house or any type of property will be the largest purchase they will make in their lifetime. To add to that, with the rise in housing prices, prospective new homeowners are feeling more pressure than ever before to make the right choice.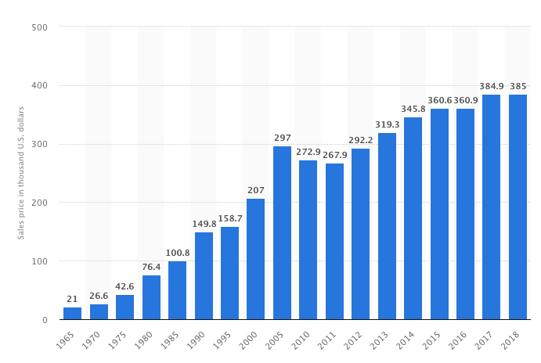 As the average housing price continues to rise, more emphasis is put on finding the right property to match a prospect homeowner's needs.

Over the past 50 years, the average housing prices have gone up by about $350,000 USD. Plus, depending on which state and neighborhood you live in, you could be seeing double if not triple the cost. Needless to say, your clients want to have the confidence and assurance that what they are buying is going to be the perfect fit for their lifestyles. The current way of previewing houses paints a mediocre picture at best, which leads to our first reason why using AR and VR in real estate may be the new standard for an incredible buying experience.
1. Virtual Reality - Tour the Property Remotely
If you have ever been through the process of purchasing a home, you would understand the temptation of wanting to see every and any property listing. Who knows, perhaps the one listing you declined to see would have been the perfect space. However, as a real estate agent, visiting an extensive list of properties your clients are interested in is both time-consuming and unrealistic. Virtual reality allows your clients to tour as many properties of interest remotely to help narrow down their selections.
The defining characteristic of virtual reality is its ability to transport the user into experiencing an environment like they there in person. Your clients can now take an ultra-realistic virtual tour of the properties they are interested in without feeling like they are merely piecing the home together through 2D images. By touring all of their properties of interest in VR, your clients will request fewer viewing appointments, using up less time for them and yourself.
2. Augmented Reality - Curate an Incredible On-Site Tour
Staging is a critical element to showing off the possibilities of a home and is often well worth the cost. Adding furniture, potted plants, and textured pillows is one way to make a listing more enticing, attracting potential buyers to the property. Nearly all real estate agents provide this sage advice when it comes to staging a listing:
Stage your property before showing it to buyers.
Some staging companies may have a set fee for their services, but others may charge by the hour. By being able to stage the property before showing it to potential buyers, it saves on cost for any real estate agent. However, there is an equally cost-effective solution that allows you to showcase your property "fully furnished" for your on-site tours.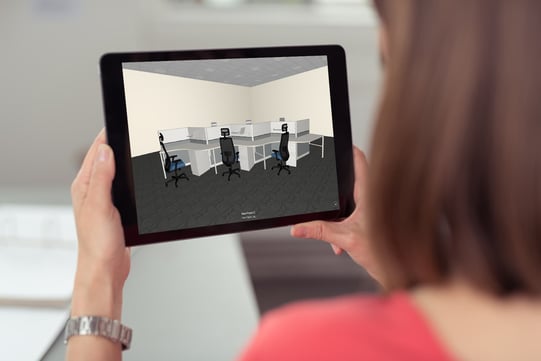 Through layering computer-generated objects into our reality, unlock the new way of staging with using AR.

Augmented Reality allows you to add digital elements into a real-world environment, enhancing your current space with various generated objects. Instead of letting your clients walk around an empty house, provide an AR experience to bring more life into the property. Not only will it help you save on the high price tag of hosting staged living areas, but it can also help your clients entertain what it would be like to live in the property. This brings us to the next (possibly most important) point.
3. Nurturing an Emotional Connection
Although it goes without saying, buying a home will be an emotional experience for your clients. They want to be able to picture sharing a Thanksgiving meal in the dining room or saying goodnight to their loved ones before heading to bed. For many people, that single purchase will be their lifelong investment and will house some of their fondest memories.
The current process of looking at listings online, scheduling an on-site tour, and having a rushed visit is still quite prevalent in the real estate industry. It's a process that works, however, it could use a much-needed makeover.
Using AR and VR in real estate helps your clients visualize a space much more clearly, helping them put themselves into the context of what it would be like living in the space. Since AR and VR experiences can be accessed remotely, your clients can continue touring the listings even after the scheduled appointments. This gives your clients the opportunity to continually "visit" their favorite properties, fostering an even greater "I can see us living here" connection with their potential future home.
4. A Business Booster
While quality listings take the #1 spot of importance for your clients, the quality of your service to them as their real estate agent comes at a close second. The reality is that your clients can easily move onto another agent, especially one that offers more services that ease the buying process for prospective homeowners.
Including the latest technological advancements is necessary to stay ahead of your competition. Incorporating AR and VR into your workflow not only can entice new clients with the extra services you provide but could assist you with your current clients in the overall buying process. Plus, any client of any business wants to have the assurance that they are working with individuals that value incorporating advancements that will ease the customer's journey. With providing various immersive services, showcase your commitment to providing the best possible experience when purchasing real estate.
5. Revamp your Website and Offer Listings
Like we touched on the previous point, cultivating a strong digital presence can help attract more clients to your business. Having a welcoming site that is both informative and sophisticated can drive new visitors onto your site, resulting in more potential clients. We have 2 tips we'd like to share with you to help take your real estate website to the next level.


Embed a VR experience on a page
Many businesses have already been using this method to be more eye-catching to visitors looking for your services.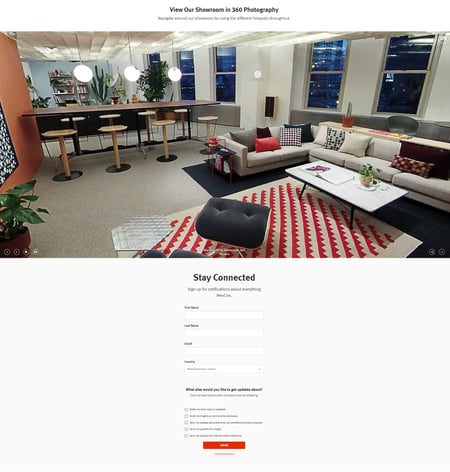 Incorporate a VR experience onto your website to encourage visitors to interact with your business.
Not only does this make your site more interactive, but you also have the opportunity to highlight a specific listing you want to bring more attention to. We suggest turning your site's "hero image" to a virtual tour or include a clickable link under each listing to transport your clients into the property.

Bring your Brochures to Life
Although the traditional method of printing brochures and pamphlets is well known and widely used, why not provide an extra way of experiencing your listings?
Allow your clients to explore your properties in a "dollhouse" mode, giving them a better understanding of the overall layout of the space.
AR and VR in Real Estate - The New Standard?
As they become less expensive and easier to access, AR and VR will become the norm in real estate. From saving time touring houses and providing a new and improved way of reviewing your listings, enhance your sales process with using AR and VR in real estate.
---
Here at Yulio, we strive for excellence in performance and integrity when it comes to our product, and customer service. For more information on how VR can enhance the buyer's journey, click here to access our Whitepaper. To learn more about using VR with Real Estate, discover how you can use our Yulio platform for a spectacular virtual tour.