Still believe VR is only for Silicon Valley gamers? You're missing the arrival of VR ROI for business and the very real ways that virtual reality is, right now, this minute, helping businesses to impress, engage with and increase business with their customers. Taking a few examples, we're going to demonstrate that VR has already gone way beyond being just the guy you call when you want to go out on the weekend. It's now just as happy suiting up and playing a key role in the boardroom.
Using VR for Business ROI comes down to three core patterns - its ability is to immerse a viewer in an environment that:
Doesn't exist yet

Exists but is a long distance away

Is too large, expensive or complex to model.
This unique dynamic means more use cases are surfacing every day that are enabling organizations to demonstrate their products, services - or their missions - via an experience over an explanation.
Selling Sizzle When There's Not Yet Steak
Decisions involving property are often among the hardest people ever make. How and where we live and its relationship to where we work, play and shop are very personal ones. Most of us want where we live to be an extension of who we are, and we want a property that helps us achieve an ideal lifestyle. Appreciating the appeal of communities not yet built brings another layer of difficulty and therefore, making the, as yet, unreal, 'real' for potential buyers is becoming a very powerful tool for those in construction and real estate. And since, for most individuals, a home is the single largest investment they will ever make, people need to have a level of comfort and certainty that is pretty difficult to achieve when they can't experience the home and its surrounding amenities. In a recent collaboration with a Toronto-based design firm, Norm Li, we helped bring to life an entirely new future Saskatoon community through the creation of a series of immersive VR experiences. Dream's Brighton Community includes several thousand homes, retail spaces, and surrounding parks, and is on a scale that simply can not be modeled out. Using VR kiosks in its sales center, Dream was able to immerse visitors in the new environments the new development would offer and helped people experience it, picturing their lifestyle while forging an emotional connection to the new community. The kiosks provided a window into what was possible in a personal way for each potential buyer. "They wanted people to feel like they were already living there," said Christophe Chevallier, art director for the Toronto-based company Norm Li, who helped create the virtual reality world of Brighton.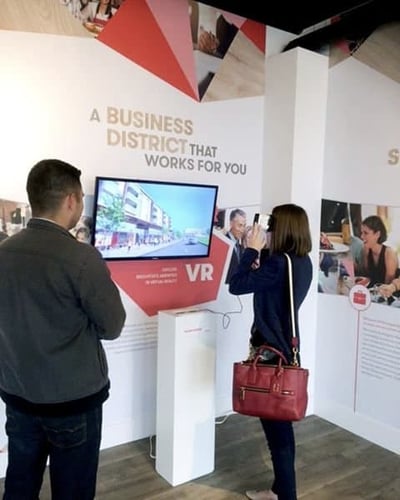 Setting Virtual Stages
Using VR to either 'white wall' or show potential interior layouts and styles for commercial real estate rentals is another VR application that's been successfully demonstrated by our client, Dream, in collaboration with Mayhew, an office design firm. Until recently, common approaches to successfully leasing commercial properties would involve either physically stripping out all existing walls and furniture and creating a white-walled, blank canvas for the next renter or, alternatively, installing rented staging furniture to mock up a possible look and feel. Being able to show rental space virtually, stripping out unwanted elements and manipulating environments quickly and easily to suit a renter's specific choices - without any need for actual physical alterations and therefore at almost no cost - is a great VR use case. Dream invited realtors to a blank warehouse space, and created a VR kiosk near a set of footprints on the floor, inviting agents to "stand here".
Paul Bradshaw, vice-president of sales for Mayhew, a Richmond Hill-based office interior design firm, uses Yulio in working with realtors, and is an enthusiastic proponent of VR."We work closely with realtors to customize interior spaces and this allows us to show how the space could perform for their customers," Bradshaw says. "The infrastructure cost is minimal and it's readily accessible to everyone."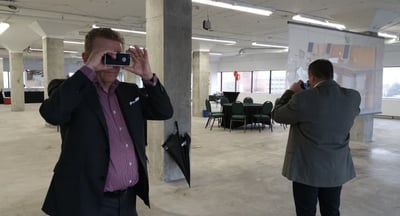 Not Business as Usual

Retail's seen its fair share of tech-fuelled disruption over the past few years and VR is certainly playing its part in that now. 'Experiential commerce' might not be a known term (as we just made it up) but home improvement and home decor retailers such as Ikea and Lowes are already demonstrating their products using VR. Imagine being able to 'virtually' stand in a new bathroom or kitchen and change every aspect, colours, tiles, fixtures, etc, on-the-fly, to find the most perfect combination. Yep - you can do that. And sales centers need not have every permutation or sample available. VR renders can do all that and let customers feel more in control of the experience...and speed up their decision making.
This same concept is something Audi has been experimenting with, letting customers "sit" in a virtual car to see different configurations of options before purchase.
The Empathy Machine
When you can't bring people to the field, you bring the field to them. In the absence of giving people a real-life experience, VR can often deliver the nearest possible alternative. For charities, putting people directly within an environment or situation they're looking to bring change to, can provoke the type of immediate emotional connection they need to engage new supporters. The profound effect that can be had by putting a person in a hospital wing or new school they are being asked to fund, has led to VR being dubbed by many in the field, 'the empathy machine' and meant it's been enlisted by charities including Unicef, Amnesty International, and Charity:Water who are showing refugee reality and seeing donation rates increase dramatically.
Whether VR is enabling people to experience a new community before a single foundation's been laid, to try out new bathroom tiles at the touch of a button, or provide a visceral glimpse into the change a new hospital brings, it's proving itself to have gone far beyond life as a novelty and is now establishing itself as an increasingly compelling tool for creative businesses. Ready to try VR out for yourself? Sign up for our free 30-day trial and get started on your VR journey today!