Hardware selection can be a tricky process to navigate. Especially as the tech industry constantly creates, innovates, and pushes the boundaries as to what we thought was possible. It's easy to get lost in the technical jargon as well as keep up with the latest releases and how they measure up to the current number one solution.
Ever since last March where countries went on lockdown and implemented strict social distancing restrictions, 360 photography was put on a temporary halt. Whether it be team members looking to photograph a space or professional 360 photographers, each step of the process had required greater foreplanning and sometimes whole projects had to be put on an indefinite pause. However, as governments and officials begin to respond to the plateauing confirmed COVID-19 cases by loosening restrictions and allowing businesses to reopen their physical locations, it won't be long where anyone can start taking 360 photos with greater freedom.
When it comes to 360-degree cameras, there are a whole range of options to choose from. From cameras that are lightweight and mobile to larger ones that can capture high-definition images, each piece of hardware possesses key features that would fit different needs. In today's post, we'll be highlighting our picks for the best 360 cameras for 2021 is perfect for capturing business-ready VR experiences.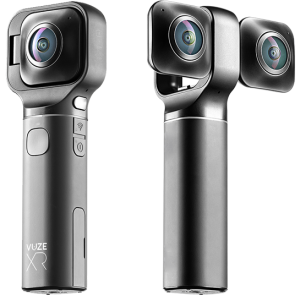 Vuze XR
| | | |
| --- | --- | --- |
| Weight: 212g | Dimensions: 152 x 56 x 39mm | Waterproof: Only with case (30m) |
| Stills resolution: 18MP | Video resolution: 5.7K | Memory: MicroSD |
| Mount: Tripod socket | Battery life: 1 hour | Price: $439USD |
Starting with the #1 spot, we chose the portable and compact Vuze XR camera since it packs a big punch in just a small mobile device. Not only can it capture 360-degree photos and videos, but you can pop out the two cameras to also capture 180-degree stereoscopic images and videos. Weighing at just over 200 grams, this lightweight yet powerful camera sports a sleek and functional design, and would be especially great for professionals on the go. While further improvement in an image's quality in low-light areas is needed, the camera overall performs very well compared to other handheld camera options. The Vuze XR is a fantastic all-in-one choice especially for professionals on the go who need to capture quality 360 images and videos to be viewed in full VR.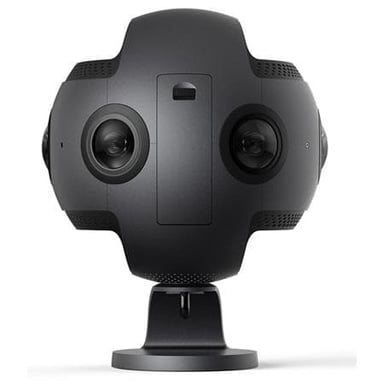 Insta360 Pro
| | | |
| --- | --- | --- |
| Weight:1228g | Dimensions: φ143mm | Waterproof: No |
| Stills resolution: 29.49MP | Video resolution: 8K | Memory: SD Card |
| Mount: Tripod | Battery life: 75 mins | Price: $3,500USD |
Before the price tag completely scares you off, we need to take the time to clarify this list is a compilation of 360 cameras that even B2B businesses can use. Yes, the Insta360 Pro comes with a hefty price point, however in our experience, the quality of 360-degree content captured with this camera is truly outstanding. While it certainly is not as small and lightweight as the other options on this list, we had to include this camera simply for how intuitive it is to use and its ability to produce high-quality 360 images and videos. This enterprise-tier camera features 8K resolution and is a sturdy piece of hardware, able to stitch your photos and videos in about 10-15 minutes. Plus, the camera functions free of any extraneous wires, allowing professionals looking to capture higher fidelity spaces with no problem. The Insta360 Pro is truly an exceptional camera, producing images and videos worth the price tag.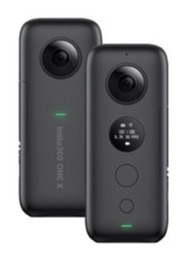 Insta360 ONE X
| | | |
| --- | --- | --- |
| Weight: 115g | Dimensions: 115 x 48 x 28mm | Waterproof: Optional housing |
| Stills resolution: 18MP | Video resolution: 5.7K | Memory: MicroSD |
| Mount: Tripod socket | Battery life: 60 mins | Price: $570USD |
The Insta360 ONE X is the smallest and lightest 360 camera that we have included in our top picks list, and is perhaps the most advanced solution that comes in its size. Coming in at just over 10cm long, this small but mighty camera features Insta360's 6-axis gyro system and FlowState stabilization technology, instantly increasing the quality of anything you capture. Plus, one feature that many 360 camera enthusiasts will enjoy is the optional "invisible" selfie stick, taking out anything that doesn't add to the experience or could be distracting to the viewer. While the design of this shirt pocket 360 camera is nothing short of stunning, this piece of hardware is better suited for casual 360 photographers and for capturing leisure/travel videos.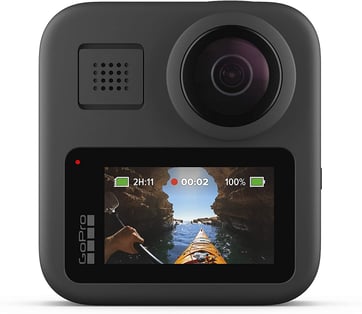 GoPro Max
| | | |
| --- | --- | --- |
| Weight: 163g | Dimensions: 64 x 69 x 40mm | Waterproof: 5m |
| Stills resolution: 16.6MP | Video resolution: 6K/5.6K stitched | Memory: MicroSD |
| Mount: Flip-out mounting feet | Battery life: 78mins (5.6K) | Price: $400USD |

While the GoPro Max is one of the top choices among 360 camera enthusiasts, much of the winning aspects of the camera are for those searching to capture experiences for entertainment purposes. The camera no doubt is a high-performing piece of hardware, where you can hit record and live in the moment. Plus, with the GoPro ecosystem and features, you can download their app and edit your footage on your desktop or even on your mobile device. Although the resolution is below 4K and the app interface could use an upgrade, the GoPro Max is a great solution for capturing stunning dynamic clips, perfect for action shots or doubling up as a vlogging camera.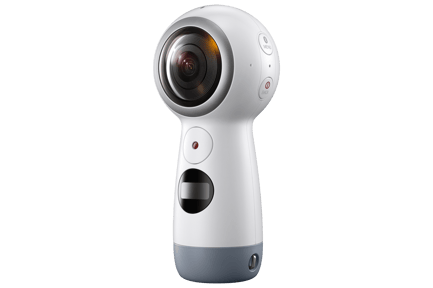 Samsung Gear 360
| | | |
| --- | --- | --- |
| Weight: 130g | Dimensions: 45 x 45 x 99mm | Waterproof: Limited |
| Stills resolution: 15MP | Video resolution: 4K | Memory: MicroSD |
| Mount: Tripod | Battery life: 60mins | Price: $200USD |

And last but not least, we have the Samsung Gear 360. While this camera is relatively simple and basic, it is the best 360 camera for those on a tight budget or looking to dip their toes into 360 cameras before investing in other solutions. The camera comes in a functional lollipop-like shape, making it easy to hold in one hand. Plus, the camera is splashproof and has a tripod mount - both incredibly useful features. Besides capturing good 360 photos and up to 4K in size videos, the Gear 360 camera also livestreams to Facebook and YouTube. While this is a great introductory camera, the device isn't compatible with any Android phones (but works with iOS and Samsung) and has limited camera features when you're using it with iPhone. While it is mostly used in recreational settings, the camera works well and is incredibly affordable, a great fit for anyone new to 360 photography.
Getting Started
While it seems fairly obvious, not all 360 cameras are made equal - each has defining qualities that speak to a specific need. Whether it's finding solutions that can take both 180 stereoscopic images as well as full 360 experiences or you're looking for an affordable option to get more familiar with capturing immersive spaces, it's important to understand key benefits and drawbacks to each option before taking the plunge. And hopefully, with a greater understanding of these 360 camera options, you are able to invest in a 360 camera with greater confidence.
---
For more tips on how to capture spaces with a 360 camera, check out this Knowledge Base article. If you have 360 photos and videos and would like to see them in full VR, sign up for our 30-day free trial and upload your scenes.