Virtual and Augmented Reality feel like they have been on the brink of being transformative technologies in AEC since about 2015. And why wouldn't they be? VR provides a window into a world that doesn't exist yet and AR brings digital items into the real world to show fit and context. But to date, they remain a 'for special use only' visual. To make VR and AR practical business tools they must become part of a simple VR to Revit workflow. Why? Because waiting days for a VR project to be created is outside the timeline for most client presentations and overloads the design queue. When CAD software users have a simple, fast path to VR there can be a true transformation of a client-facing workflow that includes these immersive technologies.
Why Build a Revit to VR Workflow?
Immersive VR experiences create a sense of size, scale, flow and understanding much greater than models or 2D images. If you tell design stories with plans or renderings today, you can do it better with VR. We hear from Yulio users all the time that VR creates the 'wow' moments and engages clients in conversations that don't happen when you show plans alone. When your clients can step inside your vision, a shared understanding is created that allows for a deeper two-way conversation and results in faster sign-off and fewer downstream changes. VR makes it easier for clients to work with you and saves you meeting time and revisions.

That's a lot of heavy lifting for the investment of a headset that can be amortized over countless client meetings. So why isn't VR in architectural presentations more pervasive? It comes down to establishing an end-to-end workflow that works and allows anyone on your team to create VR presentations directly from Revit.

With 9 of the 20 major global architectural firms reporting that they used VR in 2022, it's time for all firms to find a way to make VR a practical part of their CAD workflow.
The VR Workflow Stages
Creating VR presentations that are practical and efficient come down to how challenging it is to create the VR file and then how to get it to your client to actually see. At Yulio, we add an 'enhance' element to that where architects might take a project that's been created and add relevant additions like audio or text, and refer to our simple 3-step workflow: Create, Enhance and Present. But when looking to build VR into your existing workflow, you want to select a tool that will help you make VR from Revit for every presentation. To find what works for you, it's helpful to look at what have historically been the challenges with creating and presenting VR for architecture clients.

Create VR from Revit
When VR is presented, it has a clear ROI for fast client decisions, better team collaboration and fewer changes. But there has been friction in creating good content, starting with a big learning curve for VR authoring. There are complex and time-consuming tools that require you to learn another software's models or lighting and take a lot of machine time to render. Then, even once a team member has mastered them, the pieces need to be stitched together to create the full 360-view.

The solution to this issue is creating VR from native Revit. With tools that transform your Revit files to VR, you can engage every member of your team who has used Revit to be VR authors. Any team member can bring the immersive properties of VR to all of your RFPs, pitches and even your portfolio. Plus, there's an added benefit when Revit is the start of your VR workflow - savings in training time and machine time.

Choose a solution that lets you design your model in Revit entirely to reduce the amount of training for materials and lighting to make VR projects realistic. Then, render your Revit file with a tool that applies materials and lighting for you. A tool like Yulio, goes even further to create your VR project while rendering. It applies navigation hotspots to each scene rendered with Revit so that your VR presentation will be navigable and generates a floorplan view of the project so that those navigation spots are linked.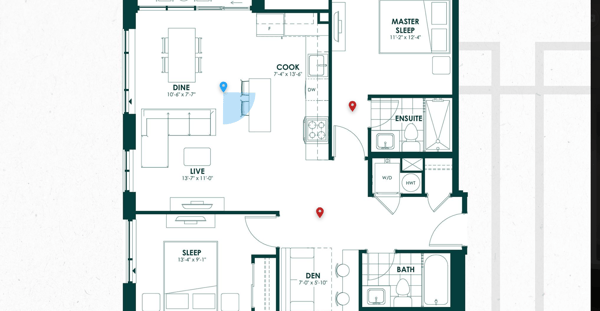 Tip: We recommend having 4 walls and a floor and ceiling in your model to create realism and ensure your viewer isn't disoriented, but it is not required to use the tool

In other words, by rendering with a tool that fully integrates with Revit you can generate VR with a few clicks - not just a scene but a full and navigable project. It means you can solve your Revit to VR workflow with a few clicks. (Yulio offers a free trial and plans start at $600 annually - and there's no limit to cloud rendering).

Present VR from Revit
Once you have created a VR presentation, it's important that the output is something you can easily share with clients to complete your Revit to VR workflow - presenting to your client is arguably the most important part of creating a project like this. The ROI is in those 'wow' moments for your clients, and ensuring your project can be shown widely is critical - not only to your direct client with you as a guide but potentially to other stakeholders who may be in separate locations or who may be viewing the project separately from your meeting.

More common, geometry-based solutions can pose challenges because they tend to be too unwieldy for clients - they require significant power from a recipient's computer, and may not pass IT security issues as they get sent as executables. Plus, they tend to have a cartoon quality vs. something more photo-realistic.

Yulio works with Revit and makes project creation core to our solution. It packages your project in the cloud and returns a URL which you can share via text, email or live presentation on a headset or any browser-enabled device.

One of the challenges of presenting with original VR headsets is the reality that your clients are somewhat blindfolded - the headset creates a physical barrier between you and them. So, look for a solution that helps you stay engaged during your presentation for maximum client satisfaction. We accomplish this in Yulio with icons that show you exactly what your client is looking at when you present through one of our collaborate sessions. This opens you up to the context of what your client was looking at when they asked questions or made comments.

You'll also want to have the chance to guide the experience if you want your viewers to follow a specific path in your design presentation so VR controls that let you lead the viewer, or explore on their own later are also critical to a VR workflow.
Remote Presentations and Updates
Another important element in your VR workflow is the ability to use your project for client presentations and update the project with revisions throughout the project lifecycle. You need to immerse your clients easily in the design story without tech getting in the way. Our clients report that about 80% of presentations happen at the client's location. One of the barriers to using VR effectively for AEC firms has often been the need to set up headsets with IT and carve out 'safety zones' that require clients to come to them. With the arrival of the Meta Quest series of headsets, mobile, standalone headsets are a reality. The Meta Quest 2 is available for under $500 (and while the MetaQuest pro recently launched, at about 3x the cost it has yet to prove necessary for business use - see our article on its features here.) They can easily be brought to any location, or even sent to your client at the start of a project for them to use - if you can update the content remotely as you can with Yulio.

Yulio lets you add a project to any headset linked in your account with a click - so updated projects, once authored, can be added to a headset without even having the headset with you. We know the last thing our users want is to have a complicated process they need to share to get their clients to see their projects.

And for those clients slightly hesitant about VR, choose a presentation tool that doesn't require them to use complex hand controls and provides the option for a browser-based experience.

Enhancements for Revit VR Projects
As your team grows in their comfort in creating VR projects with their CAD tools, you may want to add enhancements to the design story. Your Revit to VR Workflow should accommodate enhanced storytelling within the context of the project - these enhancements can be about increasing realism with ambient audio or lifelike movement animations, but they can also be about telling your story even when you aren't presenting in person. Features that allow you to add still images of alternate materials or colors make it easier to provide options in one project, and you should be able to add text or links to give full information right within one file. Some Yulio clients also film an introductory host to welcome viewers to the project and explain the design story or give context.
Bonus: AR from Revit
Finally, a Revit Workflow may include a very specific enhancement - AR objects. AR is incredibly useful when trying to place a proposed architectural element into the real world to allow clients to understand fit, and interact with the object in their own space. When working with Revit, you can tag any object with a Yulio AR tag and it will appear in your Yulio VR project with an AR hotspot. Triggering that hotspot from your mobile phone will allow you to place the object on an open area in the 'real world'. It creates great opportunities for interaction in your meetings and lets clients see you as working to communicate with them very clearly about what they are investing in with your design.

When you're considering VR software for your practice, look for something that can be used by as many people in your firm as possible. Building a practical Revit to VR workflow by considering how your team will create, enhance and present VR and AR to your clients will ensure your investment in VR technology is more widely used, and that you can bring the power of VR presentations to as many clients as possible.
---
Yulio takes all of the authoring and presentation mechanics and IT friction and makes it all go away so you can get to that joyful client moment faster. Check it out for free at yulio.com/pricing where you can sign up for a free trial.