Among some of the biggest changes business has had to make in 2020 was the exodus of in-person conferences. Overnight, some of the largest annual conferences that we used to attend like SIGGRAPH and NeoCon had to cancel their in-person event and start rethinking and creating a brand new virtual event. Others like F8, Google I/O, IBM Think, all cancelled their conferences in 2020 and some even in 2021.
While remote trade shows have most definitely been on the rise since a year ago, its popularity and a preference for a virtual event has been met with mixed reviews. One of the most notable benefits of online events and conferences is the ability to tap to a much larger global reach, giving those living in different timezones the chance to attend and participate in the conference just like everyone else. The accessibility of the events makes it easier to connect and float ideas as well as revisit the content or share it with team members at any time. However, the biggest struggle that we've heard from clients and others in the tech community is the missing element of a personal touch.
Perhaps the most enjoyable parts of such large and diverse conferences is the ability to chat, and connect with like minded individuals excited over similar topics and interests. Not only were the transitions much easier and less awkward, but the social aspect of meeting new people and forging new relationships are some of the most memorable parts of the conferences.
However, in the age of virtual trade shows and remote conferences, many businesses have turned to VR as a way to soften the blow by using this technology as a vessel to connect with their clients virtually. And if you are one of the businesses looking for a way to invite your audience into an experience, provide the closest option to an in-person showroom walkthrough, here are a few crucial steps you need to consider when using it in your next online conference.
Let's take a look.
1. Take it Slow
Our first tip is to remember that when it comes to using Virtual Reality, chances are the majority of your audience have yet to use this technology, let alone for business. We always share with our clients that have never put on a headset let alone explored a VR experience on their browser to take it slow and to look up, down, and all around. Properly orienting oneself in a virtual environment for the first time can be tricky for anyone, and VR motion sickness is a real phenomenon. Even those that may be well versed in the technology or feel confident putting on the headset may find it jarring for the first few minutes.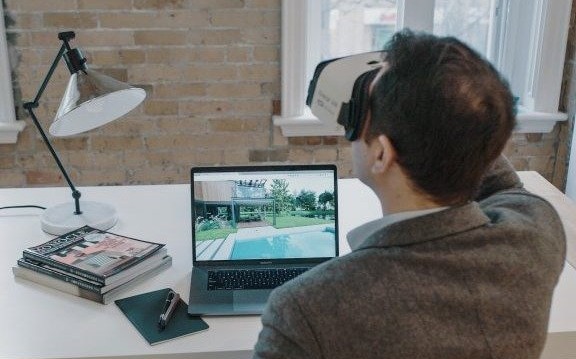 Taking it slow is crucial in ensuring your audience will have an enjoyable experience with VR.


It's important to remember to never assume a person has tried VR prior to your meeting. One step you should always take when using VR in a business presentation is to take the first 5 minutes just to let your audience roam in VR, even if they're joining in on their browser. Give your audience the chance to be excited (because it truly is fascinating technology!) and to also let them explore a scene before jumping into what you would like to cover. This not only hypes up your audience but it's also a practical way to ensure that anyone attending your virtual experience will be comfortable, enjoyable, and an informative time.
2. Choose Platforms with Collaborate Settings
If you are scheduled to be featured on a panel, a casual Zoom breakout session, or even hosting your own seminar, one feature that you would want to be on the lookout for when choosing a VR platform is one that supports a way to collaborate with your audience, just like our Collaborate feature. Perhaps one of the best parts of in-person conferences and events is the ability to strike up a conversation with passerbyers and make a meaningful and lasting connection. However, while the biggest benefit of a virtual trade show is the global reach and diverse attendees, the biggest drawback is the lack of personal connection that could be the difference of landing a new client or losing a prospect.
By using a collaborate feature/platform like Yulio's, take your audience on a journey with you through your VR project.
Over the years, our clients have shared how a collaborate feature like Collaborate has been instrumental in establishing a perfect understanding between them and their audience, communicating their design choices, and engaging their audience just by showing them, not just telling them about it. Platforms or settings that could encourage collaboration during your sessions can provide a bridge and a vehicle to invite your audience into an unforgettable experience accessed even from the comfort of their own home. And if you're in the business of visual storytelling or showcasing a brand new line/product, being able to highlight your space/products will leave a long lasting impression.
3. Create the Highest Quality Experiences
With any VR platform, it's essential to keep in mind that this technology is a tool that will further magnify your 3D model and spaces. The technology is truly transformative and is able to share your products and space in a holistic and continuous experience, unlike renderings that can chop up your scene into a series of static images. However, it will go only as far as the quality of your models and curated spaces. So when it comes to creating projects to be viewed in VR, you want to make sure they are of the highest quality, especially in a prospect-facing audience where first impressions are everything.
Whether it be spending the extra time sharpening edges or waiting longer for your image to finish rendering, the time spent going above and beyond will be well worth it. However, if there just isn't enough time or you're looking for further expertise on elevating your project, you can always find firms that specialize in producing ultra high-quality photorealistic images and spaces, like these Visualization services.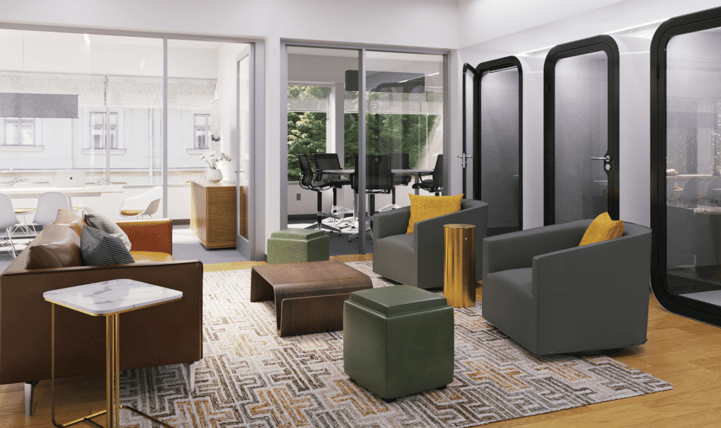 Here's a project that the Visualizations Team created - to see more of their work, click here.
Their team of designers have years of experience in mastering the art of breathing life into spaces and showrooms that might not actually exist in real life. Plus, their team will be able to solely focus on your project, expediting the time it takes to consolidate your media and resources to submit, share, and rehearse for your time at the virtual trade show. Regardless of whether you choose to enhance your projects in-house or look to outsource it to a visualizations team, you want to put your best foot forward and showcase your team or products strengths in a project and VR experience that is stunningly high quality.
Make it Your Year at the Virtual Trade Show
Although remote conferences may continue being our reality until further notice, Virtual Reality can be the bridge in helping you connect and engage with your audience wherever, whenever. Remember to give your audience the chance to be excited and explore your project, look for a platform that can support remote collaboration, and create the highest quality experience to wow your audience. We hope that these tips are able to guide you on how to best prepare and present your VR experience in your upcoming trade show.
---
Here at Yulio, we strive for excellence in performance and integrity when it comes to our product, and customer service. For more information about Yulio and how our platform can support your project, head over to our Product Tour page. To learn more about using Yulio for your next virtual trade show or if you're looking for a way to create a virtual showroom, contact our team to schedule a time to chat.