We are so excited to share with you our brand new feature that will help you create business-ready projects faster than ever before. Introducing our "Auto Generate Hotspot" feature!

What is our Auto Generate Hotspot Feature?
With a copious amount of math and advanced coding, we have now automated the once manual process of adding individual hotspots into a VR project.
Here at Yulio, we are fortunate to have a great relationship with many of our users who kindly share what they wish to see on our VR platform. And while many of our feature releases and updates are largely inspired by many of your comments, our Auto Generate Hotspot feature was one that would benefit many of us within Yulio.
When editing a VR project, it can be incredibly time-consuming selecting the right hotspot for the right scene. Although we greatly appreciate our user's dedication to placing their hotspots just right every time, we knew there had to be a better and simpler way of executing the same task.
Instead of using up your time dragging and dropping numerous navigation hotspots in your project, with one click of a button, generate a full VR presentation ready for your next client-facing meeting within minutes.
How To use Auto Generate Hotspots
The Auto Generate Hotspot feature works by calculating the placement of your navigation hotspots based on where you have placed them in your floorplan. To use this brand new feature, all you need are a minimum of two scenes in your VR project and a floorplan with at least two hotspots.
Once you have your two scenes and floorplan with two hotspots, head over to our Hotspot Editor and click on the Scenes tab.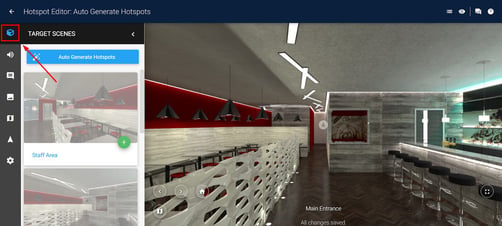 There you'll find a big blue button that says "Auto Generate Hotspots".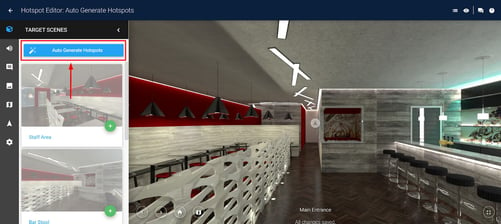 After clicking that button, a pop up will appear within the hotspot editor to let you know you are about to Auto Generate Hotspots - click Continue.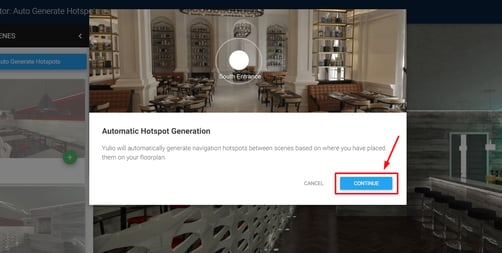 Now, you have a few options in terms of selecting your scene preferences. You can select Show Scene Name which will allow you to show or hide the hotspot label that would appear below the hotspot icon. In the same window, you can choose between a white or black hotspot icon.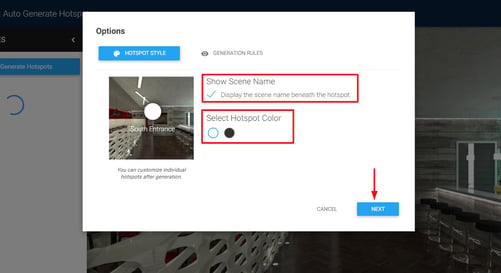 Once you have set your preferences, you will need to select which Generation Rule you would like the Auto Generate Hotspots feature to apply to.
All to All: navigational hotspots will be created to every scene fro every scene in your project. So for example, if your project has 10 scenes, there will be 9 navigational hotspots in every scene
Nearest Neighbour: We'll create hotspots based on the position of each scene on your floorplan. Generally, it will only create navigational hotspots for a couple scenes that are closest based on the position of the hotspots in your floorplan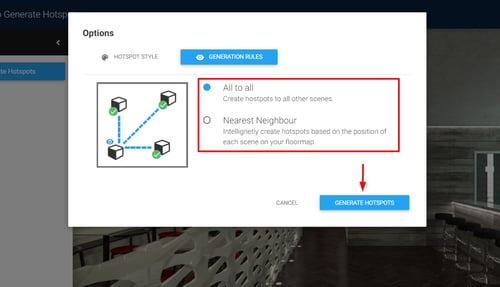 Pro Tip: We recommend only using All to All if you have a project with only a couple scenes
To finish up this process, click Generate Hotspots and you're all set! Your navigational hotspots have now been automatically generated. Although our placement will be as accurate as possible based off of your floorplan, we still recommend slightly adjusting the placement of hotspots after they have been generated to suit your liking.
---
We hope you're as excited for this new feature as we are! Our newest Yulio feature is now available for all Pro and Enterprise plans. If you would like a more in-depth how-to guide on using Auto Generate Hotspots, you can check out our Knowledge Base article here. If you have any other questions on this feature or all other Yulio features, please reach us at hello@yulio.com - we would be more than happy to assist you.