As VR has risen in popularity for the last few years, more and more manufacturers have dipped their toes into the industry, developing their own VR headsets. We have well-known names in the industry, such as Meta/Oculus, HTC, and Valve which have made big names for themselves by creating multiple iterations of their devices. However, we also have had a lot of smartphone manufacturers/developers who have taken a stab at VR. Google had its daydream device and Samsung had its line of Samsung Gear devices. One major smartphone developer has yet to take the plunge though: Apple. However, that may soon be changing.

Over the last year, rumors have steadily been coming out that point toward Apple releasing some sort of mixed-reality headset. These rumors come from patents, reports, and other sources that have given us an idea of what this device will be able to do. Now may be the time for Apple to make their play as VR has become more mainstream and with the recent release of the Meta Quest Pro, there is evidence of an audience that wants a more premium XR device.

Below we will offer a rundown of what we've learned about this possible device in terms of its features, price, and possible launch window.
Apple XR Device's Possible Features
From rumors and comparing it to its direct competitors there will be a few features we can expect to see. First off this device is reported to be a mixed reality or XR headset, so we can expect to see some similarities between it and the Meta Quest Pro. We can probably expect to see a wraparound design like most VR headsets to create total immersion and cut out the outer world. But with the XR element, we can also expect there to be external cameras to allow viewers to view an augmented reality layer within the device. These features just make sense if they are looking to meet what competitors are currently doing with these types of devices, but what is Apply looking to differently?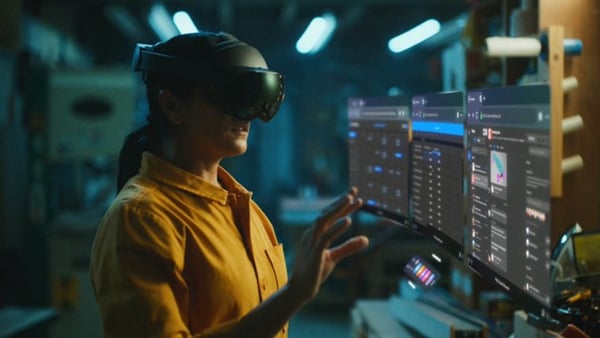 An example of AR features possible with an XR headset (photo credit: Meta)
Rumors have pointed to a few unique features of the Apple XR headset. One of the more interesting ones is the possibility of a virtual keyboard. One of the experimental research teams at Apple has been reported to be working on a project that would be for tracking hands for this method. This would certainly up the ante in hand and finger tracking for XR devices and offer a unique way of using the device that we haven't seen from other manufacturers.

One place where apple stands out from many other manufacturers is in the development of its high-end displays. The Apple Retina display has become well known across all of their products and they have become the go-to company for designers for their color-accurate screens and graphics software. Rumors suggest that Apple will be heavily investing in the screens for their XR headset to keep up their high-quality reputation. Reports have come out showing that Apple may even be investing in 8K displays for each eye. This is a much higher target resolution compared to many of the current headsets available on the market. It will be interesting to see if this is the case and how exactly Apple plans to cram all that into the eye displays.
Apple XR Device: How much will it cost?
As we've just highlighted, Apple is planning on cramming a lot into a small XR device. High-end screens and detailed hand tracking do not come cheaply. Also, the array of cameras that must be on the outside of the device to track AR data, must be somewhat high quality if they're looking to have a full-color passthrough, with seamless interaction. All of that is going to add up to a very high-end price tag. This does fit with Apple's other products though, as many of their products are very high quality and well-built. Earning their high price tags.

For an idea of what this XR device will cost. We can get an idea based on some competitor headsets that are currently available today. The Meta Quest Pro already had a hefty price tag for it when it first launched at $1500. However, it has since then dropped significantly to $1000. It does look like Apple is trying to create a similar device to the Meta Quest Pro. However, with their high-end features and the more premium build that Apple is known for, we will likely see an even higher price.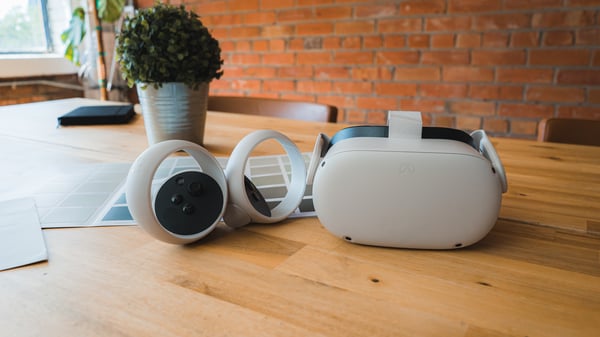 The Meta Quest 2 will only cost you $400, still one of the most affordable standalone VR experiences.
We've seen several reports that show that the Apple XR device could be priced as high as $3000 per unit. That's the highest we've seen. Some have reported slightly lower, but that is the ballpark. Because of this higher price. It may not be something that's marketed to individuals, but rather to businesses, similar to the Meta quest Pro. Some have speculated that we could see subscriptions for loaning a device similar to what we have for some of the higher-end software today. But as we said, Apple has a devout following and many of its biggest fans may be willing to purchase this device for themselves. We will be curious to see if they target this towards both commercial use and personal use.
Apple XR Device Launch Window
So we have a good idea of what's going to be in this device and what it might cost us. However, the launch date is still very much a moving target in the industry today. Many people thought that the Apple XR device would be launching in Q1 of 2023, but we're just approaching the end of that period now, and still no news on this device. There have been rumors that it may launch at WWDC 23, coming up this June. But in today's world where supply, demand issues, and manufacturing backlogs are still very much prevalent, One would be mindful to be expectant of further delays to come. However, Apple is no stranger to surprise releases. They may simply host a live stream some random day in the upcoming months, and then several weeks later we could have the XR device in our hands.
Waiting for the Reveal
We hope you now have a better idea of what could be in this Apple XR headset. It's got us interested, especially with their investment into some very high-quality materials and what could be a focus for business use. Apple is well ingrained in the business world and introducing an XR device to accompany their already massive suite of devices that many designers, architects, and engineers use today could be a big boon for them. Similar to the Meta Quest Pro, the high-end price tag does concern us little, as meta has been making this technology accessible to everyone with their more affordable devices. But we will wait to see the device in action before making any conclusions.
---
Want to learn more about VR and how you can incorporate it into your business? Check out our VR ROI Whitepaper. It can give you a better idea of how you can easily fit VR into your current workflow and how you can start seeing returns on it right away. Also, if you're looking to consider a VR headset for your company today, check out our guide to which VR headset is right for you.