Virtual Reality (VR) has revolutionized the way architects present their designs to clients. With the help of VR, clients can immerse themselves in a 3D environment and experience the design in a way that was not possible before. It's the best way to provide a preview of a final project that is comparable to a physical tour of the final space.

However, your past architecture projects can be used again past their initial use. Past VR architecture projects can also be repurposed for marketing materials to give prospects and clients the best understanding of the work you and your firm are capable of. In this article, we'll explore how you can repurpose architecture projects for VR architecture marketing purposes in a variety of different situations.
Create a Design Portfolio in VR
Incorporating VR examples into your architecture portfolio can be a game-changer when it comes to showcasing your designs and creating great VR architecture marketing materials. With VR, you can take your potential clients and stakeholders on a virtual tour of your past projects, allowing them to experience your designs in a highly interactive and immersive way. This level of engagement can help to convey the quality of your previous works allowing viewers to understand the caliber of design and styles your firm can create more fully.

Another advantage of using VR in your architecture portfolio is that it allows you to differentiate yourself from your competition. By leveraging new technology like VR, you can demonstrate your willingness to embrace innovation at your firm and your ability to provide clients with a unique and engaging experience. As more and more industries adopt VR technology, incorporating it into your architecture portfolio will be crucial to allow you to stay ahead of the curve and position yourself as a leader in your field.
Use VR to Create Interactive Displays for Trade Shows
Repurposing VR architecture projects for tradeshow displays is an innovative and effective way to showcase your designs and attract potential clients. You can take a past VR project and retool it for an experience that allows visitors to your tradeshow booth to explore your previous designs and get a better understanding of the work you have done. Having a VR experience at a tradeshow can help to capture people's attention and create a memorable experience that leaves a lasting impression.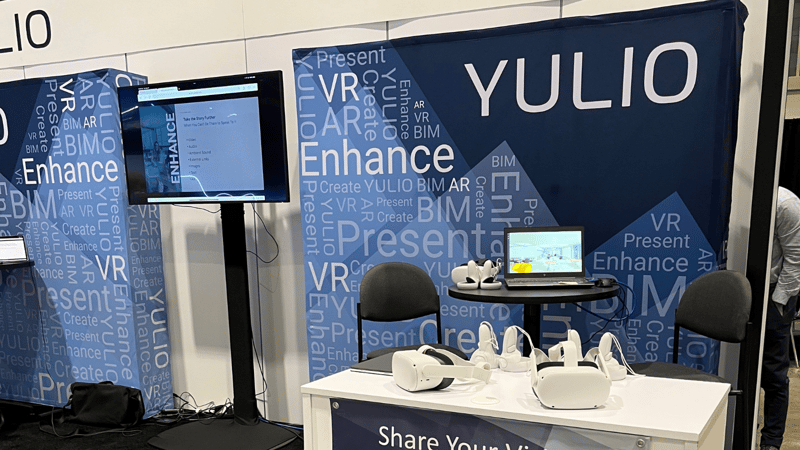 In addition to being highly engaging, using VR for tradeshow displays can also be cost-effective. Rather than having to create new materials just for a single conference, you can reuse previous VR projects to showcase your work in a highly realistic and interactive way. A VR project also takes up minimal space and requires minimal setup time on a conference floor. Vr is alos a great opportunity to save time, money, and materials on printing brochures. As well, one can use a feature like Yulio's QR code sharing to get your project into as many hands as possible, even if you only have a limited number of headsets.
Repurpose VR Projects in Other Media
Using VR architecture projects to create marketing materials such as brochures and videos is an effective way to showcase your designs and reach a wider audience. You can create highly realistic and immersive experiences with VR that can be captured and shared through a range of different media. For example, you can take screenshots from your VR projects to include in digital brochures or use them as visuals in videos to provide a more dynamic and engaging way of showcasing your work. But more than that, if you've set up a digital portfolio, or embedded your VR project on a site, you can link to that and get your project into the hands of more people.

Another advantage of repurposing VR architecture projects across different media is that it can help to create consistency across different channels, making it crystal clear what exactly you are offering with your services. This can help to create a more cohesive and memorable brand identity, which can be important in competitive industries like architecture and design.
Use VR to Walk Your Clients Through Your Design Process
Using past VR architecture projects to educate clients on the design process and how your firm creates a project is an excellent way to enhance transparency and build trust with your clients. With VR technology, you can create walkthroughs of your projects, allowing clients to see every aspect of the design process from initial sketches to the final product. This level of transparency can help to build trust with clients and give them a better understanding of how your firm approaches design and construction.

Furthermore, using VR to educate clients can also help to increase their engagement and investment in the project. Providing them with an experience that can help them visualize and understand the design in a way that may not be possible with other visualization methods can help to increase their enthusiasm for the project and make them feel more invested in its success. Building a better understanding of the work can lead to proper expectations and less disappointment when it comes to delivering the final project.
Take Full Advantage of the Power of VR
By showcasing your design portfolio in VR, using VR to create interactive displays for trade shows, spreading your VR projects across other media, and creating walkthrough materials for clients, you can provide an overarching image of the work that your firm is capable of that will help you win new clients and stand out from the competition.
---
If you want to learn about more ways that AR and VR can be used in your business check out our comprehensive list. But if you are looking for more tips about how to create an engaging VR portfolio, check out our guide.