When considering VR for your business or firm, you want to make sure that your investment into the tech is well spent and that you get the most out of the tech. It's easy to see the immediate advantage of VR in Architecture being used to communicate more easily with clients and enhance your presentations. However, there is a way to use VR beyond presentations and create unique architecture VR marketing experiences.

VR marketing isn't a new concept, many industries have created unique VR experiences to entice new customers and gain brand recognition. Research shows that 32% of consumers used VR to test and purchase products; 19% used VR to buy luxury goods. There is a demand for this interactive tech when it comes to large purchases or commitments. As well we live in a more digital world these days and that same research shows that almost 60% of consumers prefer at least one activity in the immersive digital world versus the physical alternative.

But how do you go about getting started with VR marketing? Not to worry, we've compiled a list of several ways you can get started with Architecture VR marketing using Yulio.
Immersive Project Showcases


Embed Projects like these to showcase your firm's stunning projects.
The idea of a digital portfolio is commonplace these days, but why not take it one step further by including several VR projects in your digital presence? When someone comes to investigate your firm and the work you do, you can create a lasting impression by including a variety of VR projects that show you are able to work with tech and create unique previews for your clients. It's also a great way to engage with potential clients. Rather than exploring static images or watching videos they get to interact with your projects directly. We like to say that an engaged client is an informed client, and should they decide to come to you it may be likely they know a little more about your past work. This should be the minimum a company does when it comes to architecture VR marketing.
Engaging Storytelling
Brands can tell stories through VR experiences and there's no reason why your firm can't tell your story through a VR experience as well. Consider creating a special project that you can add text or audio to that tells your firm's story over the years and highlights your key messages and values. This experience could live on your homepage to introduce people to your organization, or it could be a part of the portfolio we mentioned before.
Client Testimonials
Similar to the VR portfolio we mentioned, consider capturing client testimonials in VR projects as well. Using a tool like Yulio, you can add client commentary to your VR projects so people can explore your past projects and see what specifically your past clients liked about your work. With text annotation, you can point out specific design elements.
Social Media Engagement
Share VR content on your firm's social media profiles. VR videos and experiences can generate buzz and engagement on platforms like Facebook and Instagram. We highly recommend grabbing videos from within your VR projects to give the clearest picture of what your VR projects can offer and then link to a place where they can access some of your VR projects like your portfolio so they can try it for themselves.
Trade Shows and Events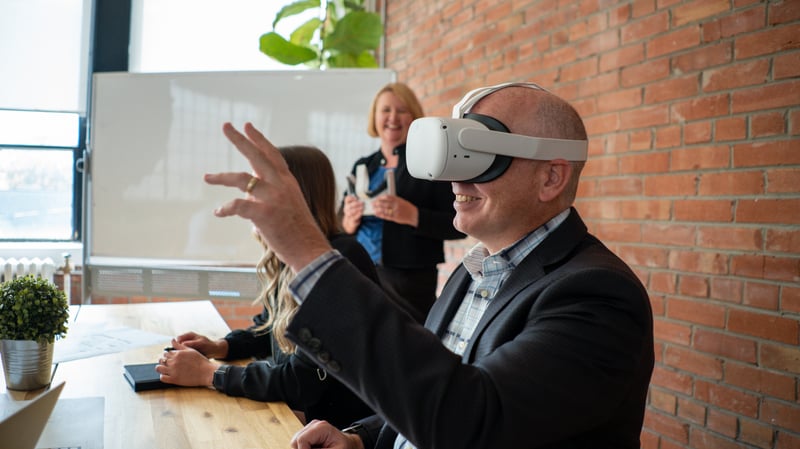 If you often visit trade shows or other events where you may be setting up a booth or presence, we highly recommend setting up a VR experience there for event attendees. It's a way to make an impression among other attendees and it's also a great way to get people into your booth. People will walk by and see others exploring VR and will be curious to try it for themselves. While they are in VR it's a great opportunity to walk them through your projects and give more information about your firm and services. We've attended many events and brought along headsets to show off the power of Yulio and we always end up getting lots of engagement and interaction with event attendees along with many new contacts to reach out to.
Start Thinking About How You Can Start with Architecture VR Marketing
These are just a few ideas to get you started with using VR beyond presentations and in your marketing arsenal. Also, all of these ideas can be done easily when you use Yulio to power your VR projects. What will you create with VR to bring people to your firm? We can't wait to see what you do.
If you want tips and tricks on how to get started using Yulio with Revit or other programs, check out our guide to creating your VR projects. But if you're looking for more info on presenting and guiding others through VR, check out our tips and tricks.