2022 is fast approaching its end. As we look forward to the many things coming for VR in the future, now is a good time to look back at the following year and highlight the big headlines in VR news of 2022.

Like last year, hybrid work remains popular across a variety of industries. Companies continue to develop new technologies to help facilitate hybrid work approaches or even help them go fully remote. VR is often included in these technologies as both a visualization tool and a social tool. We saw both new software and hardware aimed toward businesses with features to bring people together in work settings.

As we prepare to welcome 2023 take a trip with us down memory lane and relive some of the biggest VR news of 2022.

More Investments into Social and Business forward VR
This year we saw fast food chains, fashion brands, and more investing in some form of mixed reality and with that, the concept of the "Metaverse" was made more mainstream. While the idea of the Metaverse is often likened to Meta and the work Mark Zuckerberg and his company have done with their suite of applications, it's a little more high-level than that.

The Metaverse more simply refers to the virtual aspects of business and the new ways we are constantly learning to communicate and share. And it also includes virtual platforms where businesses can create a virtual impact with investment and creation. This can range from games such as Roblox which partners with fast food organizations such as Chipotle to create a virtual store, to more social-based platforms like Horizon Worlds from Meta which looks to create virtual meeting spaces for businesses.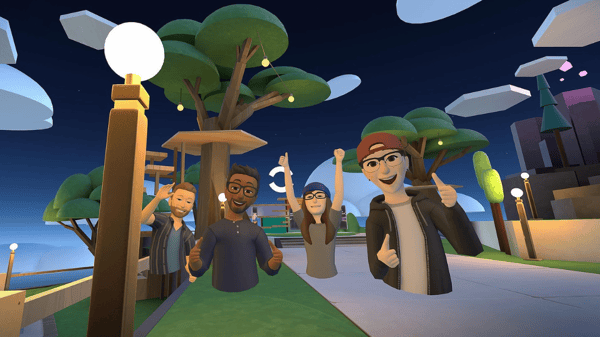 People can create avatars of themselves in Meta's Horizon Worlds (Image credit: Meta)

While there have been some concerns regarding Meta and if they over-committed to their idea of the Metaverse, we don't think this is the end of the Metaverse or a sign to not invest in VR. Meta is just one of the hundreds of businesses looking to make a mark in the virtual world. Earlier this year we saw a European venture firm invest over $18 million into Metaverse startups. At Yulio we think we are just starting to scratch the surface of what the Metaverse could be. If we continue to see investments like these, we will continue to see a stream of innovation and new concepts of how we can connect and work virtually.

Headsets – A Shake-Up for Meta
As expected, we saw a new headset from Meta this year, however, this new headset which is the latest in their standalone headset Quest line, brings a lot of new features to the table, along with a much higher price.

Back in October Meta held its annual Meta Connect event and finally revealed its newest VR headset, the Meta Quest Pro to the public. Leading up to the reveal, rumors were swirling around about the main focus of the headset as well as some new features that focused on Augmented Reality (AR) as opposed to VR. There were also rumors about the device being meant to replace a laptop and be the main device for people to conduct business. The Meta Quest Pro did make good on most of these rumors and a bevy of new features for AR and business was introduced.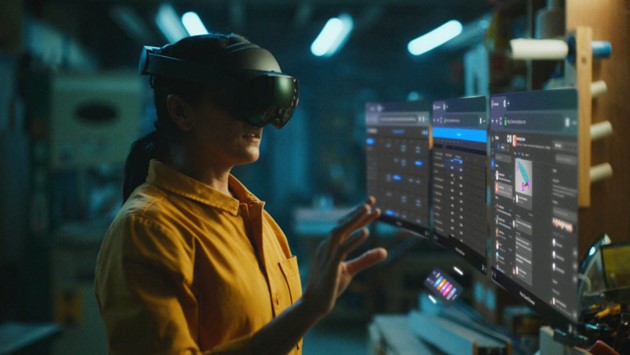 An example of the AR capabilities of the Meta Quest Pro

You can find a full rundown of the Meta Quest Pro reveal here, but in general, the Meta Quest Pro is being marketed as an AR/VR headset. While past headsets in the Quest line focused solely on VR, the Pro took advantage of the many cameras placed on the outside of the headset to create a full-color passthrough allowing you to view your surrounding environment more accurately while wearing the headset. We've seen some interesting uses of this improved AR experience such as displaying external monitors and 3D product models. These same cameras can also track mouth movements and accurately animate on a VR avatar in something like Horizon Worlds.

However, along with the new features comes a much higher price tag for the Meta Quest Pro. The new device costs $1500, more than 3 times the cost of their previous headset. The reasoning behind this does come from the fact that there are a lot of new features as discussed, but also since this is being sold as a device aimed at businesses to replace some of their current devices such as laptops, or another presentation tech. Time will tell if this higher price determines whether this headset is as popular as the rest of the quest line.

We are happy to report that Yulio works on the Meta Quest Pro, right out of the box, so you can still enjoy the best way to create, enhance and present on the latest headset.

Apple – On its Way, But Still Not Here
The last thing to announce is rather the lack of some news that we were anticipating for 2022There have been rumors about Apple's first VR/AR device, but l no official announcement. Many were anticipating an announcement at one of the Apple events this year, but unfortunately, nothing came to be. Hopefully, in 2023 we will finally get a glimpse, but until then the device remains a mystery.
---
It has been a great 2022, and we hope you enjoyed our recap on all the biggest news in VR technology and how it has evolved over the year.

If you're interested in learning more about Yulio, building your virtual showroom, or how you can get started, schedule a time to chat with our team today. Or if you're ready to explore our platform for yourself, sign up for your free trial by clicking here.