Welcome to our Yulio VR Employee Highlight Reel where we introduce to you to an on the team - and the people whose ideas and sense of how VR and AR should work have shaped Yulio from the ground up.
The Yulio VR expert team are working in roles that for the most part didn't exist 5+ years ago, the VR job market was pretty minuscule. So the variety of experiences that led people here have created both expertise and variety in our team. And our history may lead you to the perfect VR job.
On this week's Yulio VR Employee Highlight reel, we're sitting down with our superstar Client Success Manager - Dana Warren! Although her official title may be the Client Success Manager, a single title cannot fully capture all Dana does for Yulio. If you have visited our YouTube page or attended our weekly webinars, you would have heard and seen the "unofficial" face and voice of Yulio. As the longest member of the marketing team, Dana knows Yulio's front and internal systems like the back of her hand, making her the usual go-to person for both us in marketing but also the development team. With her unique architectural background and her years of expertise in VR, Dana is an essential member of our Yulio family and has been key to our many successes.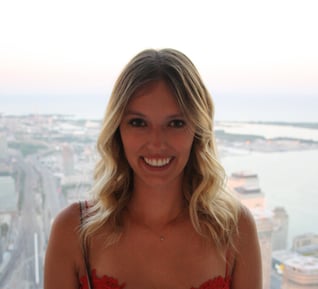 Meet our Client Success Manager, Dana Warren!
So, Dana tell me a bit about yourself.
Well... I was born and raised in the GTA where most of my spare time was spent as a competitive dancer. I went on to represent Canada at a world dance competition in Germany where we won the silver medal. I chose not to pursue that path full time which is what lead me to where I am now.
In high school I started taking Architecture and Interior Design courses and always got 100% - not only did I love it, I kinda figured I had a knack for it. I went on to graduate from Carleton University with my Architecture degree, specializing in Conservation and Sustainability. After university my path kind of lead me in a different direction because I fell in love with marketing, which is also how I ended up at Yulio.
How did you find Yulio?
I was introduced to Yulio through a mutual friend who worked here, she knew I had an architecture background with Sales and Marketing experience so she thought I would be a great fit. I thought the whole VR thing was super cool and loved that it was in my industry.
Tell me a bit about your role at Yulio
I would say my main areas are Product Marketing and Client Success with a large part of that being translating the development team tech lingo and putting a marketing spin on it - aka into words we can all understand. Really though, my role at Yulio is kind of like a jack of all trades in a sense. I have worn many different hats and had a few different titles over the years, which has honestly been one of the most exciting parts. It is very cool getting to work with every team and lead or collaborate on so many different projects.
Tell me a bit about your first experience with VR?
My first VR experience was actually right here at Yulio when I first started. Having an architecture background, I couldn't believe that I had never tried VR or why we didn't use it in our curriculum. The first thing I did was actually put one of my CAD models from university into VR, and I got chills. From that point on I made it my mission to make sure architecture students would never hear "I just can't picture it" from profs again.
If you got to dream up any VR experience and immerse yourself into it, what would you choose?
I think the idea of the unknown is fascinating - I know this is super general but it would be something surrounding the ability to explore the behind the scenes. At one point, I had the opportunity to take 360 photos of spaces around Toronto that are normally off limits or just not in their normal state. For example, a massive theatre that was completely empty, a jail, and a toy warehouse. More of that would be really cool.
Outside of your VR job, what are your hobbies?
There are SO many. I am a relatively new home owner so it has been really fun getting to learn all the ups and downs of that. Taking care of your house takes a surprising amount of time. Other than that, I love anything outdoors, being active and being on the water. We also set up a little shop in our garage, and have started to build our own home decor/furniture - which is super fun.
What's your favorite Friday afternoon office game that we've played?
It is so cool to see how into every single game everyone gets - we are a pretty competitive team so things get pretty heated. I think my favorite is Blind Pictionary. We use VR goggles to blind fold ourselves and then have to try to draw the craziest things.
---
We'd like to say a big thanks to Dana for taking the time to sit with us for a little Q&A about herself! Stay tuned for some more interviews with the staff that power Yulio, and discover how we're all learning more every day about our VR job!
If you want to learn more about the VR/AR industry, and things to consider when you're looking into VR solutions, then sign up for our FREE 5-day email course to get up-to-speed with VR. Want to try Yulio for yourself? Sign up for a free 30-day trial with full access to our feature set!