Welcome to our Yulio VR Employee Highlight Reel where we introduce to you to an on the team - and the people whose ideas and sense of how VR and AR should work have shaped Yulio from the ground up.
The Yulio VR expert team are working in roles that for the most part didn't exist 5+ years ago, the VR job market was pretty minuscule. So the variety of experiences that led people here have created both expertise and variety in our team. And our history may lead you to the perfect VR job.
On this edition of our Yulio VR Employee Highlight Reel, meet another person of our talented Yulio family - Jason Cohen! Thanks to his strong "client first" work ethic, Jason is successful at connecting with those in the commercial design industry, namely architects and interior designers. With a robust understanding of the various CAD platforms, cloud rendering programs, and display technologies, Jason is able to speak to the barriers and problems many face in the architecture and interior design industry. Moving forward, Jason's main objective is to continue to show others the power of VR and how technology is solving many of today's business problems.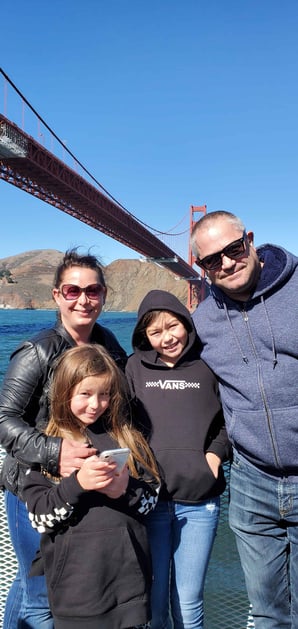 Meet Jason and his beautiful family!
So, Jason, tell me a bit about yourself.
I grew up in the US during the technological era of the computer revolution. Ever since the release of the VIC 20, one of the first "mainstream" home computer, I got the fever for technology. I was an avid gamer growing up, and I had always fantasized about VR and the ability to see virtual worlds with it. After a period of travelling and working in the hospitality industry, I came to Toronto and started working in the solar industry researching various disruptive technologies. After a number of years working with them, I moved onto a new role as the Director of Digital Experience at a CAD reseller. It was in that position where I learned about visualizations, the various CAD platforms and display technologies.
How did you find Yulio?
Since my last position was with a CAD reseller, I heard the name Yulio pop up quite often and knew about the platform. I fully believe in the power and agency of 360 VR and I see Yulio as a huge stepping stone for widespread adoption of VR. There is still so much friction with fully tethered experiences. Often times it requires a past experience from the user to feel comfortable in the headset and to understand the true value of VR.
Tell me a bit about your role at Yulio
To cut it short, my main focus is business development. I'm currently spearheading the sales team that focuses on the architecture and interior design industry, and I'm constantly brainstorming creative ways to connect and speak to the barriers they may face in their design process. Yulio at its core is a business, but I've also come to see the relationship as a partnership, linking our customers in architecture and interior design with the power of VR. I truly believe that the road forward consists of working in close partnerships with all those in the industry.
Tell me a bit about your first experience with VR?
I believe the first time I experienced VR was possibly in 1993-1995ish playing this game called Doom. During the experience, I distinctly remember knowing that I just experienced a paradigm shift that was going to be huge. Video games at the time were transitioning out of the 2D and into the 3D - I knew that at that moment everything was going to be different. The movie TRON was also a distinct memory of being "transported" into a virtual world, and while it wasn't a VR experience in and of itself, it had a huge impact on realizing that a digital reality can soon exist. A more recent business related VR experience was when I was able to use the Gear VR beta, and I was absolutely floored the first time I tried it.
If you got to dream up any VR experience and immerse yourself into it, what would you choose?
From a business perspective, my ultimate VR experience is a VR social app that works. How many of us have gotten in an awkward situation when GoToMeeting or Skype is having technical difficulties and is no better than a phone call? If possibly one of the social media giants can solve this riddle that supports virtual meetings and allows you to grab a headset and go and works flawlessly, there could be massive business potential. However this vision is completely reliant on whether if it's easy and works well. Every business user will then want a headset on their desk that they could just grab and use. Being able to host virtual meetings helps communicate real expressions, hand gestures, and body language much more clearly, making a world of a difference in our interconnected world.
Outside of your VR job, what are your hobbies?
I love playing video games, especially first person shooters. Anything with virtual worlds and believable VR experiences is also something I gravitate towards. To wind down, I enjoy reading and taking care of my loved ones. I also have a strong passion for politics and seeing how it affects people's lives. I've learned that it's important to be involved and is a part of our civic duty to be informed with what's going on in our country.
What's your favorite Friday afternoon office game that we've played?
I haven't had a chance to attend a lot of our Friday afternoon office socials since it's been quite busy, but I've come to learn and appreciate how great the whole team is at Yulio. There are so many people in the office that have stayed with the company since the beginning, and I definitely see that as the company's and our founder's success in harnessing a welcoming and positive office environment.
---
We'd like to say a big thanks to Jason for taking the time to sit with us for a little Q&A about himself! Stay tuned for some more interviews with the staff that power Yulio, and discover how we're all learning more every day about our VR job!
If you want to learn more about the VR/AR industry, and things to consider when you're looking into VR solutions, then sign up for our FREE 5-day email course to get up-to-speed with VR. Want to try Yulio for yourself? Sign up for a free 30-day trial with full access to our feature set!