As we pass the halfway mark in the month of April, it seems like our current situation is only getting more severe all over the world. With news outlets pumping out bad news after bad news, it can be really difficult staying optimistic during this period of uncertainty. However, it is important now more than ever to keep being positive and to get creative in adapting to this brand new way of doing business and everyday life.
Today, we will be sharing 4 fantastic VR use cases of how professionals and businesses have created opportunities out of this challenging time by integrating virtual solutions into their workflow. While we enjoyed all of these productive examples, we hope that reading about their experiences inspire and give you some ideas on how to optimize your new processes.
Virtual Art Galleries
In the majority of North America, governments have urged all non-essential businesses to close their doors to help reduce the spread of the virus. However, this latest development has left businesses where physical locations or showrooms are essential to their buyer's journey in a difficult place. Thankfully, these two art galleries were able to utilize the immersive and accessible capabilities of virtual reality to help them continue their operations but with a twist.
'How Can We Think of Art at a Time Like This?' and 'The Inaugural Exhibition' are two online art galleries that art enthusiasts can visit within the comfort of their own home. 'How Can We Think of Art at a Time Like This?' showcases a collection of work by artists providing their own answer and interpretation through their medium of expression. 'The Inaugural Exhibition' is a true VR experience where visitors are able to wander through their gallery in a stunning and immersive way. Through compiling a series of photorealistic renderings, curators of 'The Inaugural Exhibition' were able to create a visually-striking gallery that anyone could easily visit on their website.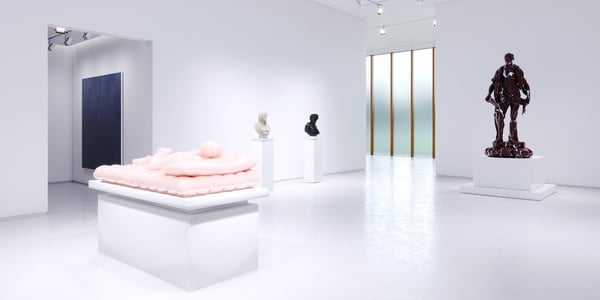 The Inaugral Exhibition by Fergus McCaffrey - click on the image to see the full VR experience!
VR in the Automotive Industry
The use of VR isn't new for automakers. From virtual car showrooms to an upgraded in-car entertainment system, the automotive industry is no stranger to winning VR use cases. However, compared to working in a manufacturing facility or in a dealership, this period of time has its own unique set of challenges, especially when conducting inspections and other important checks. As professionals continue working from home and strictly practicing social distancing, virtual reality has become an essential tool for automakers.
For Ford's design teams, "VR headsets are now an even more critical tool for ensuring the automaker's development process keeps chugging along". Not only does it allow workers to digitally check them like they would in person, but it also provides a platform for all professionals from different teams to easily collaborate. Whether it be taking notes for further improvements or reviewing the changes in between each iteration, virtual reality allows automakers to work better through experiencing the vehicles in full scale. And while the virus has forced production to halt for the time being, Ford has found that VR is the solution that helps keep production moving and supports them in hitting their project goals.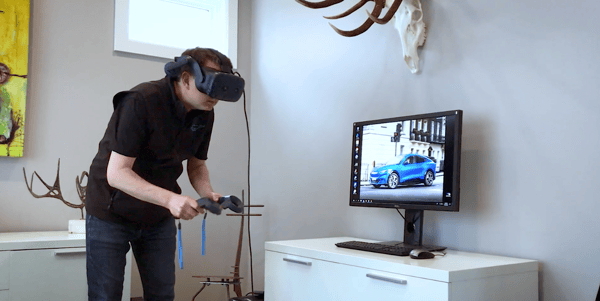 Image Retrieved from Ford
Virtual Learning
As schools continue to remain closed, many teachers and professors have had to explore different routes in order to teach their students effectively. One professor from the University of North Carolina Chapel Hill decided to go the extra mile for his students. Steven King, an associate professor at the Hussman School of Journalism and Media, mailed 28 Oculus Go headsets to his students when they started making the transition to online learning.
After getting set up and building their own avatars, King's students settled into their brand new virtual classroom that he built to help keep students in the classroom. While King said he was quite familiar with the various immersive technologies, he believes that "the emerging technologies class was tailor-made for this type of experiment". Rather than recording lectures and posting it online, King's 3D version of their lab allows students to walk around, break out into smaller groups and even take notes on their virtual whiteboards. Although the advanced technology is supporting their current learning process, it is down to King's dedication and passion for teaching and his students that makes this an inspiring VR use case.
"When you're faced with a crisis, these are times to step up and figure things up and make new discoveries. We don't need to limit ourselves to the tools we have. We need to develop new tools to move us forward."
Steven King, Associate Professor at UNC Chapel Hill
The Future of Ambulances?
While the most popular example of VR in healthcare is in the department of skills refinement, Dubai has decided to take it one step further by implementing the technology into their healthcare system. Although it's in its beginning stages, Dubai is starting to launch a city-wide initiative in integrating the latest technologies across their government services to improve everyone's overall experience. One fantastic example of this development is allowing doctors to be as present as possible when a patient is being transported to the hospital. Not only does it allow doctors to make an initial diagnosis, but it allows them to carefully monitor the patient like they were there in person. Plus, as with all high-risk cases, every minute counts. With implementing these immersive technologies into their ambulance system, medical personnel are now able to utilize all the time they have.
Creating Opportunities out of Challenges
If there's one thing that all businesses have learned during this period is that we all have areas that we can improve on. However, the best part in recognizing our blind spots is being able to pinpoint them and find solutions that can either support or solve the points of friction completely. So whether it's revisiting and optimizing your workflow or investing in advanced tech tools, we hope that these 4 VR use cases were able to inspire you to explore different mediums that could help you turn this time into a great opportunity.
---
Interested in learning more about the business applications of VR? Hosted by Yulio's CPO, Ian Hall, our quick and simple 5-day email course will cover all the basics of applying and integrating VR into your workflow - you can register here. To see how other businesses are utilizing VR, check out our Whitepaper below.