With many professionals still observing social distancing, we wanted to spotlight one of Yulio's most used features: Collaborate. During this time of prolonged indefinite remote work, Collaborate provides a platform for you to continue meeting with your clients in a unique and engaging way with the power of 360-degree viewing and Virtual Reality (VR).
Today, we'll be learning more about this fantastic remote work tool from our Client Success Manager, Dana Warren! Dana has been hosting our live Yulio webinars since the beginning, showing architects, sales professionals, and designers how they can integrate VR into their workflows as well as navigating our Yulio platform. Since she jumps onto our platform with clients daily to answer their questions, Dana has become a product specialist and team expert on many of Yulio's features, especially Collaborate.
Q: Could you briefly explain to us what Yulio's Collaborate feature is?
Collaborate is Yulio's most popular presentation feature. It allows you to experience the same VR project at the same time regardless of where you are geographically. The most powerful part of Collaborate is that you have the ability to see exactly what your client is focused on, for example, specific areas of the space that are drawing their attention or potentially causing concern. And the best part is you can do this from anywhere - just hop on the phone with your client/colleague, fire up a Collaborate session and start viewing in VR together. Because you can launch a Collaborate session directly from your browser, our feature is agile and supports remote work well. I have hosted everything from one-on-one Collaborate sessions to small groups, all the way to sessions with 200+ people.
You said that you can launch a Collaborate session direct from your browser. How does collaborate compare to other desktop applications or in-person tethered experiences?
I'd say the biggest benefit is the ability to access the platform from any location with a stable wifi connection. In-person tethered experiences have a huge barrier in accessibility. Not only is it inconvenient unpacking and repacking your setup for every meeting, but it increases the likelihood of damaging an important component of the VR rig. So in order to give your clients the best VR experience with a tethered headset like the Oculus Rift, they will need to travel to you.
Because Yulio was built with mobility in mind, our features are all accessible from your Internet browser and aren't tied to a computer. Collaborate gives you the flexibility to work wherever, whenever. While it would be ideal if you had a VR headset to join with, you don't need one. You can host and join in browser mode or from a phone, computer, or tablet. So whether you're in the office, working remotely or travelling between meetings, you can easily launch a Collaborate session in any setting.
What would you say are the top 3 benefits of using our Collaborate feature?
1. The ability to see exactly what your client is seeing
I would say this benefit is the one our clients are most excited about. With Collaborate, you can give anyone participating presenter controls, letting you explore your project through your client's eyes.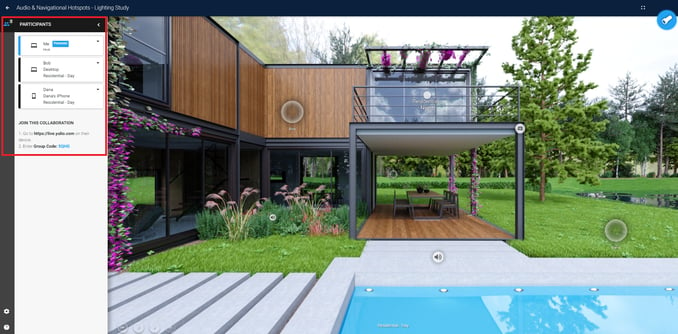 On the left, you can click on any of the participants to hand over presenter controls. This means that everyone on the Collaborate session will be able to see exactly what that participant is seeing.


Plus, if your client wanted any clarification about a specific product or configuration, you can instantly understand which part of your project they're referring to. Not only does it make your presentation much more interactive and memorable, but it allows the presenter a better insight into which design concept or feature of the space stood out most for their clients. I've seen Collaborate used as an instrumental tool to help speed up sales and design processes for many of our clients.
2. You can launch a session from literally anywhere and anyone can join
An online platform has no limitations in software or hardware like we previously discussed. We know that not having a VR headset on hand could be a concern, which is why we also have the option to view in web-based, also known as browser view. While our platform wasn't made to replace face-to-face connections with your clients, utilizing this feature helps reduce travel expenses for clients located outside of your area. Plus, in this time of social distancing, Collaborate can help you continue presenting to clients while working remotely.
3. The opportunity to share ideas and provide feedback
Being able to Collaborate remotely helps reduce the need and amount of back and forth iterations before meeting with clients. Because using VR creates a line of clear communication between the sales team and their client, teams are able to clearly see and understand which elements need changing. However, while Collaborate is a popular feature for client-facing meetings, it's also great to use within design teams. Whether you're looking for inspiration or suggestions, jumping in a Collaborate session with your colleagues can help circulate ideas and provide feedback on what you've designed so far.
You're probably the person who has launched more Collaborate sessions than anyone else on the team. What are some of the best practices that you follow every time you start a new Collaborate session with a client?
Here are 7 best practices that I use myself every time I use Collaborate:
Make sure you test a Collaborate session on your network before heading into your meeting. This ensures that everything is working well and gives yourself an added confidence boost.
I definitely recommend giving as many people as possible presenter controls throughout the meeting. A lot of clients get excited knowing that we are now following their gaze and helps keep them engaged
There are 2 modes in Collaborate - Present mode vs. Explore mode. I suggest getting familiar with both, keeping in mind they have a time and place when they are most effective. When I launch a Collaborate session, I like to start off in Present mode because I can really control the session. I can direct viewer attention to the areas I want to highlight and then allow them to explore a little bit by assigning presenter control to individual viewers. After that, I like to switch to Explore mode and give everyone free reign to explore the space at their own pace.
I love hosting Collaborate sessions with small to medium sized groups - anywhere from 1-25 people. While our platform can certainly accommodate more, and I've used it with 200+ people before, keeping it small is more effective and helps lessen notifications of whenever someone joins or leaves.
Take advantage of the Spotlight feature within Collaborate. This feature is incredibly helpful in directing the viewer's attention to a specific area of the space of your choosing.
Don't forget you can view multiple projects in one Collaborate session. You can switch project to project and get feedback from clients/colleagues on each design.
You can utilize the Project Markup feature while hosting a Collaborate session. Start a Collaborate session with your client/colleague and then mark it up to record any feedback or changes they want.
What has the overall response been from Yulio users?
Regardless of the industry, I would say the response is always really positive. There are plenty of methods of visualization like 2D renderings and even just VR on its own. However, being able to collaborate regardless of where you are geographically is a complete game-changer. The ability to see exactly what your client or team member is seeing is such a powerful tool, and this applies for all teams. From sales, design to even marketing, Collaborate has made it much easier for professionals to communicate and connect better with their clients and colleagues.
Do you have any advice for readers who might not have a Yulio account but are interested in getting started with using VR to collaborate?
While getting started with new technology may seem overwhelming, our team at Yulio has made VR simple to integrate into any organization. You can always start with our zero commitment 30-day free trial. There's no credit card required to sign up, so you can explore VR and our platform without having to make any commitment before you're ready.
Once you do sign up for your Yulio account, my advice is to just try it! You can upload your own project or even use the sample project already in the account. One practice I do consistently (even now!) is to host a test Collaborate session and use my phone or ask my colleague to join as a "fake" participant. That way you can try out Collaborate and all of its features before you head into your meeting. However, remember that content is key when it comes to any VR platform. If you're in a sales position, connect with your design team to access files ready to view in VR. If you're familiar with design programs, you can check out our available Plugins.
---
We would like to say a big thank you to our Client Success Manager, Dana Warren, for taking time out of her day to provide tips, tricks and helpful insight to using our Collaborate platform! We understand that this time of uncertainty has been very difficult for many businesses.
Our team is always here to help, especially during this time of remote work. We are passionate about VR and we are ready to help you through your VR journey. Connect with us any time for an online demonstration, a quick call or send over an email with any questions you might have - you can contact us here. For more information about Collaborate and how you can use it, check out our Knowledge Base article here.