We're nearing the end of June which means that chances are all graduates have been able to successfully (virtually) walk across the stage, celebrate with friends and family, and close the chapter of architecture school. If you're a 2021 architecture graduate, congratulations from all of us - you made it and completed your degree in one of the most challenging and confusing times in history. But while it's great catching up on sleep, enjoying the weather and catching up on sleep, the inevitable has come and it's time to think about your next steps.
Heading into the workforce can be a stressful time, especially coming out of the extensive remote work period when firms themselves are battling through navigating the vast sea of unknowns. However, there is no time like the present to start thinking about how to organize your portfolio and gather some of the work you have done in school. Plus we wanted to share how one specific tool - virtual reality - can help support you in showcasing your work in all its glory.
While we are in no way a recruitment agency of any sort, we have compiled 5 lessons and tips from our Yulio users who are industry professionals and your soon-to-be peers. So let's dive right in and see how you can use VR to help you land a job as an architect.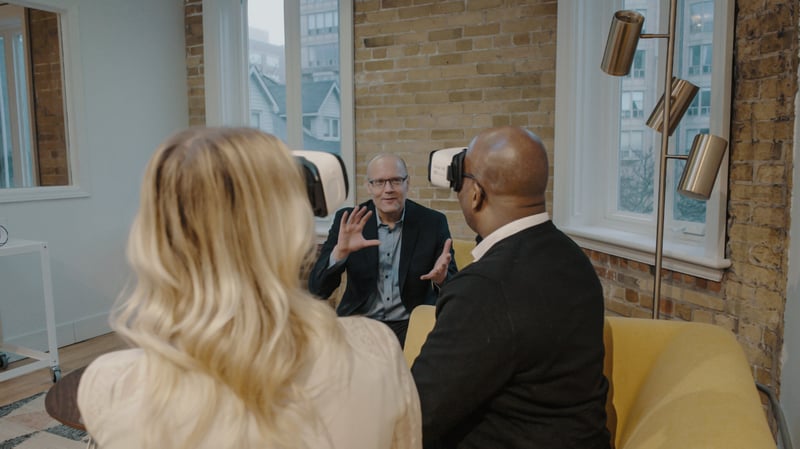 1. Stand Out from Competition
You've probably gotten a lot of advice from professors or from alumni to make sure you don't submit a lone resume sans portfolio, don't make your portfolio too long or too short, or include lots of personal information that will link your personality to your work. All of that is good advice so please listen to it! However, let's face it - if they are giving you that advice, they're most likely sharing the same advice with everyone else. And with a mountain of portfolio submissions firms must filter through, it's important to include elements that will help you stand out.
Most people might not think about attaching a VR experience to their portfolio or even whipping it out in an interview. But there's no denying that VR is not just more exciting than the traditional portfolio, it gives you a competitive edge and makes your portfolio / discussion with the interviewer much more memorable. When recalling your session, being known as the "that VR person" can work in your favour and be enough to trigger interviewers to remember your work. Make it as easy as possible for interviewers who will have to go through numerous applicants to remember who you are.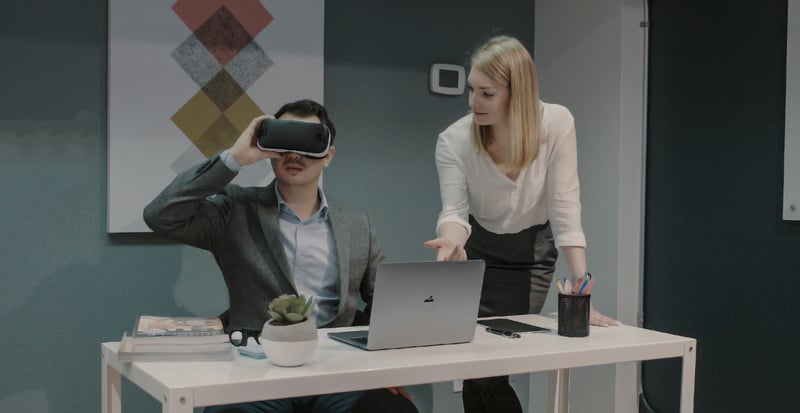 2. Propose New and Valuable Solutions
One of Yulio's users and early adopters is the firm ALSC architects who were primarily brought to our platform because of their younger employees. Hear from Indy Dehal, a principal at ALSC:
"For ALSC, I credit some of our young employees for being on top of next-generation technology that can benefit clients. They were passionate about the technology and wanted to bring it to ALSC. And we fully supported their efforts because as a firm, we strive to be trendsetters, not followers."
It was the initiative, drive, and fluency in tech that convinced the team at ALSC to make the plunge. And while you may be thinking what's the point even if you haven't gotten the job yet. Sometimes firms just don't have the time to explore new technologies let alone the best solution that would be most appropriate for their workflows - they're busy and you will be too once you get started in your career. Take the time now while you have it to do the research, be prepared, and utilize the technology to help you catch their attention before landing the job but also after when you start work. Plus, you don't have to be upfront about it, intricately weave it into your interview in subtle ways like giving them an immersive look into your portfolio.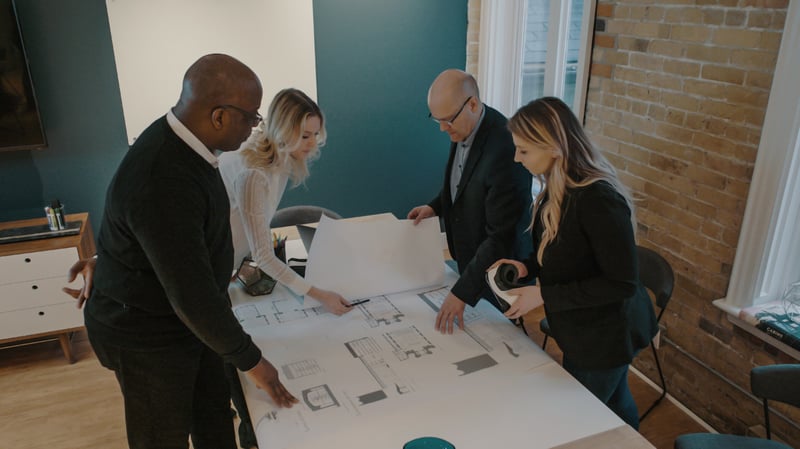 3. Show you are Forward Thinking
This ties into the previous point: there will always be new technologies. Whether it be the next V-Ray or revolutionary CAD software, the industry is constantly evolving and improving how designers can bring their vision to life. It's important to stay on top of the latest news because it could result in being incredibly beneficial to both you as the individual designer but also the firm as a whole.
By adopting VR early and using it during your job search, you not only demonstrate how you are up to date and willing not just to explore new solutions but to actually adopt them. This degree of initiative is eye-catching and quite impressive. No longer will "self-starter" be an attribute they glance over on your resume - you can show (not tell) them how you bear this quality.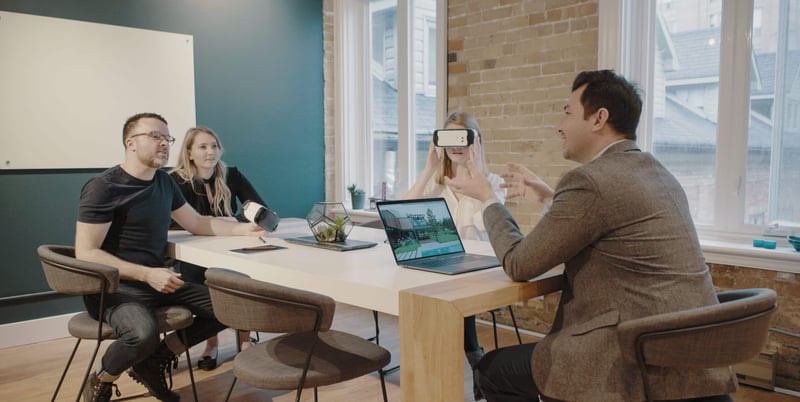 4. Demonstrate a Client-Centered Approach
Here's a not-so-secret industry secret: communicating with clients is still a constant pain point for architects. While expert professionals with years, if not decades, of experience may be able to find solutions quickly to these gaps in understanding, there will be projects where communicating with the client(s) can just be really challenging. And as long as clients continue to struggle reading floor plans or even 2D renderings, communication will be a significant barrier.
Although firms may not specifically ask how you would overcome this hurdle, you can beat them to the punch by already having a proposed solution that proves your understanding of this specific pain point. Just like how a designer could use VR in a client-facing presentation, utilize the technology to showcase your designs, how easy it was to understand your project, and how it can be the same scenario for the firm and their clients.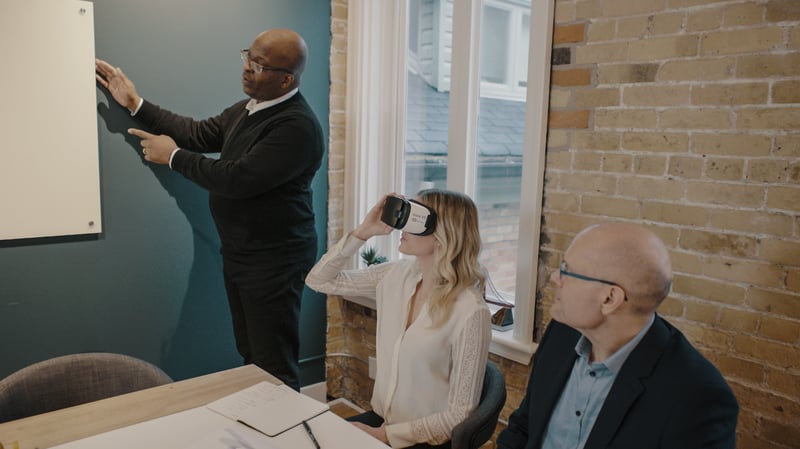 5. Create your Own Role
And finally, you can actually carve out your very own role in a company with VR. We know this is possible because one of our long-time Yulio users actually did that with her design role at Storr Office Environments. Hear from Lizzy French and how her design job quickly morphed into including the role VR Specialist.
"I was new at Storr Office Environments the fall of 2016, and they sent around an email to the design team and asked if anyone would be interested in testing VR. I took it and ran with it and started using the Yulio app. I had time to educate the team and test and re-render, and through that morphed into the virtual reality specialist. On the team, we determine if a project is a candidate for VR mockups, and designers create a project, then I'll add ceilings, lighting features, and I'll create the presentation. We have a pretty well-developed process. A lot of designers on the team propose VR and I help them make it a reality."
Although Lizzy's situation may differ from where you are currently, her ability to transition into this unique role shows both that this technology is valuable and answers the design challenges they were facing as well as the doors using VR could potentially open. This technology is definitely one you will not want to pass up on.
And Remember…
While it's probably the most cheesy and repeated saying, don't forget to be yourself (I know but hear me out). At the end of the day, you're going to be a part of a team where your genuine strengths will be utilized in a well-oiled machine. Let the team get to know your most authentic self, see your honest designs and witness your talent. All virtual reality will do is magnify your already stunning designs and further intrigue your interviewers. Let your art speak volumes and do it immersively with virtual reality.
---
We hope that some of these tips and lessons were useful in showing the value of VR in supporting you in this new life stage.
If you're looking for a VR platform that can help you showcase your architecture projects in VR, sign up for our free 30-day free trial (no credit card required). Get full access to all our project enhancement features to take your presentations to the next level.
However if you're looking for more guidance on how to create your first VR design, click here to get a free resource on how to get started with VR content creation.