Over the last few years in the Mixed Reality (XR) space, VR has been the focus when developing headsets and other hardware. VR has always been the flashy side of XR and with its clear connection to gaming and entertainment, it's always been the most popular aspect of the industry. However, over the past year, there have been several new device announcements that show there could be a shift in the industry towards AR becoming an equal focus of the industry.

What does this shift mean for the industry and where do we see the future of VR/AR going? Join us as we break down the latest announcements and look at how we see people taking advantage of this new tech.
The Arrival of the AR Headset: Big Names Join the XR Fray
Meta's Shift with the Meta Quest Pro
The first big shift we saw toward this AR headset focus came last fall when Meta unveiled their long-awaited XR headset, the Meta Quest Pro. Meta headsets have been very popular in the VR community thanks to their standalone design, allowing users to bring the headset and VR experiences with them anywhere. One of their main features was something called passthrough which when activated allowed people to see their physical surroundings. This was mostly used as a safety tool to stop people from bumping into anything around them.

However, Meta saw potential in this and majorly improved the feature for the Meta Quest Pro to bring AR experiences to life in the space around users. AR was the focus of the device announcement and marketing surrounding the device. Meta decided to market the device as a work/efficiency tool showing how one can take advantage of AR to do things such as expand your desktop windows into AR or use it to collaborate with others. It was a big departure from their previous Meta Quest devices which had a major focus on gaming and VR.
Apple Finally Joins in with the Apple Vision Pro
It was rumored for many years that Apple would eventually develop its headset to join the XR industry. And just over a month ago we finally got to see the Apple Vision Pro for the first time. This headset, like the Meta Quest Pro, is being aimed at professionals for the most part who are looking for a tool to help with multitasking and increasing efficiency. It also appears to mostly be an AR headset. Like the Meta Quest Pro, the device allows you to see your surroundings and displays AR objects such as browser windows within them. The main difference between the two devices comes down to the computing and display of those objects. Apple has taken great care through its "spatial computing" process to make it seem like the AR objects it's displaying appear in the space around the user. Objects cast shadows and react to the light in the environment, adding a layer of depth to the experience.




Curiously in the marketing surrounding the Apple Vision Pro, they never mention the terms augmented reality or virtual reality, instead focusing on their term "Spatial Computing". Perhaps this is Apple trying to distance itself from the competition and make its product seem like it goes above and beyond AR/VR, but this device is just another entry into the XR space.
First Generation AR Headset – What needs improving?
Both devices are first generation devices and like with any new product on the market there are lessons to be learned and as consumers, we may have some issues with the current available features.

The first concern for consumers is the prices of these new devices. Both headsets are being treated as high-end products for professionals and come with hefty price tags. When the Meta Quest Pro was first announced it was going for USD 1500. More than 3 times the price of the other devices coming from Meta. And the Apple Vision Pro is coming in at USD 3500. These prices come from all the new tech jammed into these headsets, not to mention the high-resolution screens jammed into just a few square inches.

The second main concern would be the battery life of these devices. For both devices, the estimated battery life stands at around 2 hours. These devices can be plugged in and used all day, but for devices that are built to be standalone, this could have an impact on how portable these devices could be.

For these devices to be as popular as their other standalone counterpoints there needs to be some work done and these two areas are a good starting point.
Where do we see the AR Headset in the Future?
At Yulio we do see a good future for AR in any industry. We see AR as a great way to preview products and objects and examine 3D models in a unique engaging way. We've seen great uses for it in the eCommerce space as a way for consumers to view the products they want to purchase. In our Yulio software, we've made it easy for designers to create AR objects and allow any viewer to access an AR experience on their phone.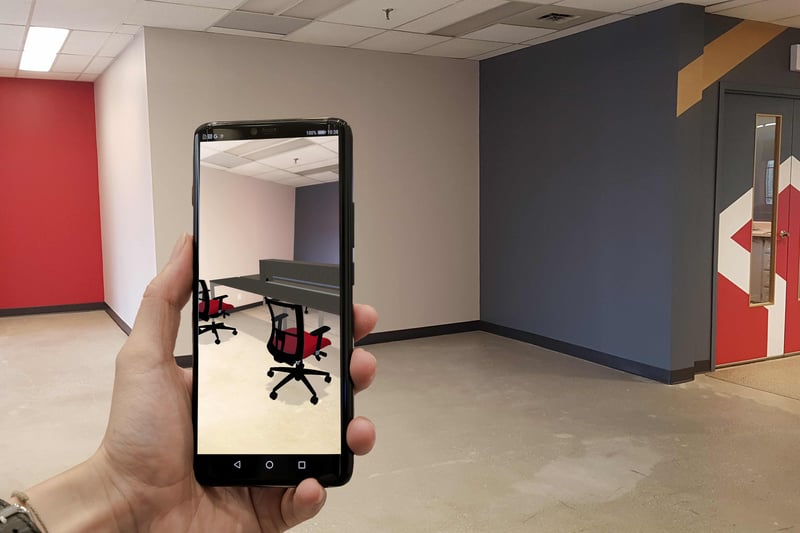 With a base appreciation for AR technology, we are excited to see this new tech focus on AR and hope that this helps move the industry forward and that we see some exciting new ways to access AR. However, with these specific headsets, it will take some time to see where they fit specifically within our industry. With their focus on efficiency and multitasking, it will depend on the user how much they get out of those features. But as for enhancing VR presentations, it will take some experimentation from developers and the community to see if these headsets really will make a big impact in our industry.
Waiting and Watching the AR Headset
It's been an exciting time for the XR industry with these announcements. It's great to see developers and manufacturers make unique devices that stand out and experiment with new concepts. It feels like a nice step forward for XR, even if our industry may not benefit from it right away. But as this tech develops and possibly becomes mainstream, it will move the rest of the industry along and that's when we will start to see the impact these devices have.
---
Check out our full breakdowns of the Meta Quest Pro and Apple Vision Pro to learn more about the specific features of these headsets and more insights into their use cases. Want to learn more about AR and how you can use it in client presentations? Check out our tips and tricks to get started.