Your CAD or 3D modelling software is perhaps one platform that you use on a daily basis. Whether it be creating a digital twin of your products or designing large-scale intricate projects, your CAD application gives and equips you with the tools you need to take your vision and realize it in a virtual space. However, what if you are able to do more with your current CAD tools and create even more engaging and interactive experiences with the tools you have already mastered?
If your CAD software or 3D modelling program is able to export CAD and 3D panoramas, you are already creating projects that will be compatible to experience in virtual reality. Now you might be asking:
Is it really that easy to create VR projects?
The simple answer is yes.
During the VR revolution, much of the technologies and platforms that were available were perhaps unreachable to the everyday professional. With high barriers to entry and steep start up costs, most businesses couldn't afford purchasing tethered headsets as well as spend the time navigating a brand new platform and software.
The good news is that much of these obstacles no longer exist. Ever since the launch of standalone headsets like the Oculus Go and Quest as well as new VR platforms that work with the tools you already use, the starting investment and time to get started has dramatically been reduced. And now, you can leverage your investment and time by turning your already compatible 3D models into immersive experiences, ready to impress your clients.
Top Benefits
A Natural Progression
Like we just briefly touched on, creating a VR experience is just a natural next step from the CAD programs you're currently using. We'll get into how you can exactly do that with plugins and cloud rendering in just a moment, but creating immersive projects will not pose a major disruption in your current design workflows. Steps you take currently to render your projects such as adjusting camera height or capturing multiple angles of your project lay the foundation for creating your VR experiences. The only difference is a few more clicks after you have finalized your 3D models. There is no need for extra training other than learning the functions of the plugin or rendering tool you choose to use.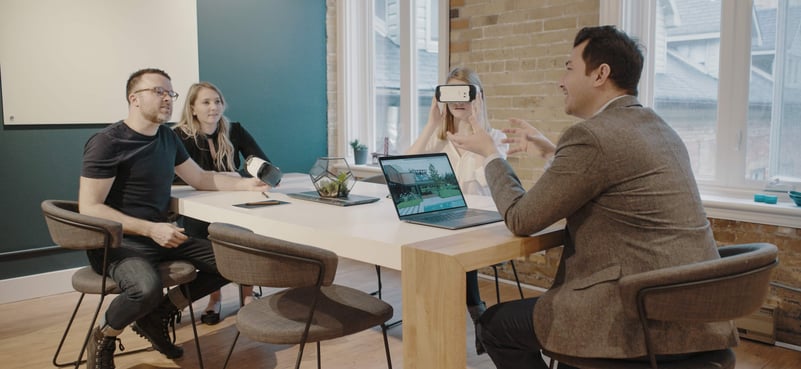 Communicate Better
One aspect architects and designers tend to forget is that most people do not possess the skill to read and decipher 2D drawings or floor plans. Flat images cannot truly communicate the size and scale of a space, making it both difficult for the client to share constructive and informed feedback as well as the designer trying to bring their vision to life. This can lead to the endless back and forth which can eat up the precious time you could be using to complete the project. Virtual reality is the mode that allows you to communicate perfectly with your clients, helping them have better spatial awareness in the context that makes the most sense to them. By immersing them in virtual reality, your clients can virtually walk through your experience and point out parts of your design they enjoyed or would like your firm to revise.
"People who see our 2D drawings or blueprints still don't really comprehend the scale until they view the VR experience. We were trying to find solutions to help communicate that spatial understanding to the client, and VR came into play for that."
Stand Out from the Competition
Impressive floor plans, detailed physical mockups and photorealistic 2D renderings are the industry standard and what is expected when trying to win a bid. However, how can you really stand apart from other firms that are trying just as hard to secure the project? While virtual reality is not a new piece of technology, the extraordinary sense of feeling like you're actually experiencing the digital space is impressive to say the least. Not only do you give your soon-to-be clients access into what you have in store for their project, but it also gives them a glimpse as to what working with your firm will look like. By adopting advanced technologies, it further reinforces a strong commitment to staying future-proof and forward thinking as well as going to any length to create an outstanding space.
Getting Started
While your CAD platform may already serve its purpose in what you require it to do, you can also extend your CAD use and make the most out of the platform that you are familiar with. Getting started is easy, and you can do so with a CAD plugin to generate a cubemap or by utilizing a cloud rendering platform for a better quality result.
Create with Free CAD Plugins
Here at Yulio, we've created a number of VR plugins that will render and stitch your project scenes into a cubemap from within your CAD software. From there, you can take your cubemap and upload it onto Yulio where you can enhance, view, and share your VR experiences with your team and your clients.
Working with our CAD plugin is easy and we have created each to work the interface of the respective program. For the purposes of this post, we'll be looking at the steps of how you can use our Yulio VR CAD plugin for SketchUp.
First, head over to our CAD Plugins page to download the plugin and authorize SketchUp to access your Yulio account.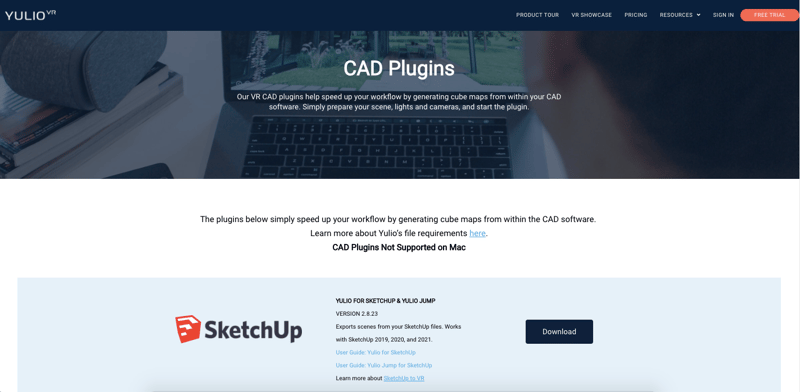 From there, prepare to upload your scene and select the different options available on the plugin and click Create VR Project.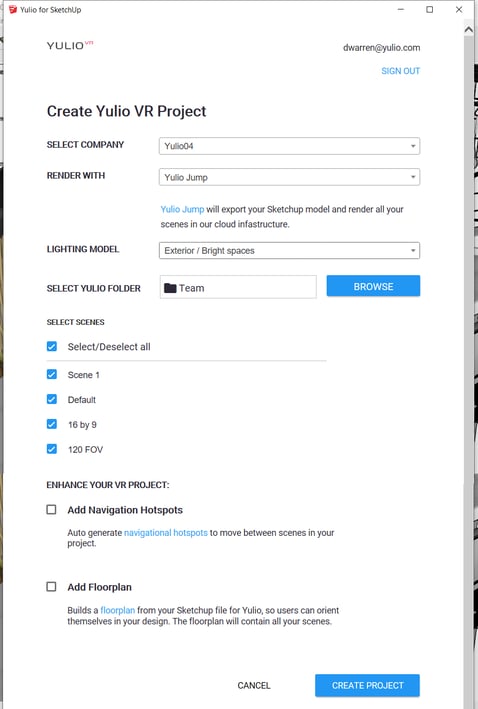 And that's it! You'll be able to follow your project's rendering progress, and once it's finished, you can click the View in Yulio button to get redirected to your account to start enhancing your project.
Here's the user guide for a more in-depth step by step on how to use our Yulio CAD plugin for SketchUp.
Rendering Platforms - Yulio Jump
While you certainly can use Vray or the SketchUp native renderer, we also wanted to share a rendering option you can choose to use that is already built into our Yulio ecosystem. Yulio Jump is our cloud-based rendering platform for SketchUp and CET Designer users, giving them the ability to create fast, simple and stunning cloud renderings direct from these two programs. Not only can you create VR-ready projects, but you also have the option to create 2D renderings to add onto your project's portfolio.
To render with Yulio Jump for SketchUp or CET Designer, be sure to select Render With > Yulio Jump - this ensures you're rendering with Jump.
And don't forget, when using Yulio Jump, you can also have the option for automatically generated hotspots and floor plan, making it easier to create enhanced projects quickly.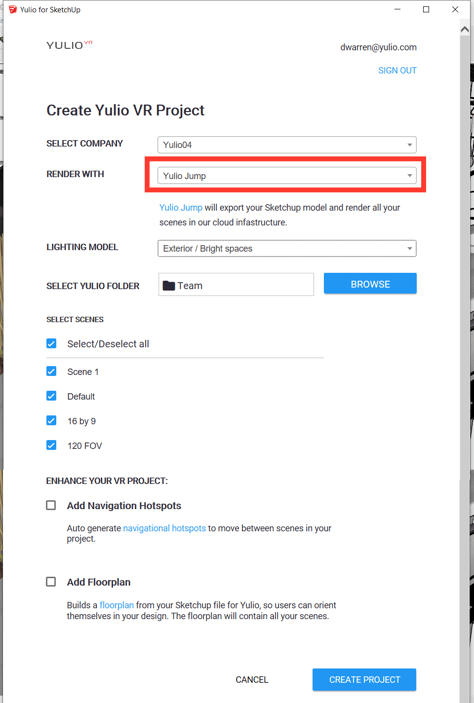 Plus, if you're looking to amp up the realism in your projects, you can access our Enhanced Material Tags that will help give your finishes and fabrics added depth and life into your scenes. You can do so before you start rendering with Yulio Jump by including the tags in the material label field.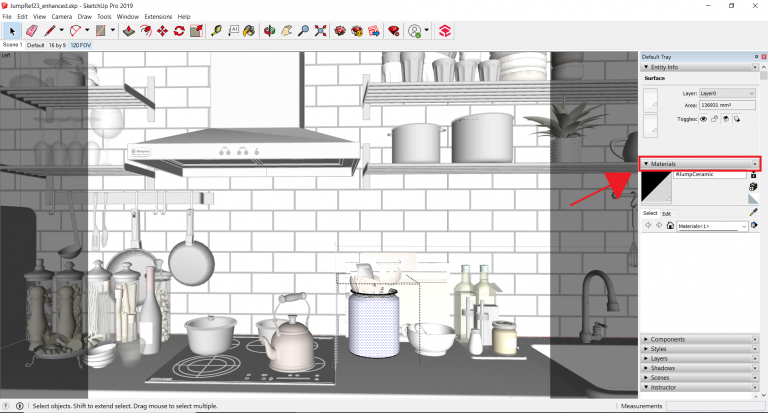 ---
We hope that this guide was able to help highlight how you can make the most of your CAD programs and how you can do more with what you're already working with. As always, if you have any questions or would like some more guidance with navigating our plugins, please feel free to reach out to our team. For more tips on designing your first VR project, check out our free resource on how to design for VR.