Many tools can help a sales process move along and help create a lasting impression on a client, potential customer, or prospect. The key is to find a tool or multiple tools that can help you create a sales experience that is unique, memorable, and genuinely enjoyable. We believe that a VR experience can be a tool for your business. You may be wondering; how can a good VR experience help me make the sale/land the pitch? Well, by making a comfortable and accessible virtual reality experience for businesses that meets the need of a client you can create an experience that provides a new perspective on your product that will stick with them and stick with them as they consider your product or pitch.
In this article, we are going to go over some ways how a VR experience can be a powerful selling tool and how you can facilitate the ideal VR viewing experience for clients and customers. We hope that you can see the potential behind including VR in your sales procedure.
The Selling Power of VR
The main reasons why we love VR are the same reasons why it can make such an impact on someone. When set up properly a VR can allow someone to explore a virtual environment of your creation from multiple angles. It provides a lot of freedom that a lot of other visualization methods don't allow. Also, as a presentation tool, it encourages your audience to get up and move, which makes them engage with the presentation on a new level.
For those unfamiliar with VR or have yet to see it used in a sales environment, it may be hard t see how VR can help in your sales procedures. You may just think of VR as an entertainment device. But in today's increasingly digital work, digital tools like VR are becoming more a part of business and everyday life.
There has been a massive shift in recent years to a more digital workspace and with that shift came the need for more digital solutions. You may have heard of the Metaverse and how that is looking to shake things up in many different businesses today. VR is one of the main tools that is being explored and experimented with. Look at companies like Apple, Meta, and Microsoft, all of which are making or experimenting with VR technology. Meta has been very focused here, showcasing how VR devices and workspaces can be a suitable stand-in for in-person meetings.
When it comes to combining VR and sales, there have been similar strides to incorporate VR in some shape or form in several industries. When it comes to retail/consumer-facing VR experiences, we've seen a lot of experimentation. The main ones we've seen are VR Product configurators, which provide the consumer a chance to view a product such as a car or couch in a VR environment and personalize the product and explore it from a first-person perspective. We've also seen VR showrooms or shop tours where a customer can explore a virtual recreation of a retail environment or larger showroom. But we've seen more experimental efforts with things such as VR training sessions for retail employees, or VR storytelling of how a product is manufactured.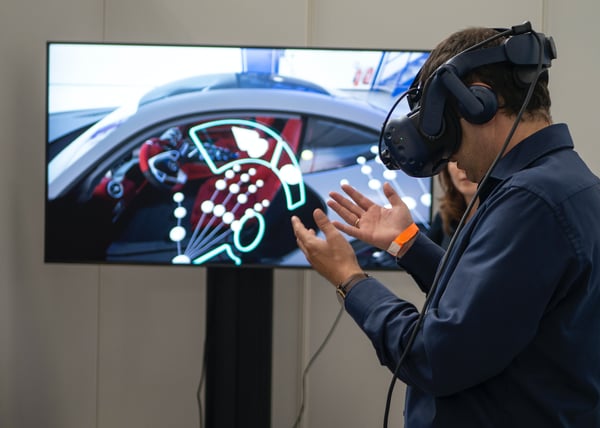 There is a lot of potential for VR right now and consumers have come forward asking for new sales experiences. To provide some numbers, according to a 2021 survey by e-commerce technology company Zakeke, 41% of shoppers are looking for a shopping experience with greater personalization. Going further 32% of consumers want to be able to customize products in VR. The most popular product categories they wanted to see in VR were apparel, shoes, and furniture. But one of the more surprising stats from this survey was that despite this group of people wanting to use VR in a retail environment, 71% of them have never even used VR.
We think that this shows there is a great interest in seeing more VR incorporation in business today, and the fact that a good majority of these people have yet to experience VR, gives businesses the chance to be the first to introduce this group of consumers to the technology which can be extremely impactful when you are trying to make a good first impression with them.
Setting Up an Experience with Clients and Customers in Mind
If you decide that you want to incorporate a VR experience somewhere in your business to help with your sales process, that's great! However, it is important to make sure you're setting yourself up for success by creating a comfortable engaging experience that puts your client or customer first and makes sure to address their needs or concerns about using VR. As we mentioned, if you decide to add VR to your business, there's a good chance you will encounter someone who has little to no experience in VR and isn't sure what to expect. You want to make sure to keep that in mind and ease them into it.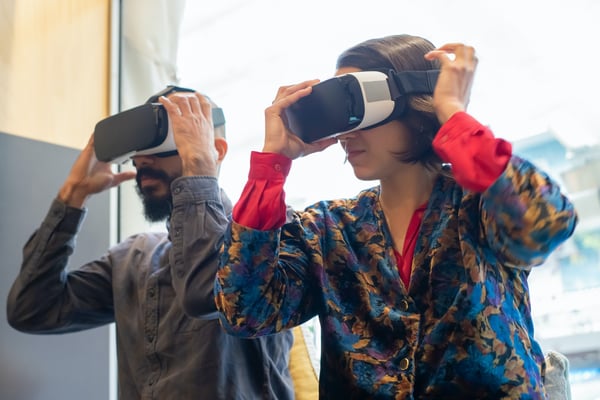 Here are some quick tips and tricks on how to create a comfortable VR Experience:
Consider the physical experience for the client – Going into VR can throw some people off as they enter a virtual environment. Make sure those using the device aren't susceptible to motion sickness or claustrophobia. You can always offer multiple headset options for people who may not want to be fully cut off from the real world. Another thing to consider is headset straps. Some people may want the device to b as secure as possible, but some may want more freedom. Make sure to discuss and you can always remove the straps from whatever VR headset you are using.
Practice with the tech yourself – Getting as familiar with the technology and experience as possible is the best way to become a guide for someone experiencing VR for the first time. Make sure to get familiar with the interface and technical intricacies of the experience to best help those who have questions as they experience it themselves.
Introduce the experience – While VR is about the freedom of exploring a virtual environment, you don't want to send someone in totally blind. Make sure to introduce the experience and walk them through the basics of navigation. Consider setting up a demo of some kind that can ease new users in.
Have a screen to show what they see – While VR is about making sure the viewer is as immersed as possible, it can be extremely beneficial to share what they are seeing with however else who may be there. It will allow others to engage with the experience and get them interested in trying it for themselves.
We hope these tips help you ease someone into a VR experience. But as you continue to incorporate it more into your sales/pitching/presentation process continue to note what does work and the feedback you get from others.
We hope you have a better idea of how VR can help play a role in helping facilitate sales and fit into some of your processes. The market is in a good spot now for some experimentation and customers are out there looking for new experiences. Don't wait too long.
---
For more of our VR presentation tips, sign up today for our Business Ready VR course - it's a free 5-day program of videos and other assets to make you an expert in 10 minutes a day. Or, if you're ready to start presenting your designs in VR, grab a free account.