Businesses of all sizes have been exploring practical use cases of virtual reality because they recognize the power of this new medium in sales, marketing, training, design, charity and more. For those of you just starting to think about VR for business, we take a look at an overview of how to select VR built for work, not entertainment, and some of the best examples of different businesses today using VR to inspire your creativity...and drive results. If you take one thing away from today's post, let it be this:


Virtual Reality is a tool that fosters a perfect understanding between the presenter and the audience.
VR's Marketing Program
If you are not convinced that VR is a fit with business...blame the marketers. While modern VR has been around in various forms since the nineties, it became more widely available to experiment with through the 2010s and at the start was touted as so transformative there might be a risk of losing oneself inside. While struggling to present VR in traditional marketing media like brochures and TV ads, weird images of people in headsets with their mouths open in amazement flooded the space. And the implication that VR could convince a person they were really somewhere else set a strange standard - anything not so transformative was considered a failure. And it set up a culture of waiting to see what would happen with the technology when things settled.
Fast forward to 2020 - stand-alone headsets with 6 degrees of freedom like Oculus Quest have hit the market at reasonable price points, breaking out of the cumbersome headsets wired to a cable and inside a zone monitored by sensors. Creating VR content no longer requires massive computing power. And the expectation of VR is more as a storytelling medium than a transformative one.
Escaping the rut of expectations set up by these early marketing attempts has taken some work, but with new options, we now see the space for VR for business - well outside the arcade and games room.
Choosing the Right VR for Business
The early success of VR in gaming vs. in more practical applications meant that the progress in innovation and software originally came from gaming engines. But now there are plenty of options better suited to business applications - so much so that we recommend you choose something that was built for business from the ground up. Look for some key attributes in any VR software you will be using in your business.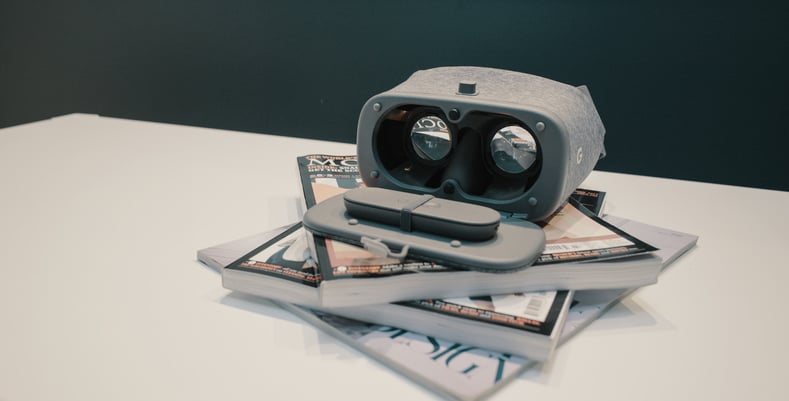 Choosing the right VR for business starts with picking the right software and hardware for your needs.
Software
Present Anywhere - and Any Way
Our clients in the architecture and design industry consistently tell us that about 80% of their meetings happen at the client's office. With changes to working remotely and different plans at different offices, meetings will likely happen online more and more often. So whatever solution you choose, make sure it can perform well across geographies and no matter how many people are logged in to view the design. Similarly, it should accommodate great presentations in VR headsets, but also in a browser mode or other format that doesn't require everyone to have a headset.
Be Hardware Agnostic
Choose something that is future proof and not overly reliant on certain headsets or app stores. There's a lot of churn in the industry still and you don't want to be left with something that's reliant on certain capture technologies, like cameras, nor on certain headsets for presentations.
Use Common Tools
Creating the actual content is where the real investment in using VR for business happens. The software you choose should be compatible with tools you or your agency use today so that it can become a seamless part of the workflow. This lets you convert work from video, photography or CAD drawings into VR, rather than design separately for VR alone. It also ensures you have a lot of options on how you create content, and who you hire to do so.
Encourage Usage
You should look for software that doesn't cap projects if you want to encourage adoption and experimentation in your content creation. When there are no usage limits on the account, you can let more staff try out VR and experiment by trying to translate their designs or projects into VR. And, on the content consumption side, you don't want a limit on views if you're planning to publish a VR project on a website or link to it from a popular blog post. You'll want as many people as possible to see it.

Hardware
For a more comprehensive review of the attributes of available headsets, check out our headset roundup blog but in general terms when choosing a headset for business, keep these priorities in mind:
Make it Mobile
As we discussed above, mobile VR headsets are going to be critical for business use as you can't assume clients will come to you. Luckily, evolution in the area has made this much easier, with full self-contained headsets that are cable-free. Where once you had to be tethered to a computer to drive full walkable VR, that's no longer true. And with options like Oculus Quest, it's no longer cost-prohibitive to acquire several headsets for use at client offices.
Make it Social
Whatever hardware you choose, you'll want to consider how you can make it a social experience in meetings. VR is naturally isolating, since it blocks the face of the user, and does not allow others to see what's happening. We find connecting the experience to a monitor allows other people in the room to see exactly what the person in-headset is seeing and be able to discuss the same items.
Make it Simple
First-time users may feel some hesitation, particularly if they aren't fully comfortable with technology. Make sure what you choose for hardware as limited numbers of controls needed so that first-time users can enjoy their experience without needing to be interrupted with instructions constantly. And, while you're at it, practice the handover process so you know how to guide clients in what to do, simply.
VR for Business: Achieve New Understanding with a New Medium
While you may be thinking, "VR sounds great, but it is only a fit for very few business applications", think back to the start, where we talked about its ability to foster perfect understanding. That's the key to countless industries. We'll examine some creative and inspiring uses of VR below, but it is probably helpful to review how VR fits with major business activities at a high level to help you start thinking about all the areas where you can start using VR to help you get the job done.

Product Showcases
With customers increasingly doing their research before contacting sales, products sold in a traditional 'showroom' environment, from furniture to vehicles to artwork and more, can benefit significantly from using VR showrooms. The experience can be built for use on the website to help prospects narrow down their options, or in a curated virtual meeting where sales reps "meet" clients one on one at an appointed time. (and Yulio now offers the opportunity for sales reps to launch an instant chat with these browsers inside VR).
VR also solves the challenge that burdens every showroom - space. A virtual showroom lets you show every variation, colour and size available without requiring customers to try to picture something from a small sample. A number of our clients in the commercial furniture industry use virtual showrooms to showcase how furniture can be re-configured and regularly update their "samples".
Check out some Showcase samples here and here and imagine virtual spaces custom created to show off your products.
If you sell products typically displayed in showrooms, VR can do it for you better, and more interactively than photography and brochures on your website. And with a better showroom where customers can interact with your products from home, you'll move them further down the sales funnel and make sure your products are in consideration.
VR Showrooms in Action
Macy's stores discovered that VR was key to helping furniture shoppers make decisions - particularly around items fitting in the customer's home space. A 2018 press release from Macy's noted that "VR-influenced furniture sales have increased by more than 60 percent versus non-VR furniture sales," while also leading to a lower than 2% merchandise return rate as consumers have the confidence to make more purchases and commit to them. It has been so successful that throughout 2018, Macy's brought VR shopping to about 70 store locations, and added 20 more by January 2019 in what they claim is the largest VR rollout in retail.
Smith System, an educational furniture company built a VR school with Yulio to showcase their products and how they can be re-configured to serve school needs in creative and traditional classrooms.
Yulio creates stunning virtual showrooms for our commercial furniture clients. Some have worked with us to place a live "host" inside via green screen video and are now embedding chat features which more closely mimic the one to one sales experience of the live showroom. They link to color variants, re-configurations and Buy Now pages, transforming virtual space into real sales showcases.
Check out a sample showroom using video, and download our whitepaper about VR can improve showroom sales here.

Sales
When it takes time to move a prospect down the sales funnel, it's often because that prospect doesn't feel fully confident about the purchase decision. They may not even be able to fully articulate the concern, but something is holding them back. In the case of B2B buyers that can even be the ability to sell the concept internally, or feel confident enough to defend the buying decision. VR can change that. VR makes it so that people buying large-scale purchases like furniture, design work or even a home can better understand every detail and be immersed inside. VR presentations significantly reduce "let me think about it" moments by immersing the viewer inside and bringing greater clarity and understanding. A number of Yulio design clients are able to get to the sale faster by rendering the options the client can choose from, side by side, and letting them flip seamlessly back and forth between views. VR takes away the "I'm just not seeing it" moment that can hinder your sale.
VR is also an upsell engine - customers can better experience the difference between levels of interior finishes, vehicle options, travel experiences and more. They feel more confident paying more if they have a clear picture of what the extra dollars are buying, and can better preview custom options and experiences.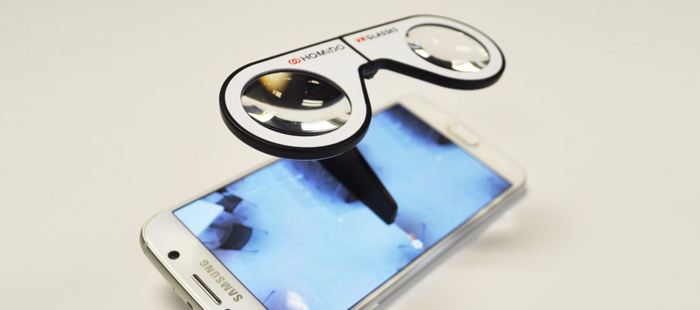 The Homido Minis are easy to slide onto any smartphone for a quick immersive VR experience.
Finally, a smartphone and a clip-on VR headset, like the Homido Mini, can be a stunning pocket portfolio with a much more engaging experience than a brochure or a static website - let you customers tour your portfolio over lunch for a memorable experience.
VR Sales Results
Audi has discovered the value of VR for sales and upselling, particularly in European dealership locations where space is at an even greater premium. Customers can try out even the smallest details to configure their cars - "with the VR experience we have developed a full-fledged sales tool for Audi dealers. It offers our customers more information and certainty when making their purchasing decision, as well as a special excitement factor," says Nils Wollny, Head of Digital Business Strategy/Customer Experience at AUDI AG.
"With this, we are taking the next step in our strategy to combine digital innovation with the strengths of the bricks-and-mortar dealership."


- Nils Wollny, Head of Digital Business Strategy/Customer Experience at AUDI AG
Retail
Retailers have both internal and customer-facing jobs that can benefit significantly from use in VR. The first issue is the same one that our friends with showrooms face - the idea that there's never enough space to showcase everything. Retailers can link in-store displays to expanded VR showrooms with a simple link and instantly expand their floor space, something Macy's has done with great success in their furniture departments.
Retailers can also optimize in-store space with VR heatmaps. Testing shelf placement takes on a new level of accuracy when you can see where people are actually looking, vs. what they describe seeing in your testing - and you'll get a better sense of what the secondary and tertiary best placements are, vs. the obvious best real estate. Yulio's VR heat mapping technology tracks a viewer's gaze within 360-degree virtual environments and provides detailed analytics on what is drawing their attention. Using the technology, retailers are able to test and refine store display and signage configurations based on concise data collected from test subjects.
Finally, as brick and mortar retailers continue having to innovate to remain relevant and hold on to their customers, offering experiences has become a proven way to draw the in-person shopper. Research from Sonar (J. Walter Thompson's proprietary research unit) showed that Generation Z is very interested in the experiential nature of stores and subsequently, 80% of them are more likely to visit a store offering VR and AR technology. VR is an ideal option, with all kinds of customizable content that can be presented in relatively little floor space. Experiences can range from taking part in related virtual events, like London Fashion Week, or trying products in the environments they were designed for, in a true try before you buy experience.
VR Retail Results
Toms, the shoe company has a number of retail chain stores and needed a way to drive people to stores. The company rolled out to 100 stores with a VR film that shows a trip through Peru, and kids in schools getting boxes of shoes - a proof of the company's statement about getting and giving, where for every pair of shoes sold they donate a second pair.
TopShop tied into London Fashion week and gave regular members of the public a front-row seat at their show with a 360 panoramic video stream. They made an exclusive event accessible to their customers - an example of when VR makes something too far away or exclusive suddenly accessible. They also created an in-store experience in their flagship store on Oxford Street, London, all about launching summer - complete with a virtual waterslide, designed to bring exciting experiences to their young demographic and build retail loyalty.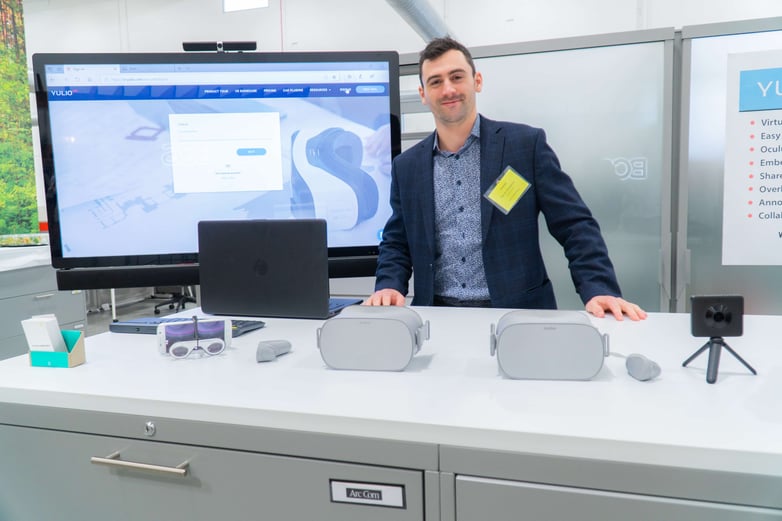 VR is an exciting piece of technology and can draw crowds to your booth.


Events
VR attracts attention, brings an aura of "cutting edge" technology to your booth and lets you expand the tradeshow floor to anywhere you can imagine. Tradeshows and events are also a perfect place to use VR - in fact, a few of our clients originally signed up specifically to use VR in a tradeshow and then expanded their use into other areas. VR draws attention to a booth on a crowded show floor and it displays and immerses people in your company's offering far more engagingly than a video or other presentation. VR makes the discovery self-guided and less sales focused. Just be sure to maintain the social aspect by having the headset reflected on monitors - and that you have adequate staff at the booth. A person helping transition the headset between users won't be able to have effective conversations with people getting out of the experience about what they saw.
And with the important rise of virtual events, VR is taking center stage in creating a virtual experience that's still immersive.
In a less traditional sense, but in the same way as events, sales centers for real estate and other "yet to be built" experiences can use VR effectively both to showcase what doesn't exist yet, and what is too large or complex to model.
VR Events in Action
Yulio's client, Fergus McCaffrey is a gallerist in New York City who has explored the concept of entirely virtual galleries with "FM Virtual", built by Yulio. The gallery website describes the initiative as inspired by a desire to dream bigger and explore exhibition possibilities beyond the physical constraints of the traditional art world, globally and in a low-carbon and sustainable way. It is not a replacement of our traditional brick and mortar galleries but rather an extension of our activities that will allow for unprecedented exhibitions, collaborations, and community."
During the COVID-19 pandemic, the virtual gallery was a critical way for the gallery to maintain relationships with their clients and continue to showcase their artists. An artist interview event was held entirely inside virtual space and allows anyone with the link to join in.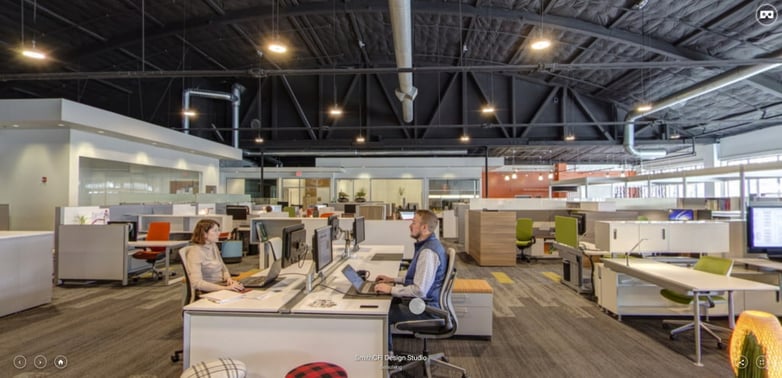 You can embed projects to your websites to attract prospects and give them an experience from the get go.


Marketing
With all of the technical aspects of VR, what is sometimes lost is that it is fundamentally a storytelling device. Great brand stories that resonate with customers and which create loyalty are a marketer's dream. And if the goal of a great marketing story is to help the customer picture themselves in or using a product or service, VR is uniquely positioned to fill that need. Whether it's immersive storytelling, communication of complex spatial design, the showcasing of products in curated environments or virtual, 'in-the-seat' experiences, VR brings a heightened platform for translating ideas into experiences that people are engaged by. VR allows marketers to align their products with experiences that would be impossible in the real world.
VR experiences can be a rendered space that a customer visits, like a candy or toy factory, or a VR movie of the place where your product is used - from an inviting home for furniture to a wild landscape for those selling outdoor gear.
Marketing with VR
Our friends at beep autonomous vehicles were able to show the public how it feels to take a ride on one of their buses using Yulio VR. The unique quality of getting immersed inside the vehicles, rather than just watching them on a video helps riders better understand what the experience will be like and helps build trust in new autonomous technology.
Coca-Cola has always had a significant marketing push around the Christmas season - they tie their brand to warm feelings of family and friends gathering in the season. They helped invent the modern image of a cheerful, cartoony Santa Claus and have launched winter campaigns with polar bears that took on a life of their own. In 2016, they created a VR sleigh ride experience in Poland and let people tour a virtual world as if they were Santa. This VR experience was a way to tie Coca Cola's heritage into new and modern media.
Marriott Hotels are all about getting people to stay in places far away from home. They created a VR experience that they called a "teleporter" that let you experience a Marriott hotel and a Hawaii beach. They took the experience further with wind machines and other 4D style immersions. And while no one would say it was the same as being there, the goal was to create a situation where customers could picture themselves on the vacation - and have a better sense of seeing and experiencing something before booking. This is an example of a true 'try before you buy' experience, and similar variations have been used by Carnival Cruises and Thomas Cook with ROI success.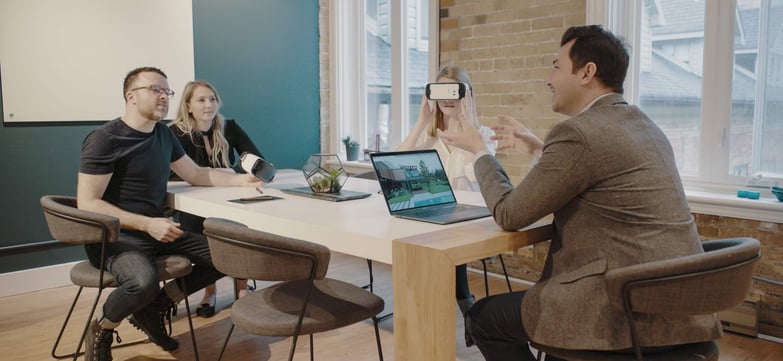 VR design supports clients to see and understand your projects with ease seamlessly.


Design
Yulio VR was founded in this category - the idea that VR for design and architecture can create a window on something that doesn't exist yet and give buyers a full understanding of layout, sightlines, space, color scheme and much more. There's an obvious fit here for VR - most people who aren't immersed in design day to day have trouble 'picturing' design elements in their mind and with VR they don't have to. VR removes ambiguity and puts designers and their clients on exactly the same page about what "contemporary" or "urban" or other concepts might mean. It also allows designers to show clients how space will be used and what the flow of space will be like. All these can be critical in winning business, and in getting sign off by the client faster, contributing to a designer's ROI.

Learn more about how designers use Yulio VR to solve challenges in our case studies.

VR in design can also catch costly mistakes before they happen - if your client chooses a finish from a sample, and later it just doesn't work in the whole space, you'll have a much better sense of that in VR long before materials are ordered or installed. You'll end up with happier clients and fewer changes when everyone has agreed on a full understanding of the design.
VR in Design
Alex Garrison, an architect at Gensler Denver told us about how VR can quickly solve design decisions. "We're working on a project at Eagle County Airport, where we're adding a new waiting area to the existing terminal building. As part of this, we needed to develop everything from a structural concept to the look and feel, including materiality, lighting, and even how large the windows will be for the mountain view while passengers wait for their flight. The visual impact of these separate elements really stands out when we render and look at the design wearing the VR headset. For instance, in one case we had a couple of different structural ideas; one of them had large trusses that extended into the volume of the space and it felt cramped when we viewed it through a headset. Following that, we tried a concept without the deep trusses and the space felt big and voluminous. The fact that VR offered a compelling sense of scale allowed us to accelerate the design process. "
CTA: Read the rest of our conversation with Alex
Fundraising
VR has been called an empathy engine by some. Its ability to make something far away feel real, and immerse the viewer inside of that scene makes news about humanitarian or environmental crisis much more real. VR is also a veracity engine - donors who can see what is being done with their dollars, whether that's construction, work in a lab, or happy kids at a playground, feel more confident that donations are going to good use and are more likely to donate more.
VR Fundraising Examples
Charity: Water, arranged a black-tie gala to show a VR movie which took place in a small village in Ethiopia, and followed the story of a girl and her family and their day-to-day lives, including their long travels to get water - and not clean water by any means. The state of the water alone is a shock factor, but you also see the state of the family's home, their school conditions and what their daily chores are like. The film ends with a truck full of workers installing a clean water well, and the impact and enthusiasm that was brought to this community, and how much this will change these individuals lives. Because of the strong VR reactions, this gala raised over 2.4 million dollars in donations by the end of the evening which exceeded the organization's expectations.
And it goes beyond human empathy - a canine charity in the UK called Dog's Trust was trying to get London Home Show visitors to sponsor a dog - they showed a VR film of the stunning facility where they care for thousands of homeless dogs. Seeing the film makes the impact of donation dollars more real
Training
VR training tools are popping up in places you might expect, like flight and medical schools where mistakes can be incredibly costly, but also in less likely places. VR can be used to help people deal with fears like heights or public speaking because the gentle, safe exposure lets patients practice their coping strategies. But there are some other, practical business applications, including customer service training by companies like Walmart. Learning to work with an agitated customer in VR is far more 'real' than a video and so it better prepares staff for dealing with real situations. VR is more memorable, not only because participants are required to actively engage with the content, but because we are wired to respond.
VR experiences are more memorable (critical if training is going to be useful) because they appeal to the three areas of the human brain that are responsible for perceptions and reactions: - neocortex (higher-level thinking), limbic system (emotion, behavior, motivation), and reptile brain (primitive instincts). Those parts of the brain are engaged by things we experience more than that what we just see and are responsible for our future behaviour based on those experiences.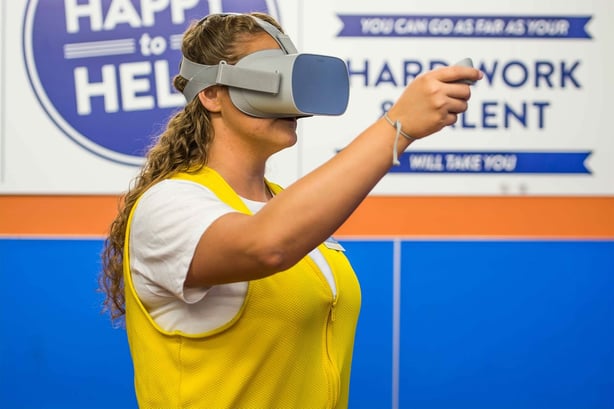 Walmart has been one of the earliest adopters of VR training, helping employees gain greater perspective and understanding. Image courtesy: https://bit.ly/2UXmNzg


VR Training Examples
Walmart rolled out more than 17,000 VR headsets to their stores, to allow their associates to access training in a number of areas. They are working on programs to train staff in using new technology, soft skills for customer service, and compliance. VR even allows Walmart to roll out training technology before the mechanical elements of a new program are even at the stores - letting them get a head start and be less dependent on distribution.
Another example of training where it would be expensive or nearly impossible otherwise is in the field of Insurance Adjusters. Where formerly having people be able to study the aftermath of floods or fires and other claim scenarios involved physically purchasing and destroying a home, and the logistics of bringing new hires to one place - VR makes it possible to train people any time, in their home office. Farmers Insurance have been experimenting with VR training since 2017 with great success.
Education
A variant of training, there is plenty of excitement about the potential of VR to bring subjects like science, history and geography alive for students in new ways. Not only do students typically embrace new technology as an exciting part of learning, but VR helps make intangible ideas real. Younger students often complain about the relevance of subjects like history- and VR allows them to become a witness to it. VR models of the human body could also allow a student to experience life as a blood cell, travelling around and gaining new, 3-D understanding. VR is also, as previously discussed, more memorable and viewer driven than other media. The challenge adoption in this area faces is budget based - 30 headsets in a school may be unrealistic - and the creation of curriculum approved content. As content creation tools become simpler and there are more VR authors trained to be comfortable with the medium, it's a challenge that should resolve itself.
Wrapping it Up
If you are considering bringing VR for business into your showroom, training, sales or marketing the key is to stop waiting. This new medium is offering new connections and new data points and waiting for things to settle will leave your business behind. Headsets are relatively inexpensive these days and software options vary widely (a very robust set of Yulio features is about $595/year) but when you choose something built with ease of use, and the ability to translate your products and services from concepts to immersive showcases you'll be experimenting with giving your customers perfect understanding.