Welcome to our Yulio VR Employee Highlight Reel where we introduce to you to an on the team - and the people whose ideas and sense of how VR and AR should work have shaped Yulio from the ground up.
The Yulio VR expert team are working in roles that for the most part didn't exist 5+ years ago, the VR job market was pretty minuscule. So the variety of experiences that led people here have created both expertise and variety in our team. And our history may lead you to the perfect VR job.
This week, we're sitting down with Stephen Yeung, one of the members of our Yulio development team! Stephen is our in-house software developer who works on the front-end and back-end coding for all our digital platforms for Yulio. His role includes working alongside the marketing team and DevOps to ensure that Yulio's online presence is performing at its best. With his skills and expertise in programming, Stephen's is a great support in all our Yulio digital operations. As one of the first employees of Yulio Technologies, Stephen is one of our core members of our Yulio family.



So, Stephen, tell me a bit about yourself.
I went to the University of Toronto and graduated with my Honours Bachelor of Science degree in the Software Engineering Specialist program. When I was younger, I loved to play MMORPG's (Massively Multiplayer Online Role-Playing Game) and wanted to become a video game programmer. Now, after completing my degree in software engineering, I became a software developer.
How did you find Yulio?
How I started working at Yulio is quite similar to some of my other colleagues. I was working with a company called KiSP, a visualization software for contract furniture dealers and manufacturers. While I was working there, Rob Kendal, our Managing Director and CEO of KiSP, showed us a demo of a VR application and I was completely amazed by it. When Yulio Technologies became its own separate company, all programmers involved with Yulio projects had the opportunity to be a part of the company… so I went for it!
Tell me a bit about your role at Yulio
My main role as a developer for Yulio is writing codes in both the front-end and back-end for our core web. I work quite closely with some of our teams in Yulio to ensure that our digital platforms are performing at their optimal level.
One of the teams I often collaborate with is the marketing team. With our numerous landing pages and websites, I work alongside with Elena and Chris to create sites or tools that we can implement to enhance our digital spaces. I support Kan in DevOps at any time he needs assistance with the server monitor or to deploy codes.
Tell me a bit about your first experience with VR?
After a meeting during my first day at Yulio, Ian, our Chief Product Officer, grabbed a few of us and showed us his VR rig in the basement of the building. Prior to that, I had never experienced VR before. We took turns putting on the headset and playing a few VR games. I can't remember exactly what game we were playing, but it was similar to a Mario game where you kill monsters and collect coins while doing so.
I was immediately hooked, and I couldn't stop playing it until Ian turned off the computer, haha!
If you got to dream up any VR experience and immerse yourself into it, what would you choose?
It would be super cool if I could transfer my mind into a sort of fantasy MMORPG, just like the anime Sword Art Online (SAO). I think that would be an absolutely amazing gaming experience.
Outside of your VR job, what are your hobbies?
As you could probably tell from my previous answer, I'm an avid gamer and I love watching Japanese anime when I have any free time to spare. Also, I love travelling, particularly visiting Japan. I love Japanese food like ramen and sushi as well as their anime figures all around the country! My family and I love it so much we went to Japan 3 times in a row for the past few years.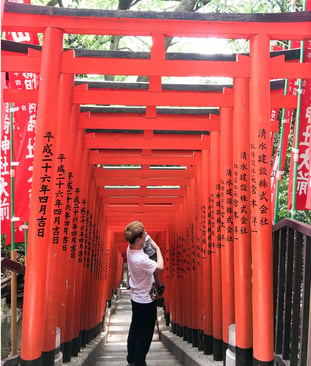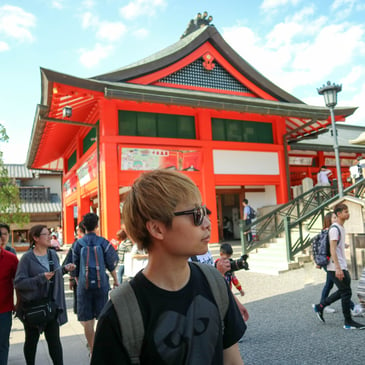 What's your favorite Friday afternoon office game that we've played?
I love any type of card game, but one that was recently introduced in the office was Dutch Blitz. I never heard of the game before, but I've leveled-up from a novice to beating the person that first introduced the game to Yulio. I'd say that's quite an accomplishment!
---
We'd like to say a big thanks to Stephen for taking the time to sit with us for a little Q&A about himself! Stay tuned for some more interviews with the staff that power Yulio, and discover how we're all learning more every day about our VR job!
If you want to learn more about the VR/AR industry, and things to consider when you're looking into VR solutions, then sign up for our FREE 5-day email course to get up-to-speed with VR. Want to try Yulio for yourself? Sign up for a free 30-day trial with full access to our feature set! Yulio VR Employee Highlight Reel: Interview with Stephen