Welcome to our Yulio VR Employee Highlight Reel where we introduce to you to an on the team - and the people whose ideas and sense of how VR and AR should work have shaped Yulio from the ground up.
The Yulio VR expert team are working in roles that for the most part didn't exist 5+ years ago, the VR job market was pretty minuscule. So the variety of experiences that led people here have created both expertise and variety in our team. And our history may lead you to the perfect VR job.
In this week's Yulio VR Employee Highlight Reel, we are chatting with our Dutch Blitz master and Digital Marketer, Elena Serova! If you receive our monthly newsletters or have seen any of our Yulio ads pop up on Google/LinkedIn, you have come in contact with the work from the one and only Elena. As Yulio's Digital Marketer, Elena's role consists of using the digital space to foster brand exposure as well as connecting those seeking a business-ready VR solution to Yulio. Elena is incredibly detail-oriented, and this part of her personality is just one reason why she strategizes and executes effective marketing strategies that also serve our clients.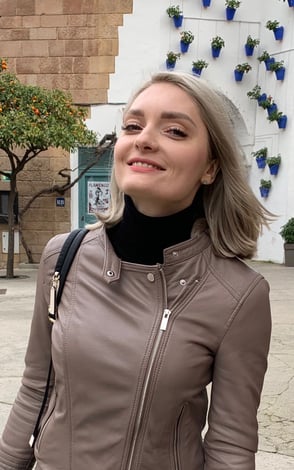 So, Elena, tell me a bit about yourself.
I went to school for Economics and International Business Management at St. Petersburg University of Telecommunications. After finishing my undergraduate studies, I went to work in the field of finance and supply chain.
Although I went straight into working in a supply chain, I have always been interested in people's search behaviors and their intent behind it. We're currently living in the era of the internet, and this mechanism especially piqued my interest. Following my career in finance, I decided to enroll in Seneca College in Toronto and received my diploma for Business Management. After finishing my diploma, I made a sharp change into the industry that I've always been interested in and began my career in digital marketing - I've never looked back!
How did you find Yulio?
I was searching around for something new and challenging that was in my area of expertise. Yulio was an ideal match for all of the parameters I was looking for. Before working here, I knew nothing about VR, so learning about this new disruptive technology was a new and exciting challenge I was ready to take on. Plus, living in the GTA, I've grown to dislike the long commutes into the city. Although it may sound silly, this was an important factor for me.
Tell me a bit about your role at Yulio
My title is Digital Marketer, which means I am responsible for online initiatives to promote Yulio's brand awareness in the digital space. The majority of my role consists of developing, implementing and optimizing digital marketing campaigns across all digital channels.
As with any business, every company goes through its own unique journey. For me, it has been a unique experience figuring out what digital channels we need to utilize in order to reach the audience looking for our services.
Tell me a bit about your first experience with VR?
I remember one of my first days at Yulio, I was strapped into the station at the back of the office. One of our colleagues loaded a zombie shooting game, and I distinctly remember my first instinct was to look down. Initially, I felt scared and numb for a minute when I couldn't see my legs, but after I was able to reorient myself, I was okay. It was interesting seeing how VR could have an outward effect on your body.
If you got to dream up any VR experience and immerse yourself into it, what would you choose?
An experience related to the social presence or connecting us to people that are far away from us. This is very near and dear to my heart since my parents are far away back home on the other side of the world. Maybe the experience could include life-like avatars. I would love the virtual experience to be like watching a movie together or chatting with each other. Skype or FaceTime doesn't give this feel at all. If VR could advance to include some sort of sensory interaction so people can feel other people's presence, that would be amazing.
Outside of your VR job, what are your hobbies?
I love traveling, but more than traveling, I love the planning process. I really enjoy looking at the different options of accommodations, transportation, what kind of local delicacies to try, everything! I think the reason why I enjoy the process so much is because it's connected with my area of interest: search. I love to discover new things and to be able to see the bigger picture. I'm extremely self-organized, and I feel like I always need a plan and a system.
Aside from planning and traveling, I love skiing in the winter and hiking in the summer. One of the most incredible outdoor experiences I've had was hiking the Grand Canyon - the views were absolutely spectacular!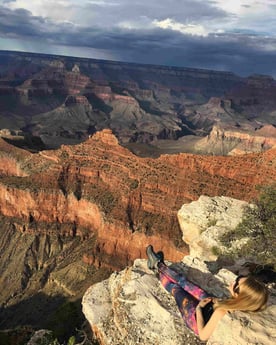 What's your favorite Friday afternoon office game that we've played?
I'm a huge fan of Dutch Blitz! I tried it first at Yulio and I've been hooked ever since. The best part of the game is the reactions that come with the thrill of the game. You always have to simultaneously stay alert and use your brain for your next moves.
---
We'd like to say a big thanks to Elena for taking the time to sit with us for a little Q&A about herself! Stay tuned for some more interviews with the staff that power Yulio, and discover how we're all learning more every day about our VR job!
If you want to learn more about the VR/AR industry, and things to consider when you're looking into VR solutions, then sign up for our FREE 5-day email course to get up-to-speed with VR. Want to try Yulio for yourself? Sign up for a free 30-day trial with full access to our feature set!