Welcome to our Yulio VR Employee Highlight Reel where we introduce to you to an on the team - and the people whose ideas and sense of how VR and AR should work have shaped Yulio from the ground up.
The Yulio VR expert team are working in roles that for the most part didn't exist 5+ years ago, the VR job market was pretty minuscule. So the variety of experiences that led people here have created both expertise and variety in our team. And our history may lead you to the perfect VR job.
For this edition of our Yulio VR Employee Highlight Reel, meet another member of our Marketing team - Julia Battistone! In 2019, Julia joined Yulio as our Growth Marketer, specializing in learning the ins-and-outs of a customer's journey as well as how we can continue to improve Yulio to best fit the needs of our clients. However, like many of us at Yulio, her title doesn't fully encompass Julia's range of knowledge and expertise. With her skills in Adobe and eye for design, Julia is a seasoned graphic designer, video editor, and web page extraordinaire. And while she had only officially joined Yulio just a few months ago, she has already made a big impact in our Marketing team and Yulio as a whole.
So, Julia, tell me a bit about yourself.
I received my Bachelor of Commerce from Ryerson University. Like everyone else in school, I wasn't quite sure what area of business I was most passionate about and wanted to major in. But I really enjoy being creative with graphic design and I'm also interested in human behavior and psychology, so marketing was a perfect fit for me. I was born and raised in Toronto and come from a big Italian family. Each year we try to travel back to Italy and spend a few weeks visiting relatives and relaxing in our small hometown in Abruzzo. There's nothing like enjoying authentic Italian pizza in the mountains!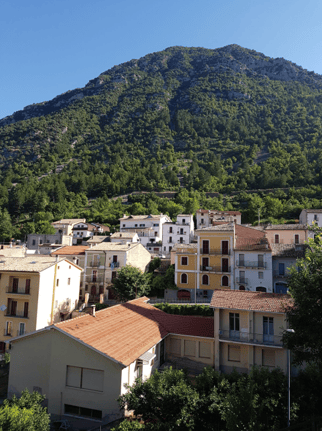 Hope you enjoy this view as much as I do!
How did you find Yulio?
I had been working at KiSP for a few years and was brought on to Yulio's initial start-up team to help with the branding of the company. It was my first experience with VR and I guess I couldn't stay away - I officially joined the marketing team in 2019.
Tell me a bit about your role at Yulio
I'm on the Yulio marketing team as a Growth Marketer, but as my colleagues have mentioned before, the nature of a startup is that everyone has to wear a lot of hats. My role consists of developing and executing marketing and sales strategies but I am also involved in graphic design and video editing.
Tell me a bit about your first experience with VR?
I had heard a lot about virtual reality when the wave of accessible consumer headsets, like the Google Cardboard, was hitting the market - but never had the opportunity to try it out myself. Through Yulio, I was able to experience an immersive office space and couldn't believe how realistic it felt. During that time I was able to bring a headset to a few industry conventions and my favorite part was seeing the "I can't believe this!" reaction everyone had to VR.
If you got to dream up any VR experience and immerse yourself into it, what would you choose?
One of my favorite uses of VR is to experience something that would have been otherwise impossible. An immersive experience that combines space travel/exploration with education is on the top of my list. I'm fascinated with the cosmos, and I would love to see Neil deGrasse Tyson in a VR world explaining black holes while I float around in the universe.
Outside of your VR job, what are your hobbies?
I have quite a few different hobbies that keep me busy - from playing video games, working on art projects, learning ukulele to recording a podcast I co-host with my friend. My biggest passion is definitely baking. I've even started a tradition with my close friends, the annual 'Dessert Crawl'. It's all about finding unique places in your city and only ordering from the dessert menu - I highly recommend trying it!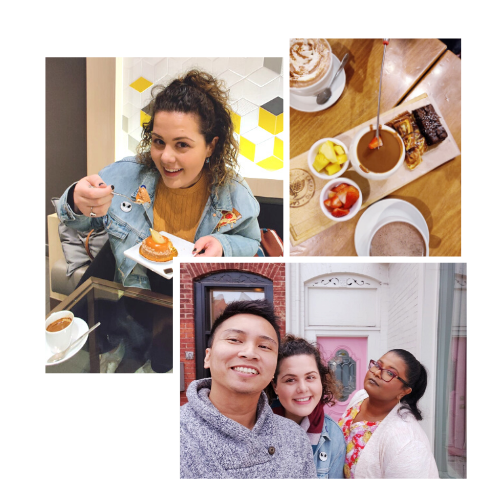 What's your favorite Friday afternoon office game that we've played?
One of my favorite co-op games is Overcooked, and I had brought it into the office in hopes of getting the team to love it just as much. The game itself is all about cute characters running a co-operative kitchen, yet it always ends in absolute chaos.
---
We'd like to say a big thanks to Julia for taking the time to sit with us for a little Q&A about himself! Stay tuned for some more interviews with the staff that power Yulio, and discover how we're all learning more every day about our VR job!
If you want to learn more about the VR/AR industry, and things to consider when you're looking into VR solutions, then sign up for our FREE 5-day email course to get up-to-speed with VR. Want to try Yulio for yourself? Sign up for a free 30-day trial with full access to our feature set!