2019 has been a fantastic year for VR. With revolutionary headset releases and updates to various software systems, many VR companies have taken great strides this year.
Similarly, 2019 has been a busy year for all of us at Yulio. Our team has been working hard in ensuring our Yulio platform is compatible with other programs as well as releasing features that will take your VR projects to the next level.
Without further ado, let's get into our 2019 VR round-up of what we've been working on this past year!
VR Headset Releases
While this isn't directly related to Yulio, we felt that these long-awaited releases were worth mentioning in our 2019 VR round-up. In March and May of 2019, Oculus welcomed two new VR headsets into their line of products: the Oculus Quest and Oculus Rift S.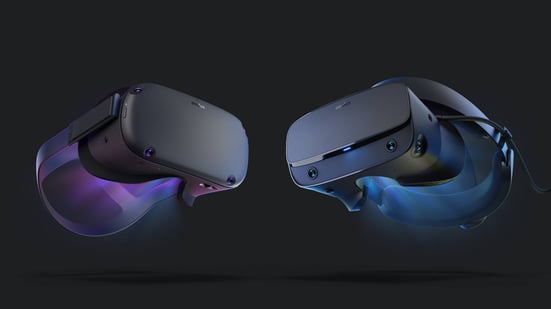 Back in March, Oculus extended their line of VR headsets and introduced their latest generation of tethered and standalone headsets. The Rift S provided a much clearer and advanced VR experience than their first-gen Rift headset. With improvements to movement tracking and an upgrade for their controllers, many Rift users were excited for this release. A few months later, Oculus kept up their momentum by releasing the highly-anticipated standalone headset - the Oculus Quest. Unlike its predecessor, the Quest supports 6-degrees of freedom, giving users a high-quality immersive and un-tethered experience.
These two headsets, especially the Quest, shook the VR industry. Before the Quest, there was a distinct boundary between the tethered and standalone headsets. Either you choose the option that has the best visual quality but is tethered and is very expensive or the cost effective option that has its own set of limitations. The Quest became the bridge between these two worlds, making its release one for the books.
Both the Rift S and Quest are currently retailing for $399USD.
Now onto what we have been doing for the past year!
Project Markup
Here at Yulio, we value listening to our clients and acting on their feedback, because it inspires us to make features like Project Markup!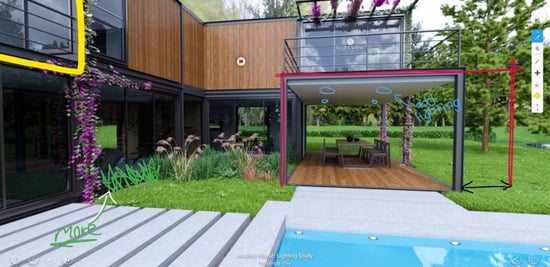 Back in mid-March, we released our Project Markup feature that allows you to record feedback on your VR project during your Collaborate session. Editing and marking up was always a highly requested feature, and we knew that having this capability was important to our Yulio users. And while we wanted you all to use this feature as soon as possible, we wanted to make sure that the feature would perform in a way best fits in many of your current workflows.
Now with Project Markup, you can markup specific parts of your design that your client likes or would like to see another solution. We've included a variety of colors so that you can organize and assign a shade for a specific edit your client would like to see. Plus, we've formulated this feature to include dimensions like your rendered image so that your edits can have the same amount of depth as your actual VR project.
Scene Options
Scene Options is the latest addition to our library of Yulio features, and we felt it was an important one to include. If you have ever visited our VR Showcase page and explored the project "Bathroom Configurator", you would have seen how the author used our navigational hotspots in a new and innovative way. Instead of getting transported into another area of the building, each hotspot takes you to another version of the same bathroom. While this method of showing variation works, we knew that there had to be a better and sleek way to present the same information.
This led us to create the Scene Options feature.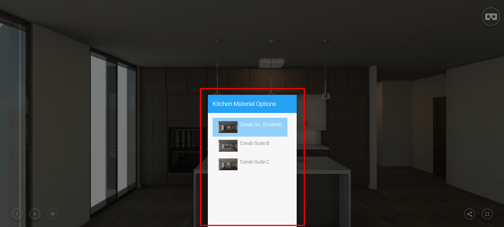 Using hotspots to show your alternate solutions can quickly crowd up your project and look unprofessional. So rather than cluttering up your VR experience with hotspots, upload your scene variations and have them accessible in a pop-up folder at the bottom of your project.
Here's some inspiration on how you can use Scene Options in your next VR project.
When showcasing a line of products, use Scene Options to show various color, shape, or material options
Change up the configurations within the scene to highlight the space's potential and versatility
Following your client's feedback, upload before and after shots of the space to see whether they like the changes or would like to take a different approach
Watch Out for Another Year of Yulio!
It has been an awesome year at Yulio, and we hope you enjoyed our 2019 VR roundup have been able to use our latest additions to the Yulio project editing tool box. 2020 is going to be a huge year with Yulio, and we are so excited to share with you what we have been working on for the past few months - I promise it's going to be big!
---
Here at Yulio, we strive for excellence in performance and integrity when it comes to our product, and customer service. To stay up to date with anything and everything Yulio, follow us on Facebook, Twitter or Linkedin! For the latest industry news in architecture and immersive technologies, sign up for our monthly newsletter here.