Here at Yulio, we believe that the VR experience should be simple, customizable, and intuitive. As part of our continued commitment to making Yulio the best VR presentation tool for business, we are thrilled to announce our brand new feature: Project Markup!
We value listening to our users and collecting feedback on how to make our platform better. So it only made sense that having a way to record feedback in VR projects was a frequently requested feature. That's why we're excited to launch Project Markup and give you the chance to collect feedback right within the context of the VR Project.f
Project Markup is now available on Enterprise plans, giving you and your clients more opportunities to dialogue right within your Project.
Project Markup allows you to provide feedback on designs all while staying within the VR environment. Launch a Collaborate session and allow your clients to see you draw directly on your project in real time. With a variety of pen and color options, you have the flexibility of providing clear and coordinated feedback to all those involved.
Let's take a walkthrough on how to use Project Markup. Click here to see Project Markup in action and continue reading for a step-by-step guide on how to use this feature. Stay till the end for an extra tip!
How to Use Project Markup
Anyone with a Yulio seat in your account is able to use Project Markup.
Log in to your Yulio account on any computer, tablet or touchscreen device and select the project you would like to mark up.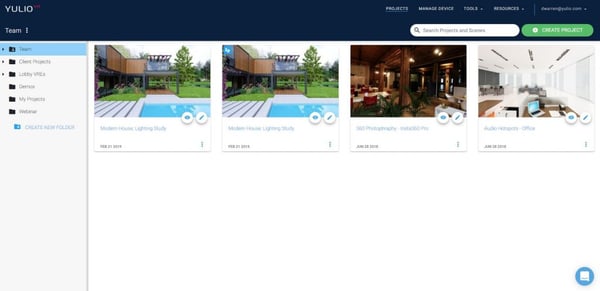 In the editing project page, hit the Settings tab and click the Allow Project Markup toggle to enable Project Markup.

After turning on Project Markup, click on the View in 360 icon to start marking up your project.

In browser mode, pick on the pen icon on the top right-hand corner. This is the Project Markup button. The Markup tab has multiple color and pen thickness options for you to explore.

Click on the icon again if you would like to erase, change the color of your pen, the thickness of your pen, move around your project, or delete your edits.

Also, just like any of our other features, your project automatically saves so you will never need to worry about losing your work. Send your project to anyone on your team with a Yulio seat, or share your edits with a client via a Collaborate session.
To delete all your edits in a scene, click the Clear Scene icon in the VR project, or Clear All Markup on the settings page.


Or hide your edits by switching the Allow Project Markup toggle off.

An Extra Tip
Use Color Coordination to your Advantage
Project Markup currently has 5+ colors to choose from. Use this variety to your advantage by organizing your feedback using the different colors. By color coordinating your notes, it creates better clarity for anyone who will be using the feedback for future design decisions. Here is an example: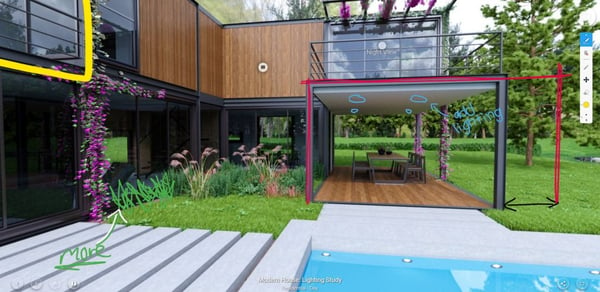 ---
Our newest Yulio feature release is available for all Yulio Enterprise clients to use. To learn more about the feature and how to use it effectively, visit our knowledge base. If you would like to know more about any of our features or want extra training, contact us at hello@yulio.com.