2020 was truly an unforgettable year. From navigating the transition into indefinite remote work to experiencing the radical shift in business, families, and social gatherings, the past year was one filled with countless challenges and obstacles brought on by the worldwide pandemic and national shutdowns. While we all have said our farewell to 2020 and look forward to a brand new year, much of the major changes we experienced in the past year have yet to come to a resolution.
With much of the world experiencing their second, third or fourth wave of record-breaking cases and the new risk posed by the new COVID-19 strain, businesses will most likely see no drastic change in their current work situation until infection rates start dying down or when everyone has access to vaccines. While some of us have transitioned back into the office, the majority of businesses are only allowing a certain percentage of people to enter the building at the same time or offering employees an office-work-from-home hybrid option. However, one thing's for sure: it's going to take some time before we are able to even consider returning back to normal.
There is no denying that mobile, remote and immersive technologies have played an indispensable tool for all sectors of business in every industry in 2020. However, with the dawn of a new year, these virtual technologies will not be going away any time soon. So today, we'll be sharing with you the upcoming 2021 VR business outlook and what you can expect from the technology moving forward - let's dive in.
1. Mobile Technology
When it comes to business-ready VR solutions, mobile will become the most flexible, accessible and affordable option in Enterprise. While tethered solutions can produce some of the most stunning and immersive virtual experiences currently on the market, there are way too many barriers and variables that stand in the way of businesses looking to share VR in the simplest way. And especially if businesses are looking to introduce this technology to their clients for the first time, the combination of navigating the complexities of setting the rig and PC up and diving head first into brand new software will most likely be too complicated and overwhelming.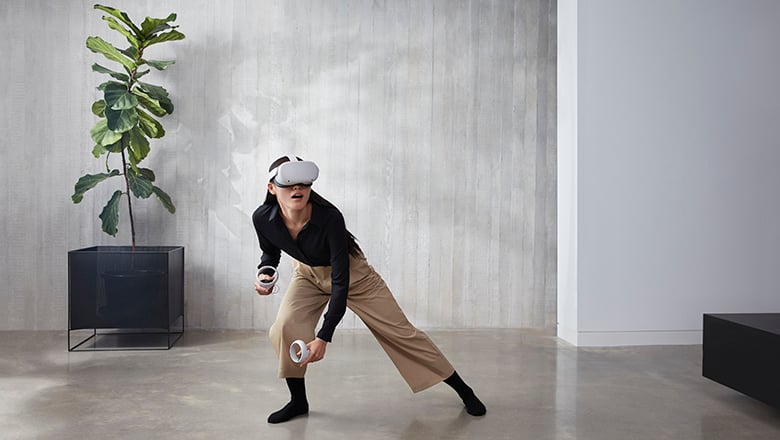 However, with continual advancements in VR hardware as well as the ordinary smartphone, much of the barriers to entry are much lower or practically undetectable or nonexistent. Headsets like the brand new Oculus Quest 2 have made it possible for businesses to still create and share their stunning VR experiences without compromising quality. The mobile standalone headset is not only incredibly affordable for the included features and overall performance, but it is also incredibly easy to set up as all the necessary components, such as sensors and speakers, have all been built into the headset itself. Not to mention how simple and clear the onboarding experience is, even those who have never touched a VR headset can navigate the hardware in no time.
However, perhaps the Quest or other headsets are still outside of your budget. Most smartphones today are VR-capable, where all you have to do is slip on a VR goggle like the $15 Homido Mini to get transported into a virtual setting just with your smartphone. Similar to what we have at Yulio, our Yulio viewer app gives users the ability to access their projects any time, any where, functioning much like a digital portfolio. With so many professionals still working from home, agile technologies like applications and mobile headsets will continue to be an important tool.
2. Remote Features and Support
As remote meetings have gone past being a mere daily practice to our regular reality, VR platforms will start to see greater features that will provide greater support to professionals working from home. While most VR platforms already have certain pre-existing structures that will support remote meetings and presentations, it was only in 2020 where the building and expansion of these capabilities was crucial in mitigating the inability to conduct in-person meetings.
A number of Enterprise VR platforms have begun to integrate various features that will allow their users to connect with their clients despite the distance. With video conferencing becoming the preferred method of communication, various applications have started to integrate communication software like Zoom into their VR platforms. Plus, other feature additions like a LiveChat function allow users to speak directly with your team whether you're there with them guiding them through the project or responding to them when you're able to. The best part of some of these real-time additions is that some may send live notifications to your team as well as record analytics like name and location to give you a better gauge as to where your target audience may be located.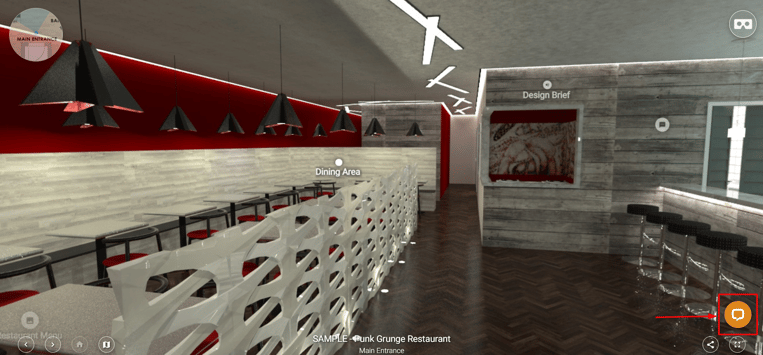 Built-in functions like LiveChat will become essential as we continue another period of going virtual.


These features have and will continue to be the primary focus of VR platforms as it gives users greater opportunities to interact with clients while conferencing or when away from their keyboard. As we enter into another year where in-person meetings may not be possible just yet, tools and updates such as Zoom and LiveChat integrations will be a great resource for professionals who are looking for every opportunity to connect with their clients. We can all expect for greater advancements in engaging with clients within a virtual environment remotely.
3. Virtual Showrooms and Events
Last but certainly not least, this year will be one where virtual showrooms and events will continue being a crucial support to so many industries located in areas where restrictions have yet to be lifted. In 2020, we saw numerous industry verticals have to make the difficult decision to close their showroom doors and cancel events to limit the spread of the virus and ensure both the participants and the staff's safety. However, with the current health climate of 2021 looking relatively similar, if not more serious, than what we experienced back in mid-spring, virtual solutions may be one of the only ways we can connect for the time being.
Annual events like SIGGRAPH 2021 had already announced last November that they will be once again opting for a virtual conference starting August 1st and going until August 5th. While other trade shows like NeoCon 2021 remain hopeful and are currently charging full speed ahead with an in-person conference, due to how unpredictable our day-to-day lives will be, many are also planning for a virtual backup just in case occupancy capacities or general social restrictions revert back to stricter guidelines.
And just like virtual events, virtual showrooms and galleries will continue being a resource to so many businesses who were relying on a brick-and-mortar location to showcase products to their clients. With immersive solutions, not only can they bring their showroom to their clients, they can also share it to a wider audience, reaching prospects that may not have been able to connect with otherwise. In 2021, we will most likely see much more of these virtual environments, conferences and spaces, answering to the needs of many professionals and industries.
2021 - Staying Virtual
While we have welcomed 2021 with open arms, much of the difficulties of 2020 have unfortunately followed us into the new year. There is hope that in the near future, business and our lives outside of the office may return back to some degree of normal, and until then, this year will most likely be staying virtual until we all can confidently step out with less risk of spreading the disease any further.
However, the bright side to all that we have been through in 2020 is that we are all better equipped and prepared compared to where we were a year ago. With every business having dipped their toes with video conferencing, remote technologies, or even just the greater recognition of the power of technology, we all can step into the new year with greater determination and assurance that this year will be unlike the last.
---
We hope you're excited for a new year like we are at Yulio. To stay up to date with what's happening at Yulio as well as industry insights, get our monthly newsletter by signing up here today. For regular updates and more about the VR industry, follow us on Facebook, Twitter or Linkedin.