We are so excited to announce our latest feature that will be sure to encourage greater client engagement in your VR projects - introducing our Yulio LiveChat integration!
If you're unfamiliar with this technology, LiveChat is a service software aiming to give businesses a way to assist, engage, and communicate with their clients with instant messaging. We at Yulio are always thinking of ways to remove any barriers you may have with your clients or even create solutions that can strengthen the relationship. And now with the brand new Yulio LiveChat integration, we're pleased to offer our Yulio users the opportunity to connect with their clients like never before.
Whether your clients have questions about a specific area of your VR project or would like to learn more about a certain product, viewers of your VR experience can now chat directly with your sales team or agents through your LiveChat account. Plus, agents can receive live notifications when there are new viewers on a project or when a new chat comes in, ensuring your team will never miss an opportunity to connect with prospective warm lead.
Here's how you can quickly set up LiveChat in your VR projects.
First, login to your Yulio account, click on your email address, and select Company Settings.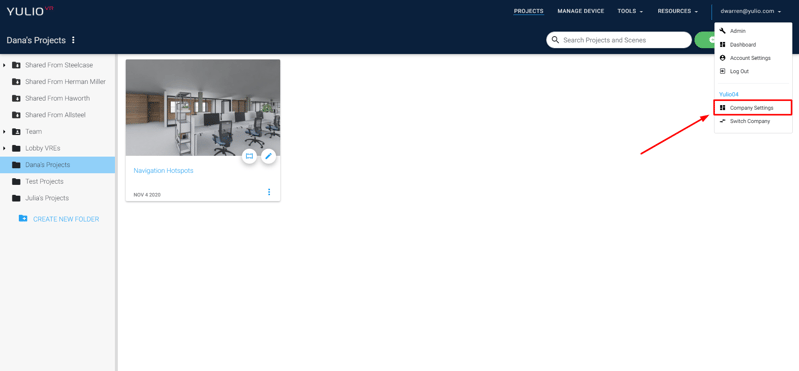 From there, select the LiveChat tab. Follow the instructions to configure your LiveChat widget for desktop and mobile, and enter your license number to connect to your LiveChat account.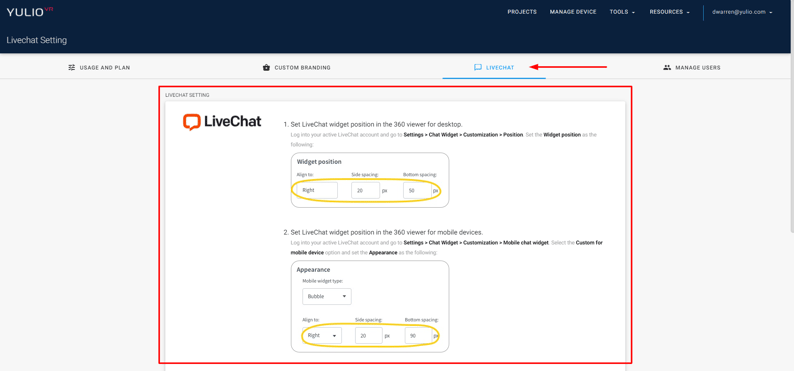 Once you have selected "Enable LiveChat" in your Settings tab, you're all set. The next time you view or share your project, the LiveChat widget will be active.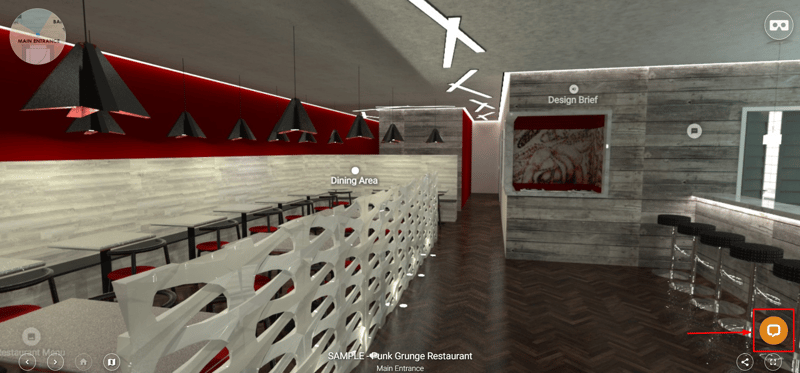 LiveChat also collects analytics on viewers who interact with your VR projects. When a new chat is activated, your team can see client details like name and location, as well as what project the client is viewing and which scene they were in when the chat was activated. This not only helps your team naturally open up a larger conversation with a prospect but since the individual had already taken the time to explore your project and reach out to your team for further follow-up, it is far more likely that the contact is showing legitimate interest that could lead to a sale. Plus, the analytics that comes with this integration can give you further wide-scale insight as to what areas of your project or products pique a prospect's interest, helping you stay informed as to what your target group's current tastes are.
---
We hope you're as excited for this latest feature addition to our Yulio platform! For a step-by-step walkthrough on how to enable this feature, head over to our Knowledge Base. If you have any questions about LiveChat or our Yulio platform, feel free to reach out to our team - we would love to chat with you.