While virtual reality is not a new phenomenon, most people are unfamiliar with the technology or have yet to experience an immersive space for themselves. Whether it be feeling intimidated by navigating VR headsets themselves or virtual reality in general, advanced technology will always come with some initial hesitation. But how can you turn cautious curiosity into an exciting opportunity?
Now that businesses are transitioning to a hybrid working situation or have fully transitioned back to the office and in-person meetings, now is the perfect opportunity to introduce VR to your clients. Whether it be for client-facing presentations or even remote meetings, there's a bit of prep you can do beforehand to ensure the most seamless introduction to VR. With these 5 tips, host an incredible VR business presentation with little to no barriers in your way. Pitch and present in a stunning way and connect with your clients on a whole new level - let's dive in.
1. Get Ready in Advance
Whether you're preparing for a large project or wanting to go above and beyond for your clients, there is an option where you can bring VR to your client's doorstep.
One barrier that we briefly just touched on is the topic of using VR headsets in this pandemic period. More often than not, chances are your clients may not own or have access to a VR headset to join your meeting. And while there are a variety of immersive viewing options like exploring on your browser, with enough time and preparation, your clients can join in on your presentation in full VR.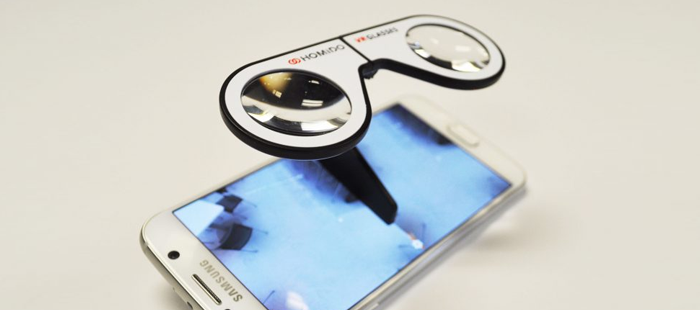 For years, the Homido Mini VR goggles have been our go-to since they're lightweight, affordable, and customizable yet very effective in providing a stunning VR experience. While the Google Cardboard is equally as affordable, we prefer the Homido Mini since its design allows you to see your client's reaction and body language much more clearly, giving you a better gauge on how your presentation is going. Since the Homido Mini costs about $20 each, it's an impressive yet cost-effective option to equip each of your clients with their very own VR accessory and bring VR to them.
2. Quick Intro to Your Experience
Depending on whether your clients have their own VR headset, the accessory you have shipped to them, or you're opting to present in fishtank (browser) mode, make sure to briefly explain the VR experience before jumping into your presentation. For many of your clients, this will be their first time experiencing a virtual immersive project. And while you may have outlined the steps of pairing a device, accessing your project, or joining your Collaborate session in your invitation email, it's good practice making sure everyone is on the same page before proceeding. Take the time to share a little bit about Virtual Reality in general, why you have chosen this format to present your project, what your clients can expect from this experience, and do one last check to see if everyone is where they need to be. Beyond just general housekeeping, taking the quick 5 minutes to introduce the VR experience gives you the chance to show your knowledge on the latest technologies and commitment to being innovative and forward-thinking.
3. Look Up, Down, and All Around
Once everyone has successfully made it into your VR project, don't forget to guide your clients through looking up, down, and all around. While this is a small and seemingly insignificant detail, this step is crucial in reducing the likelihood of your clients experiencing VR motion sickness.

Thinking back to your first experience with VR, did you ever feel dizzy or slightly nauseous? VR sickness is quite a common side effect of using the headsets and is caused by a sensory mismatch between a person's visual, vestibular and kinesthetic systems, which are in charge of your body's sight, balance, and physical movement. And while VR motion sickness is less common when using a fishtank viewer, it's still important to give your clients the time and space to get used to the controls and reorienting themselves in VR before heading into your actual presentation. By taking this preemptive measure, you not only give clients not affected by VR motion sickness the time to be amazed by VR, but it lessens any negative side effects they may have coming out of your presentation.
4. Allow Them to Explore
While VR is definitely no longer "new" technology, it's still exciting for those who have never tried it. From our experience, giving your clients the chance to explore in their own time and at their own pace helps them get a closer look at elements that caught their attention and come back with more informative questions. By using features like Explore Mode, your clients will have the flexibility to freely roam in your project and interact with the various hotspots you included in your project.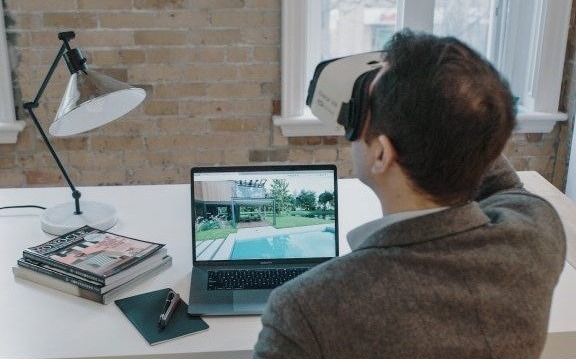 Having time for self-exploration can prove to be useful as it gives your clients the opportunity to gather their thoughts and feedback before losing focus and getting distracted while waiting to move on. Plus, a long-term added bonus is that it gets your clients more acquainted with navigating in VR, which will be a beneficial skill especially if you're planning to continue using it to present each iteration.
5. Don't Let Technology Replace Human Connection
We all have transitioned into a time where using remote technologies and online video tools is just a part of daily routine. However, more often than not these types of meetings can seem isolating and at times fairly robotic. While it currently isn't safe to have some good old-fashioned face-to-face contact with your clients, here are a few tips that can help bring a little more human into your remote presentations:
Spend more time with the goggles off than on: even if we are able to get back to onsite meetings, the VR experience should be there to enhance your presentation, not be the center of attention

Converse "face-to-face": remember to turn on your camera and be present, this is crucial in establishing a human connection even over Zoom

End the time with a light debrief: don't forget to end off with a light chat and give your clients one last chance to voice out any questions or concerns
Navigating VR Remotely
While introducing VR to your clients during this period of remote work isn't incredibly ideal, you may notice that the majority of steps that you would take when preparing for an in-person meeting are practically the same. Apart from minute differences in where you would look to maintain eye contact and the time to prepare VR headsets for your clients, much of the steps and tips we have shared with you should seem like a slightly modified version of what you're already doing - that's the beauty of using a mobile VR platform. So get your clients equipped and start hosting your presentations in VR today.
---
Feeling stuck on finding the right VR solution for you? Access this free online resource to learn about the Questions to Ask before investing in an immersive platform. To try out the features we mentioned - Explore Mode and Collaborate - sign up for our 30 free trial.