With trade show season just around the corner, businesses are currently in the midst of brainstorming how they will be showcasing their latest product launch, a brand new product line or showcasing their curated spaces in events happening later this year. However, as we head into yet another year of virtual conferences, businesses and professionals are on the hunt for other ways to engage with their audience and provide a memorable experience that will leave a lasting impression on attendees.
Last week, we shared our key tips on how to use Virtual Reality in a webinar session, seminar, or virtual presentation. However, while you may be familiar with these foundational and crucial steps, how exactly can you be using VR for trade shows? Today, we'll be sharing a few ideas to help you get started with thinking about how you can implement this advanced technology in your next virtual event. But before we get into the ways you can use virtual reality in your next tradeshow, let's explore some advantages of integrating this advanced technology in both a conference context and beyond.
Key Benefits
Standing Out
Trade shows, including virtual ones, are a bustling hub where a myriad of businesses and professionals have a single goal in mind: to share and promote their products and services. While this gives you a platform and presents the perfect opportunity for you to reach a larger audience in hopes of meeting your next client, so are all the other businesses there in attendance.
Virtual Reality is currently still seen as a fairly new technology. This perception is advantageous in situations where your main objective is to attract new clients, share your vision and story, and ultimately why they should choose to do business with you instead of your competitors. Since most people have not had hands-on experience with virtual reality, let alone in a business context, this technology opens up the chance to really "wow" your audience with a brand new experience.
Interactive
One of the greatest strengths of virtual reality as a technology is its interactive capabilities. Just the mere act of looking up, down, and all around is far more engaging than still images, a slideshow, or watching a video. And especially during this time where interaction feels quite limited to Zoom meetings and sharing our screens, virtual reality provides a unique and refreshing way to connect with your audience even from the comfort of their own homes. There are even LiveChat options that you can integrate into your VR experiences that give your audience the chance to leave their feedback and questions as well as allow your team to track hot leads and follow up after the conference.
Sharable
Depending on the VR platform you choose, your experiences can be accessible to anyone with the link. This not only is great content to share on your social platforms but doing so allows you to reach a greater global audience and create a connection with your virtual experience. Plus, since all you need is your VR project's URL, you can further expand your library of shareable media and easily include them in your conference follow up emails or any time you reach out to a new prospect.
Now that we've highlighted some key benefits of using VR for your trade show event, let's explore some practical ways you can use this technology.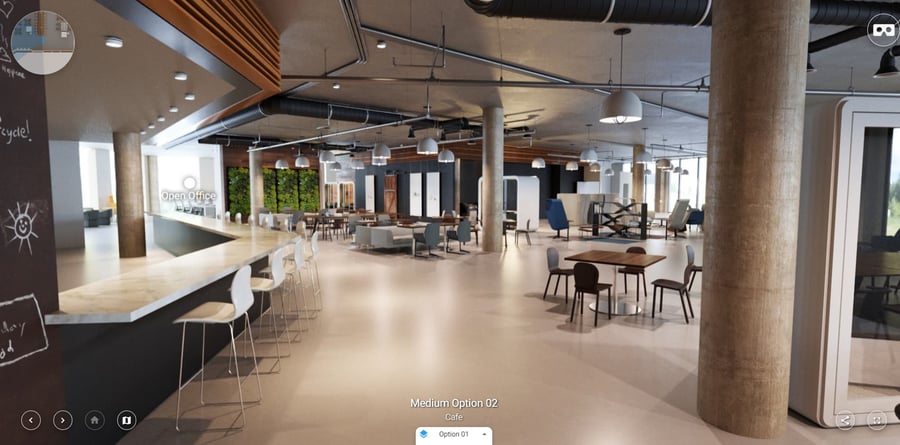 Create your own Infinite Showroom and bring your experience to your clients.
1. Create an Immersive Showroom
While attendees may not be able to visit your physical showroom space, you can use virtual reality to tap into limitless square footage and bring your showroom to your trade show attendees. Virtual reality solves one of the biggest challenges many industries face when attending in-person trade shows: space constraints. With virtual reality, the opportunities are endless and you can show off your whole featured product lines and all their different colors, material and configuration options. Plus, your virtual booth visitors can get an up-close look at each of your products, helping them see all of the key features and details of each piece. This ultimately will give them a greater understanding of your business as well as your products, increasing your chances of establishing a brand new client.
If you're interested in creating your own virtual showroom experience, our Visualization services partner at KiSP Inc. can help you get started on your very own Infinite Showroom today. Tap into their expertise and curate spaces like in the image above - see your vision come to life.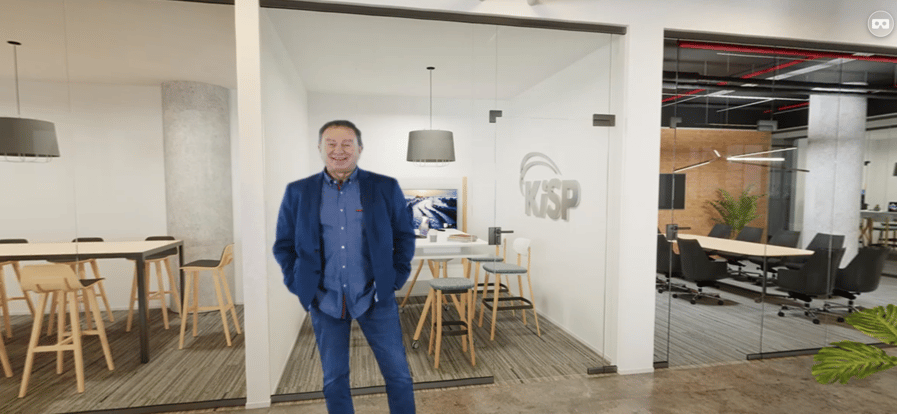 Take attendees on a guided virtual tour to showcase your products, their material/finishes and many configuration options.
2. Give Virtual Tours
A common misconception with virtual reality is that the only viable industry that could use it and find success are tech companies. While it may seem like an easy and perhaps logical stepping stone to use technology to show off their tech products, that could not be further from the truth. Any business vertical, industry or company can utilize its immersive capabilities and its benefits.
When it comes to trade shows, oftentimes it can be difficult standing out from your competition, especially in spaces where many of the participants may have a similar product focus as you. Virtual tours are one of the most common ways of visual storytelling, taking viewers on a unique journey that can clearly highlight what distinguishes this particular place from the rest. Not only does this help create greater transparency between your business and interested prospects, giving a sneak peek behind-the-scenes look into how your products are made can establish greater rapport and connection with your audience. This line of trust could be the reason a prospect would consider and follow through with converting into a client.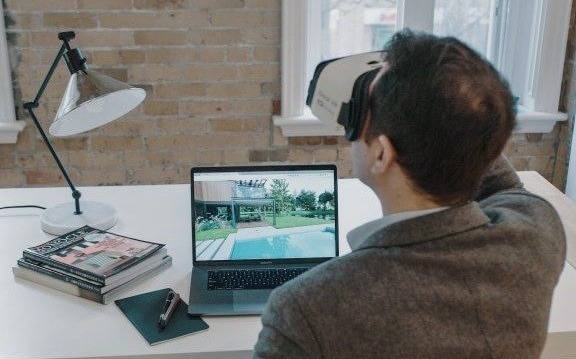 Give a hands-on demo to help your audience understand your product.
Demo in VR
Last but not least, you can host a demo in VR. Especially for products that are completely new and have pushed the bounds of what we thought was possible, hosting a demo in VR can be an effective communication tool. While complex machinery and hardware may pose barriers that can lengthen the sales cycle, it is the perception that they are overly complex and too time-consuming to learn that will completely deter prospects from purchasing. By inviting your audience into a demo in VR, they get to receive the closest hands-on experience without being there in person. Being able to "try before you buy" gives attendees a taste of what your product and platform are capable of, building up a buyer's confidence in your products that will hopefully lead to a sale.
Using VR in your Next Trade Show
We hope that some of these ideas and thought starters were able to help you get started with using VR in your next trade show. With the technology's ability to transport your audience into a brand new environment, virtual reality can further increase engagement with attendees and stand out from your competitors. By including a guided virtual tour, immersive showroom, or hosting a demo in a virtual setting, further elevate the trade show attendees' experience with your business with the power of VR.
---
Here at Yulio, we strive for excellence in performance and integrity when it comes to our product, and customer service. If you are looking for help outsourcing rendering and VR content for visualizations, check out KiSP's portfolio here. They specialize in low-cost solutions that can be done in tight turnaround times to help you share your vision for any project. To learn more about how VR can enhance your business workflow, sign up for our FREE 5-day email course.