On this week's Yulio Training Tuesday, we're going to be taking a deep dive into one of the modes you can choose when launching a Collaborate session: Explore Mode!
Explore Mode is one of the presenter's controls our team created to give all Yulio users the ability to give their clients the flexibility to experience their project at their pace as well as showcase it in an unstructured way.
How Explore Mode Works
With Explore Mode, your participants will all have the ability to control their screen and explore your project. Once selecting Explore in your Participant Panel, yours and your participant's screen will begin to auto-pan throughout the selected scene.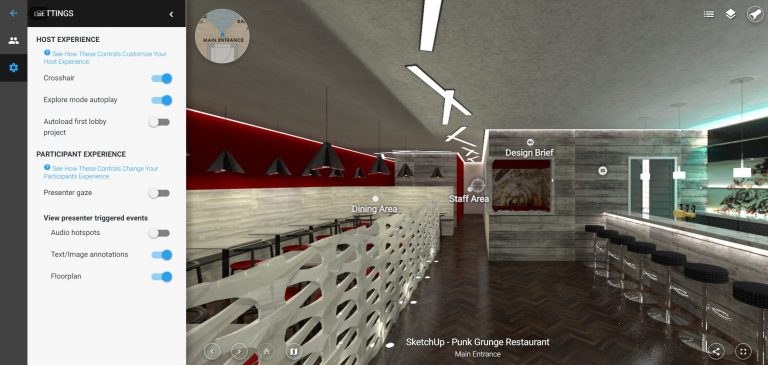 But don't worry, your participants can interact with their screen at any time. And all they have to do to quit the auto-pan is to click on their screen and begin to look around your project in greater detail. When it comes to using this feature, we generally see two main use cases from our users.
Using Auto-Pan The Whole Time
Many of our users that are in the furniture industry, real estate as well as architects and interior designers take full advantage of the auto-pan feature. We designed Explore Mode with the auto-pan features since it's fantastic for -
Tradeshows: showcase a looped synopsis of your latest products
Exhibitions/Displays: catch the attention of anyone passing by your booth with a stunning and interactive experience
Client-Facing Meetings: use it when introducing your project to give a quick look before diving in deeper
Free Section to Explore & Spotlight
Another way our users like to utilize Explore Mode is by giving their clients the time to take a closer look at their project. We like to recommend to our users giving their clients a brief 3-5 minutes of "free-roaming" to collect their thoughts, questions and feedback before they lose focus and get distracted while waiting to move on. After a period of freely exploring, a great way to bring everyone back together is by spotlighting a certain product or area of your VR project.
The opportunities are endless with Explore Mode - you can do a combination of both methods to make your presentation more intricate and interactive. However, if you do decide to utilize both the auto-pan and spotlighting technique, we definitely recommend creating a general outline of the presentation to keep your pitch organized and seamless between transitions.
---
For step-by-step instructions on using Scene Options, check out our Knowledge Base article. If you're interested in our Yulio platform and would like to try it out for yourself, click here to sign up for our free 30-day trial.