A common theme among many of today's consumers can be summed up by the phrase "try before you buy". More and more consumers are looking for more and more advanced previews of the products they are looking to purchase to have more confidence in their transactions. With today's digital business landscape, many consumers are looking for these previews in the digital space, and so businesses have turned to tools like Augmented Reality and Virtual Reality, to create VR and AR sales experiences, to help provide their consumers with these detailed previews and meet their need of "try before you buy".
AR is maybe the lesser-known cousin of VR; however, Augmented Reality sales experiences are popular among many businesses and consumers in the eCommerce space. While being popular it also makes a notable impact among most consumers. According to a report from Snap, the company behind the popular app Snapchat, 100 million consumers are shopping with AR online and in stores. The same report goes on to say that brands are 40% more likely to be considered if they have an AR experience. Even further they say that interacting with a product in AR leads to 94% higher conversion rates. There is a lot of power behind AR Sales experiences.
In this article, we will look at some of the more innovative uses of AR that we've seen in marketing and sales to provide some inspiration for how you can start thinking about Augmented Reality sales experiences within your own business.
1 – Wayfair – View in Room App
Wayfair has gone the route of many furniture marketplace sellers by including an option to preview their furniture objects in AR. The furniture industry is one of the more popular industries where we've seen AR have success. Wayfair developed its View In Room app to provide a tool for consumers to create AR scenes with multiple products and some customization features included.
With furniture AR, there is a large benefit in the sense of scale that AR allows you to have when viewing a product. It's a great way for a customer to get a rough sense of if they can fit the product in their home or workspace. A sense of realism was key for Wayfair when developing this app and it definitely helps consumers get a detailed look at the product they were purchasing and can see it in their homes right away.
2- StubHub adding AR to their stadium models
For the Superbowl, StubHub, the popular ticket-selling platform, added a 3D AR model of the stadium to their app that ticket purchasers could view when selecting their tickets. This allowed fans to better understand how the stadium was set up as opposed to the usual 2D seating maps. This allowed fans to better plan their trip to the game and what to expect when they arrived at their seats.
This was the next logical step from their "view from my seat" feature that offered a first-person view preview of the seat. Ticket purchasers found use in this feature and StubHub reported that engagement for this event more than doubled from the previous year. StubHub considered it a success and is continuing to look for mixed reality experiences that they can add to the ticket shopping process.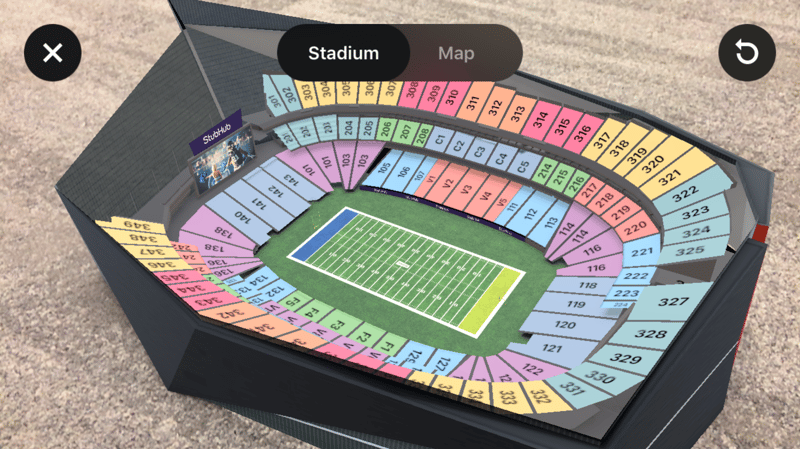 A 3D model of the U.S Bank Stadium from the StubHub app. Credit: Mashable/Stubhub
3 – Home Depot – Project Color App
While having the ability to preview furniture in the home can help with one step of interior designing for consumers, the Project Color App from Home Depot looks to help consumers preview more design options at home. Using AR The Project Color App uses AR to allows customers to preview paint colors at home and even a feature that can detect prominent colors in the room from something like a carpet or throw pillow.
It allows for a pretty easy way to see if a color can work with what is already in your room. A nice step above going to the store and bringing home paint chips. Easily find the shade you need and then connect with the online Home Depot Color Service that allows you to purchase online or in-store.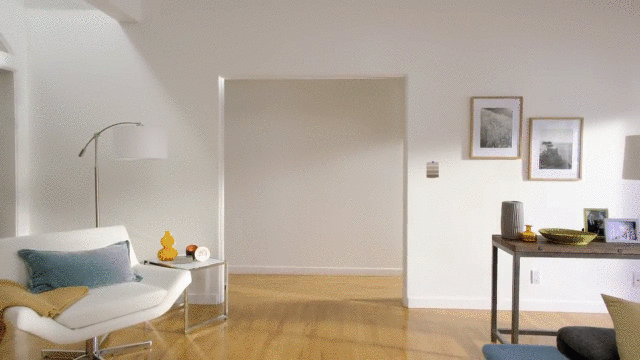 How the Project Color app previews wall paint colors (credit: corporate.homedepot.com)
4 – Wanna Kicks – Exploring sneakers in AR
We are starting to AR make its way to the fashion industry allowing people to even try on clothes at home. Wanna Kicks is an app that allows users to try on shoes and sneakers from multiple brands. It tracks your feet and allows you to view the product from all angles, just like checking yourself out in the floor mirror at the store.
The fashion industry is still working its way slowly into the AR game, but this is a good indication of interest from both businesses and consumers.



5 - Sephora – Sephora Virtual Artist
Face filters are something we've all seen before across a multitude of apps. Sephora looks to put the filter into the hands of its customers by providing them the ability to preview makeup on their faces with the Virtual Artist feature on the Sephora app. Try different shades of foundation, blush, eyeshadow, and more so that you can order with confidence online or find the product that works for them in-store.
The app also includes the ability to view tutorials for their products making the app a one-stop-shop for those looking to put together a new look for themselves.
AR Sales making a difference
We hope this has given you a good idea of how businesses from multiple industries are taking advantage of AR to create new sales experiences and provide previews of their products for consumers to try at home.
Now is the time to consider if you should start including AR at some point in your sales processes. There are ways to include it in your eCommerce sites, but look at how you can include it at retail stores and in pitches to prospective clients or customers.
---
Wanna chat about the AR capabilities of Yulio? Schedule a chat with our team today! Or try our free 30-day account that gives you access to all of Yulio's awesome VR including AR Hotspots! Get started now! If you use images to tell your business narrative, you can do so better with Yulio VR.