With new VR headsets coming into the market every day, it can be hard to know the best hardware to choose to showcase your Virtual Reality designs. There's no simple answer: the kind of headset you need depends on why you're using VR, your technical needs, your budget, and of course, your clients.
The immersive power that VR brings to the table is truly amazing and is only improving with time, but with technology accelerating at the pace it is, and the VR industry blowing up more and more every year raises the question: if you are going to invest in VR, particularly a VR headset, which model makes the most sense for you to purchase to view your VR content? Before we get into our VR headset comparison, let's explore further which VR headset would be best suited for your needs.
VR Headset Considerations
Why you're using VR.
There are many different reasons firms use VR--and your motivation for it will affect the kind of hardware you select. Ask yourself:
How much do you intend to make VR a part of your firm's marketing efforts? Firms who truly want to be known for their VR services and reinforce branding at every opportunity might consider ordering branded cardboard headsets to leave behind with clients and prospects.
Are you using VR in an attempt to cut down on travel time? If so, you'll need to make sure your client is set up with and comfortable using a VR headset.
Your technical needs
When addressing your technical needs, consider the following:
Do you want your VR experience to be powered by a smartphone? By the headset itself? An external computer? Think about how easy you want to access VR and how intense of an experience you want to have.
Your budget
If you're hesitant about setting a budget for VR, check out our article on Why You Already Have a Budget for VR. When allocating some of this budget to VR headsets, think about this:
How many headsets are you planning to invest in? One for the company? One for each salesperson, client, 3D author? Maybe you're investing in a few good quality headsets, or a large amount of lower-quality headsets--or both!
What percentage of your total VR budget can you allocate to VR? Read up on Popular Headsets and Pricing to inform your decision.
Your client
Does your client wear glasses? Typically, glasses are awkward with lower-range headsets, but some of the medium-range and higher range accommodate glasses users. But there are some exciptions with products like clip on VR lenses for phones.
How technical is your client? Would they be comfortable receiving files from you to view on their own smartphone and headset? If you think they would be receptive to this, be sure to start by explaining to them how the collaboration process would work with this new technology, and walk them through connecting their headset and downloading the Yulio Viewer app to make sure they're up and running.
Is your client locally based? If not, is it worth sending them their own VR headset for the project?
How much is your client worth to you? Is it worth leaving them their own headset, and if so, how much are you willing to invest in it?
Mobile vs. Tethered
First, you have to decide whether you want a mobile or tethered headset.
Mobile
These headsets are essentially encased lenses where you can position your phone to view the VR content. Your phone will split the content into two frames - one for each eye, so that when you put the headset on, your phone becomes the VR device, creating the immersive visual experience right in-front of your eyes.
Pros:
Mobile headsets are - to put it bluntly, mobile! You can take them with you anywhere you go and get them out and set them up with ease. So you can take them with you to show off VR to a client or take your VR portfolio to a sales meeting
They are relatively inexpensive in comparison to tethered headsets (we're talking upwards of a $400+ difference here)
They require less technology (none of those pesky movement sensors, camera trackers, unwieldy cables, or high-end PC's to run complicated programs)
Less set-up time (you can typically just open the VR app on your device, slip it into the headset, and begin your immersive experience. Or use the built in hardware)
The user is less susceptible to VR nausea
Cons:
Typically, with mobile, you can't interact with your surroundings unless there is a button or menu option. Usually, mobile VR headsets are set up to process FPR's (fixed point renderings), which allow you to see all angles of a fixed point, but doesn't allow you to move anything but your line of sight
You cannot always walk around the scene. Mobile VR tracks head movement only in what we call 3-degrees of freedom, not full motion 6-degrees of freedom, so there's no walking around. The excpetion being the Meta Quest line (see below).
Your smartphone wasn't designed to have the image quality or internal power that true VR needs to be at its best (although you can still get quite the experience without all of all of the tethered gear)
Tethered
Tethered headsets are a lot more complex than mobile headsets. Tethered headsets consist of a helmet connected by long thick cables to a powerful PC. The helmet will come with VR quality image display, built-in motion sensors, and an external camera tracker, and you will also have some sort of remote debating on which option you choose to help you navigate your surroundings, which increasingly heightens your immersive experience with the software.

Pros:
This is what this equipment was made to do; create the most complex and immersive experience for you. (So if you're looking for the top-of-the-line tech for VR, here it is)
You're able to play video games and do more mobile and tactile motions within the software (This means walking around, picking up items, and interacting with your surroundings!)
Cons:
You're restricted to the length of the cables attaching from your headset to the PC, which means that you can't wander too far or go out of that range
You need a dedicated space of at least 3 square meters
This tech usually comes with quite the price tag. Don't expect to spend anything less than $500 (and that doesn't count the amount of time you need to devote to setting it up!)
Users are more susceptible to nausea because of the interaction in the software
Options in the market: Mobile
Meta Quest 2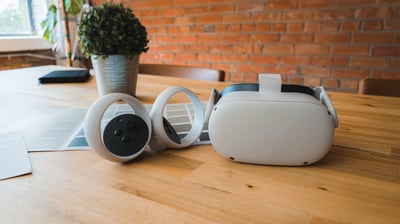 The golden standard for affordable standalone VR
Price: $400
Compatibility: Hardware is built into device. Uses Meta app store.
Comments: The Meta Quest 2 is our top recommended device for mobile VR. Firstly, it does not require a phone or PC to power its VR experiences. It has extremely smart tracking capabilities that allow you to set up a space to use the device in pretty much any environment. And it is much cheaper than any tethered counterpart, but can still deliver great VR experiences. While it is more expensive than the other mobile options on the list, the power of having a powerful mobile VR experience with dedicated controllers and apps cannot be understated.
Homido Mini
Price: ~$20 (14.99€) - Homido Store
Compatibility: Compatible with all smartphones
Comments: These are getting harder to find these days, but they are one of our top recommendations. Designed as a pair of glasses as opposed to a headset/goggle. Definitely more affordable than some of the higher-end headsets, has a sleek design, is foldable, and the image is still clear. The only takeaways from this product are that you don't have the full spectrum of VR. The glasses aren't strapped to your head, and the goggles don't cup around your eyes, which means you have to hold them to your eyes when viewing in VR, and you can still see and feel the environment around you in your peripherals as opposed to being fully immersed in a VR environment. These are still a great light-weight option if you don't want to blow the budget on a headset, and lend themselves to the idea of a portfolio in your pocket more than most alternatives.
View-Master Deluxe VR
A functional retro callback to the classic viewfinder from Mattel.
Image from Walmart.com
Price: $37 – Walmart or similar
Compatibility: Compatible with all smartphones
Comments: Much like the Homido Mini, these VR lenses are designed to be held to your eyes rather than being attached like goggles. However, what sets the viewfinder apart from the Homido Mini is how it cups your eyes, offering a more immersive VR experience by limiting peripheral vision. Despite being a cost-effective option, both the viewfinder and Homido Mini deliver excellent image quality, an effective VR experience, and practicality in usage, making them the top choices for getting the most value out of your investment.
Google Cardboard
Price: $15 - Google Store
Compatibility: Compatible with all smartphones
Comments: Again, like the Homido Mini and Google Cardboard they are designed as lenses that you have to hold to your eyes instead of it being goggles strapped to your head, but like the viewfinder it cups your eyes, and allows less peripheral vision so that you're more immersed in the VR content. Again, this option is also on the lower end for cost, which makes this and the Homido Mini the best bang for your buck in terms of quality of image, effective VR experience, and practicality of use. The Google Cardboard is also very light-weight and packs away easy inside of the fitted cardboard box it comes in. Considering all of the factors, Google Cardboard and Homido Mini are the cheapest and easiest ways to view VR content.
Options in the market: Tethered
Valve Index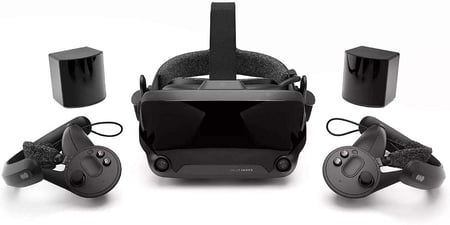 The higher-end option for PC gamers
Image from amazon
Price: $999 – Steam store
Compatibility: PC and Steam applications
Comments: Valve, the name behind the biggest game storefront on PC ,Steam, and some of the most popular games out there, has been making some big moves on gaming hardware in recent years. The valve index is their first VR device and set the standard for tethered gaming experiences today. Their controllers stand out with unique finger-tracking tech that can be quite immersive in certain experiences. As well they were one of the first headset to greatly increase the FOV for users.
HTC VIVE Pro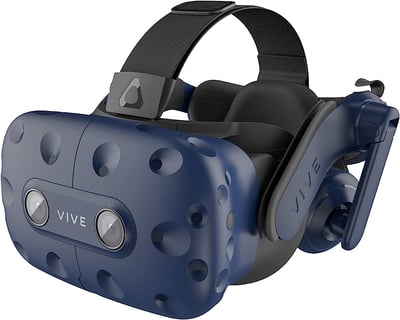 The best resolution you can get for tethered headsets.
Image from Amazon.
Price: Starting at $800 for the headeset alone
Compatibility: PC Computer
Comments: HTC entered the VR game around the same time as Oculus and has been a part of the VR community since. It hasn't reach the popularity of the new Meta devices, but it is well-known among high-end games. At the moment it offers the highest resolution for PC VR gamers with a whopping 2,448 by 2,448 pixels per eye. It is compatible with other controllers such as the valve index ones allowing you to mix and match your experience.
Sony PlayStation VR 2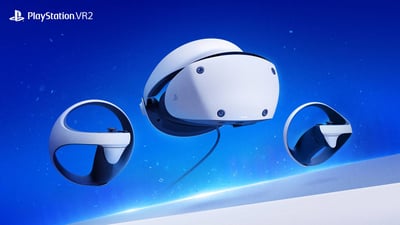 Sony improves upon its previous headset with new controllers, eye-tracking and improved screens.
Image from Sony
Price: $550 (requires playstion)
Compatibility: Playstation 4
Comments: This is a gaming focused headset that was built to be used specifically with the PlayStation 5. It is a marked improvement over the last headset with new haptics, eye-tracking, and a new lineup of games and experiences built specifically for the device. Along with its eye-tracking comes a new foveated rendering technique that focuses the rendering power on where the user is looking, improving performance. However it is strictly for use with the PS5 and it may not have as general of use as tool used for business.
Matching the headset to how you want to use it
Now we have or VR headset comparison data, it's time to break down which headsets are better for what you would be using it for.
For mobile headsets, the majority of the work is being performed by your smartphone, and the headset is merely the vehicle used to view the content, which is what allows companies to keep the price of the headset relatively low. Think of it as if you're in a rooted chair; you can look all around you but you can't interact with the 3D space unless there are hotspot options that will virtually move you around. Mobile headsets are standard if you're just looking for something to use for work or leisurely, and if you aren't looking for anything more than just a visual and/or auditory experience. Mobile headsets make more sense for those who are not planning on playing more invasive video games because there is no motion sensors or movement tracking. And we think they're the most practical for business applications. Typically in a meeting featuring a VR presentation, you'll want to pop in and out of VR while you discuss the presentation - so straps can get in the way, and controllers can be intimidating. And of course, the mere reality of mobile means you can present to clients located anywhere. Your virtual reality headset comparison can't be complete until you consider the ways and locations in which you typically are trying to show VR to clients or any audience.
For tethered headsets, the majority of the work is done by a powerful processor inside of some sort of hardware purchased alongside your headset. The cost is much higher, but your experience in VR will have a lot more dimension than the mobile experience. Tethered headsets make more sense to purchase if you plan on playing with interactive content in gaming. To choose which tethered option is best for you, you have to consider how often you'll use it and with what games you want to play. Oculus will have the most options for content to experience in comparison to the other tethered options, but it also has the largest price tag, and Sony Playstation VR is the cheapest option, but you're limited to the games that PlayStation releases. In business, tethered rigs can make a great splash at trade shows, but can be impractical if you have to have clients come to you for every presentation.
Some Yulio clients started out exploring them for the immersive quality of VR but ended up struggling because clients didn't want to come in to see each design iteration. One of the most useful VR headset comparison field tests for one of our architectural clients came when he set up a simple mobile experience at a tradeshow booth, only to find his neighbor table struggling with a tethered setup. While the tethered looks cool and is fully immersive, in the end, the trade-off of simple set up that achieved the same goal worked well for them. After all, the real goal is sharing your vision in a new and immersive medium.
Want to know more about VR? Experience it for yourself with our free account, or sign up today for our free 5-day email course.