The field of architectural visualization is a striking blend of photorealism along with creative design aspects to create artistic, inspiring and entirely new experiences of spaces. Ronen Bekerman, the man behind anything and everything surrounding 3D architectural visualization and rendering, recently concluded his 7th annual CABINS challenge. In this challenge, we got to see competitors face-off against one another to showcase their show stopping architectural visualization skills and show how exactly they took advantage of some awesome tools at their disposal to get to their end design concept.
The CABINS challenge, which Yulio was proud to sponsor, took place over a span of 105 days, and the judges ended up seeing almost 450 entries, which lead to 24 finalists, 3 winners, 3 honourable mentions, and a countless amount of immersive experiences delivered!
The Architectural Visualization Challenge:
The objective was to visualize a prefab cabin, whether it was one that exists today or one that was custom created for this challenge.
The contestants had a full library of 3D scanned items, objects, landscapes and more to use, and they also had to consider the immersive element of viewing in virtual reality using our platform to make a successful entry for this contest. This is the first of Ronen's challenges to include a VR element, which brings a new level to the placement of the Cabins within 3-D space. We asked Ronen why this was the moment to bring VR to his challenges, and he said, "VR has finally reached the tipping point, and it is here to stay. As I'm always trying to push the boundaries with the challenges, now was the perfect time to ask the participants to tackle the creation of a full 3D scene to be experienced in VR. Besides all the obvious benefits of VR, there is one significant aspect that makes it so natural in taking over architectural visualization and architectural design, and that is the sense of scale it provides. Exploring the design from within makes a vast difference and I'm sure we'll see VR being used more and more and become part of the standard flow."
Some challengers also took advantage of our audio hotspot feature to include some ambient sounds in their designs and increase immersion.
Some inspiration:
The contestants drew inspiration from some designs by a Parisian illustrator, Marie-Laure Cruschi who crafted these designs specifically for a book titled, "Cabins" by Philip Jodidio.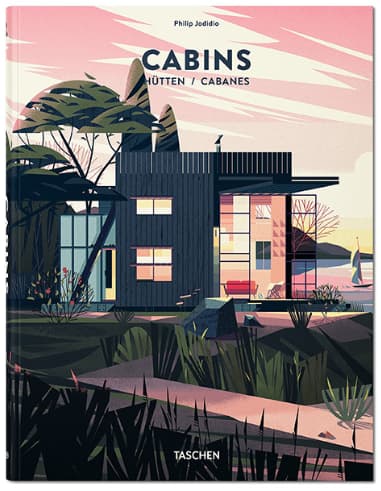 The contestants drew inspiration from some designs by a Parisian illustrator, Marie-Laure Cruschi
How the submissions were judged:
The winners were chosen by leading artists in the field of architectural visualization from around the world. The judges included Teddy Bergsman (CEO and Co-Founder, Quixel), Peter Guthrie (Co-Founder, The Boundary), Andreas Landgren (Co-Founder, Tomorrow AB), Gianpiero Monopoly (Co-Founder, State of Art Academy), and Ronen Bekerman himself (Co-Founder and Manager, The Craft).
Now, let's check out our top designs from the contestants: (and click the title of the projects to view them in VR!)
Bartosz used hotspots to show size, scale, and perspective of his cabin placed in Icelandic Thórsmörk. The warmth from the fireplace against the stark landscape truly shows how idyllic this cabin design is within this specific landscape. He also made great use of aspect placement to showcase the landscape and detail throughout the renderings that otherwise would have been lost if placed elsewhere.
Check out some of the comments from the judging panel here, and read more into The Making of Northern Wisps here.
Jamie used hotspots, not only to showcase the details within the cabin design, but to showcase views from up high, down, below, and everywhere in between. The immersion you get from this design is beyond our expectations by bringing us into what seems like an island oasis.
Discover more from behind the scenes of "Inside Out" and check out some of the comments from the judging panel here.
Sergey used his hotspots to showcase his cabin during different parts of the day, but he also used audio hotspots to create an ambiance that really strengthens his immersive experience within his design. His use of hotspots really makes you feel like you're there and as if the landscape is truly alive.
See what Sergey had to say about his design, and discover some of the comments from the judging panel here.
Honorable Mentions:
See the specifics behind "A+A Frame" and check out what the judges had to say here!
For Alex, this design hits close to home with not only personal touches but real life intentions! Check out what Alex had to say about her design, and what the judge's comments were here.
Read about Ana's background concept and what she thought about using Yulio VR to bring her design to life, as well as the comments from the judging panel here.
This challenge proves that with practice, skill and with the help of some wicked powerful tools at your fingertips, you too can create photorealistic and immersive experiences that can elevate your designs to a level that wasn't achievable without the technology that's available today!
Begin enhancing your renderings into virtual reality experiences today, sign up for your free 30-day full-feature Yulio account. If you need a hand creating your first virtual reality experience, sign up for our free training webinar here! You'll get the full walkthrough from start to finish while answering any questions you have about your designs in VR!