It's no secret that the first hurdle most people are faced with when exploring VR as a business tool is creating VR content.


How do I create content for VR?
Is it expensive?
Do I need any software programs or extra hardware?
Where do I even begin?

Perhaps you are familiar or have even asked these questions yourself. Unfortunately, creating content ready for viewing on virtual platforms has seemed to have gotten a bad reputation in being too complicated to understand or to implement in a designer's workflow. Sometimes it's a big enough barrier to deter those interested in improving their processes to saying "it's just not for me". And especially in our current situation, knowing which method of content creation would be more suitable for remote work is even more challenging to navigate.
Many local governments in North America have started to head into Phase 2 of their reopening plan. The state of Texas was perhaps one of the first to announce that businesses can start opening their doors while still certain protocols. Similarly, the Premier of Ontario recently announced that the province will head into their own plans for Phase 2, extending their gathering limit from 5 to 10 (while still observing 6 feet apart from those from different households). While it may seem that the world is starting to see the light at the end of this long and tiring tunnel, the underlying feelings of uncertainty and being careful has not lifted and will probably carry on even when we are able to head back to our physical offices.
That being said, how can designers or even salespersons continue creating VR content with the continual concern of maintaining safety and reducing the spread? By looking into solutions that are flexible, versatile, and will allow you to create remote VR content. There are generally two camps for VR content creation: 360-degree photography and rendering with CAD programs. We have previously explored the different ways of VR content creation, however, between the two, rendering with CAD programs is the most suitable method in our current climate.
Let's explore this further.
Create Without Leaving Your House
360-degree photography is still currently one of the easiest ways to VR content. For starters, it's incredibly accessible since anyone with the hardware can capture stunning images ready for immersive experiences. Whether you're a salesperson or a designer, all one has to do to capture 360 photos is to follow the camera's instructions and to keep a steady hand. While there are 3D modelling programs like SketchUp that don't require weeks of training but are simple to navigate, it definitely can't beat the ease of "press and hold".



Image retrieved from: New Atlas


There is no denying that 360 photography is one of the easiest and fastest ways of churning out VR content. However, the downside is that you have to be physically present at the location in order to capture the space. Anytime anyone steps out of their house, they not only pose a risk to themselves, but also to others. And while certain cities are starting to enjoy greater freedoms bit by bit, we all aren't completely out of the clear and must continue to stay vigilant. Plus, with certain areas in North America still under relatively strict lockdown, this option may not even be possible to do at this moment.
Using 3D modelling or CAD programs are the best way to create remote VR content while doing your part in reducing the spread of the virus and staying put. Even when we're all allowed to head back to the office and restart "business as usual", your clients or perhaps even you may not feel comfortable meeting in person -- and that's okay. Until there is some advancement in medicine or the release of a vaccine, most of us will still feel uneasy, anxious, and careful. The beauty of rendering projects from 3D modelling/CAD programs is the ability to create VR-ready content within the safety of your own home. Not to mention how you can continue rendering from CAD programs even when you return to the office. Creating remote VR content by rendering from CAD programs allows you to still work on projects while staying safe.
Editing Made Easy and Accessible
When capturing a space with 360 photography, photographers usually have a slot of time that typically would last around 45 minutes to an hour, but this is highly dependent on the type of project. For extra large spaces or huge showrooms, it could take a full day. However, when it comes to this type of VR content creation, you need to make the most out of your time and take several shots or versions of the space. It's not the easiest process trying to edit or fix your 360 photos, and sometimes it's not accessible or possible to head back to the space to try and reshoot it.
Let's say you were capturing your booth or your client's space at a tradeshow. However, when you return to the office and go to check the photos, there seems to always be a random person caught in the shot or the images aren't as clear as you would have hoped. While you can still go ahead with uploading the photos and hope no one gets distracted by something being off, the final experience could be that much more impressive and stunning if you could just edit or change parts of the image.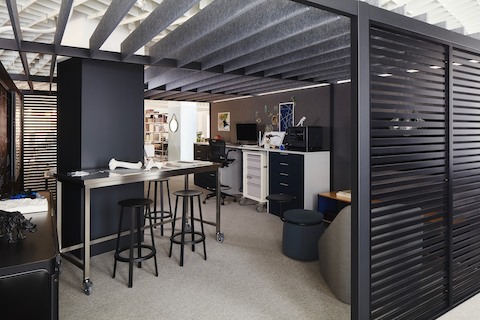 Like this space from Herman Miller's showroom at NeoCon 2019, you only have one shot to capture this space perfectly.


Editing your finished rendered project just like revising a PDF file. While the PDF itself cannot be easily edited, all you have to do to make the changes is to revert back to the program or tool used to create the finished file. Similarly, perhaps your team member found some areas that could be improved or your client would like to make a few changes to your design, all you have to do is to apply the changes in your 3D modelling/CAD program and send it off to render again. Rather than needing to go back and reshoot spaces if the end product wasn't up to par, 3D modelling/CAD programs allow you to stay flexible especially when creating and editing remote VR content.
Design the Future
While 360 photos are able to capture stunning immersive images, they are only able to photograph spaces that currently exist. Perhaps the 360-degree media you have seen are the 360 videos on YouTube or the virtual experiences offered on real estate websites. However, in this current climate, there is currently no need for capturing spaces that already exist. And unfortunately, designing for the future is one feat that 360 photography cannot accomplish. Businesses are now looking forward and anticipating designs that will go beyond the present to rethink how we can create spaces that are stunning and safe. One type of project that we have seen become increasingly requested -- not out of popularity but rather necessity -- is redesigning/reconfiguring work spaces.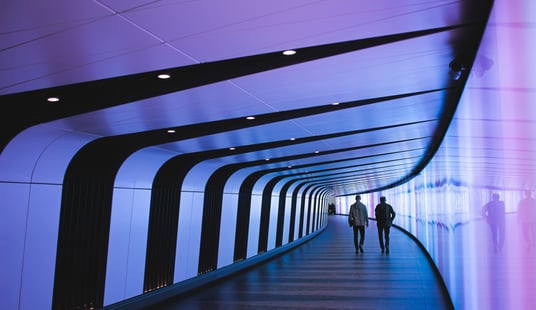 Design knows no bounds when creating on a 3D modelling/CAD program.


Whether it's for corporate office spaces or even B2C businesses, companies have recognised the need in ensuring their environments are COVID-19 compliant and safe enough for the return of their employees. 3D modelling/CAD programs are the best choice for designing the future as it provides a platform for designers to explore and experiment creating new spaces. Unlike 360 photography, design programs allow you to start with a completely blank slate and to let the designer's creativity run wild. Especially during this period of remote work when businesses are looking ahead, design applications may be the only way you can continue landing new projects and executing them while working from home.
3D Modelling/CAD Programs: The Go-To Method for Creating Remote VR Content
360 photography is still one of the best methods for capturing spaces to be viewed in VR. Not only does it require virtually zero training, but it doesn't have any limitations as to who can take the 360 photos - there is absolutely no need for a designer to take these photos. And while it will always be a quick and simple way to create VR content, in our current circumstances, it's not the best option for creating remote VR content. With 3D Modeling/CAD programs, there is greater flexibility and freedom in terms of what you can design and edit as well as the choice to continue chipping away at projects without posing a risk to yourself or others. Although it may take some time to learn how to navigate creating content with these programs and rendering them into images, this is one skill that will prove to be valuable in our current climate and in the future.
---
Here at Yulio, our VR platform supports both 360 photography as well as rendered images from 3D modelling/CAD programs. To upload your own content and to try creating VR projects for yourself, sign up for our 30-day free trial. Get access to all of our most popular features today. Interested in shaving the time to render your projects? Learn more about our cloud-based rendering platform - Yulio Jump - that can render your projects from SketchUp or CET Designer.