At the beginning of January, the annual Consumer Electronic Show (CES) took place in Las Vegas, Nevada. This conference is a chance to see the latest and greatest in electronic products coming to consumers shortly. Some of the biggest products there are TVs, Automotive tech, and unsurprisingly, the latest in XR-related technology.

Each year we hear about the newest products on the way from some of the biggest companies in the XR industry and this year was no different. We saw new products announced by some of the biggest names in XR, the newest VR Headsets, and some unique companies announced their first foray into the XR industry. Check out our recap of the biggest headset trends in XR from CES.
HTC's New XR Headset looks to compete with Meta
HTC was one of the first major companies onto the VR scene with the release of their Vive headsets. For a long time, they have been one of the major competitors for Oculus/Meta as the main choices for the higher end of consumer VR. As Meta moved more towards their standalone Quest headset line, HTC followed suit, but with a little less consumer share than the Meta device. However, HTC is continuing to compete and their newest headset seems designed to offer an alternative to Meta. When it comes to consumer trends, following where they are investing can give us a glimpse of what's coming and HTC still wants to be in the conversation about headset trends.

At CES 2023 HTC announced the HTC Vive XR Elite, a new standalone XR headset with many features similar to the newly released Meta Quest Pro.
With high-resolution screens and color passthrough, the HTC Vive XR Elite presents a similar VR and AR experience to the Meta Quest pro. The HTC Vive XR also looks to change how you wear VR devices. The headset is modular allowing you to change the strap to wear it more like a pair of glasses when you want an even more portable experience. This could be particularly relevant to a business setting, where meeting attendees may be reluctant to put a larger rig on their heads - fears of feeling foolish or messing up one's hair in a formal setting are very real, so watch for this 'pop in and out the idea in trends in XR from CES.




The way it differs from the Meta Quest pro is in some of the tracking technology. The HTC Vive XR Elite doesn't have the same mouth and eye tracking as the Meta Quest Pro, however, it is reported that that could be on the way with an accessory. Because of this, the HTC Vive XR Elite comes in at a lower price than the Meta Quest Pro at around $1,100. It will be worth waiting to see if this resonates with VR enthusiasts and if its price tag comes with valuable features for business users.

(For a full rundown on the Meta Quest pro, see our full article on it here)
New AR Glasses From Multiple Companies
A significant trend in XR at CES from multiple companies this year was the announcement or release of several AR Glasses. With AR becoming more commonplace these days, many companies are looking to capitalize. We saw reveals from companies such as Lumus which is looking to create inconspicuous AR glasses. We saw reveals of the Magic Leap 2, a pair o AR Glasses designed for use in clinical settings such as assisting in surgery. But we also saw AR glasses and other XR devices come from a new company making their way on the XR scene.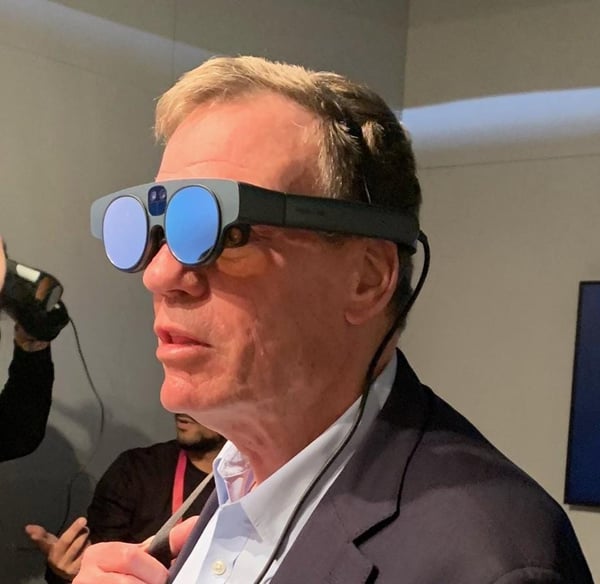 The Magic Leap AR Glasses are designed as a tool to help in medical settings. (Photo credit: Forbes)
If you're not using AR in your presentations, it is an engaging way to place design elements in context for your clients and create attachments at the moment. It's easy to create AR objects direct from your Revit files, with Yulio Jump as well - build an AR object from anything in your Revit project in a few clicks.
TCL Entering the XR Game
TCL is a manufacturer that to many consumers is known for televisions. They've been a good budget-friendly option for many people looking to get 4K TVs. However this year they surprised people by announcing three separate XR devices.

First, they announced a multimedia AR device that simply creates a display from pretty much any video source. Such examples are phones, gaming devices, and more. It's a pretty niche device that isn't too complex but probably appeals to AR enthusiasts.

Secondly, as we touched on before, they announced their version of AR Glasses, the RayNeo X2. These glasses at a glance could easily be mistaken for normal glasses. However, they have some impressive tech built in that could help you translate foreign languages in real-time or provide directions as you navigate around in the real world.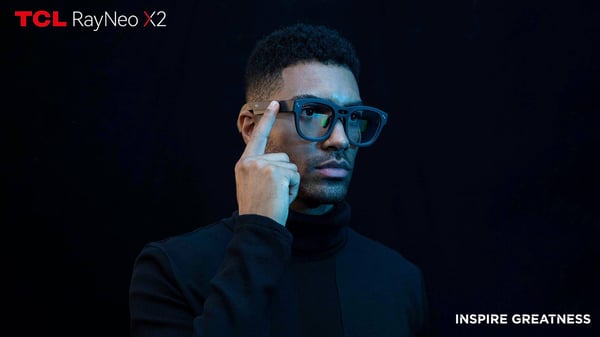 Finally, they announced a true VR headset, the NXTWear V headset. This headset is currently only a concept, but in the concept, they state the device could weigh less than a pound and have a pixel density of 1512ppi, something that is unheard of in today's headsets. Getting the weight down for any headset could make it more practical to pop clients in and out of and even more mobile for taking to client offices.
Exciting news for the future
This was another exciting CES, with lots of announcements for tech enthusiasts. As VR experts, Yulio is always excited to see the latest trends in XR from CES - they are often a glimpse into how consumers may adopt this tech. Those are habits and expectations they take into their business roles, as well. To make sure that you are always up to date with the latest in VR in, make sure to stay tuned to Yulio's channels.