Around this time last year, we were wrapping up yet another successful CES conference where tech professionals and enthusiasts returned home fully hyped and ready for a year of spectacular VR headset releases. From the exciting reveal of the brand new Pico Neo 2 VR headset to the powerful yet lightweight Panasonic Ultra HD VR glasses, 2020 was bound to be the year where we welcomed and experienced the highest degree of innovation and immersive realism. However, in about two months time, much of how we do business including the ability to attend events and conferences will take a drastic digital turn.
Much to many people's dismay, CES 2021 went virtual this year. From Monday the 11th to Thursday the 14th, each day was packed to the brim with speakers and top industry professionals unveiling their latest projects, giving sneak peeks for what's to come, as well as giving insight and vision casting what we can expect from the tech industry this year. Unlike previous years, we noticed there were significantly less VR headset specific announcements. Perhaps all that happened last year put a halt in production and the international mass work from home order forced companies to postpone the plans they had.
However, this doesn't mean that there are no headsets that will be released this year - on the contrary. While companies may not have joined in on the virtual CES this year, we will be highlighting a number of headsets and VR hardware you can look forward to in the not-so-distant future - let's dive in.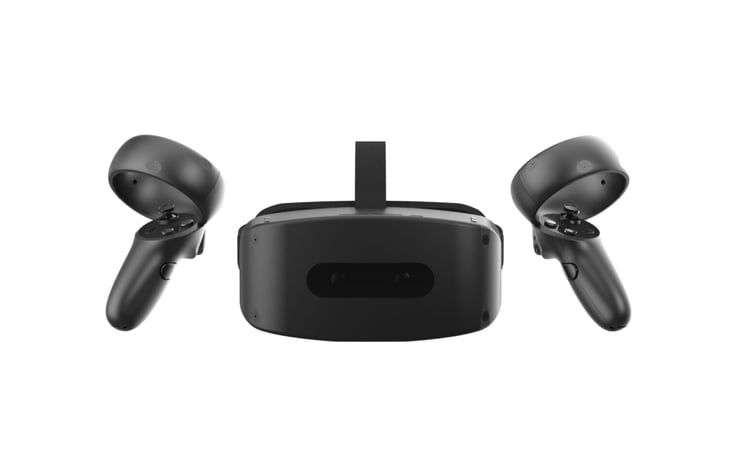 Image Courtesy: Nolo VR
Nolo VR
Motion tracking specialists Nolo VR showcased their brand new standalone headset, one of the only VR headset announcements at CES 2021. While Nolo VR has yet to reveal the product's name, the headset is currently referred to as the 6DoF Inside-Out All-in-One VR headset. Utilizing the Nolo VR SodarTraq ultrasonic positioning technology and a dual-camera SLAM system, the headset gives a complete 6Dof inside-out tracking without any additional external sensors. The new device is an ODM (Original Design Manufacturing) solution, where the intent is to provide companies the opportunity to take the design and rebrand it to make it their own product. This type of solution is perfect for companies looking for a way to get in the market.
Specs and further information like weight of the headset or battery life have yet to be released, but we expect to learn more and see this new and soon to be named headset on the market soon.
Unai
A brand new startup is entering the VR headset scene - introducing Unai. Unai's focus and mission is founded on their firm belief that VR is the future of social interaction. In order to execute their plan, Unai is not only creating a virtual world for users to experience this era of immersive technology but they're also building their own VR headset. While the headset is currently in the early stages of development, what we know as of now is that the headset will be a standalone all-in-one headset. There is no further information whether the headset will be Android-based or not. The headset comes with a dedicated box that will connect to your home network and will have CPU, GPU and other components in powering the VR experiences.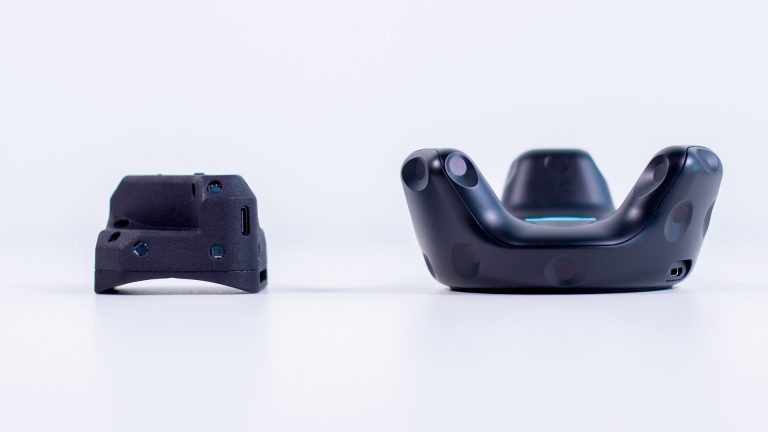 Image Courtesy: Tundra Labs
Tundra Trackers
While the Tundra Trackers are not a VR headset, this piece of VR hardware could prove to be a revolutionary alternative. Plus, Tundra Labs is currently projected to host a Kickstarter campaign this month. The details of the Kickstarter are not yet set in stone, it was said that they will also offer "multi-port dongles", giving users the ability to pair multiple trackers with a single USB connection.
The Tundra Tracker is a tracking accessory, aimed to act similarly to the Vive Tracker but better. The Vive Tracker is a device that is able to capture full body tracking. By attaching it to the user's hands, feet and hips, the device is able to accurately translate and provide six points of body tracking versus the conventional three (head and hands). However, Tundra Labs is offering a smaller, lighter, and more battery-efficient option. The Tundra Tracker is said to be " "60% smaller, consume about 50% less power, weigh 50% less, and have twice the battery life," compared to the Vive Tracker. However, instead of being a direct competition to the current de facto tracker, Tundra Labs designed this device to be able to work in tandem with the Vive Trackers, giving users the ability to augment their tracking setup without forcing them to choose one over the other.
Other Headsets to Look Forward To
Here are a few companies that are rumoured to have VR headsets in the works and ones to look out for in the new year.
HTC "Next Level" VR Headsets
Many VR headset and HTC Vive enthusiasts have been waiting for the next big release from HTC especially after the underwhelming Vive Cosmos headsets. This year may be the year. HTC has been dropping a few hints that their upcoming "Next Level" releases will rival the hype, excitement and stunning experience of the original HTC Vive release in 2016. While there is virtually no further information released, keep your eyes peeled for this seemingly outstanding release.
Pico
Pico has also been incredibly silent as to their plans for the new year, but it was also said that they may be releasing a VR headset in 2021. While this is mostly just speculation, we're ready and excited for their next generation of VR headsets.
The Upcoming Rise of

All-in-Two

?
Although HTC has been hush hush about their upcoming headset plans, HTC Vive EMEA General Manager Graham Wheeler predicts that the next iteration of advanced VR headsets will move beyond the all-in-one to all-in-two. What Wheeler is describing are lighter AR/VR devices where it won't house any computer onboard but are instead connected to a smartphone, like the Nreal AR glasses.
"It's technology we've looked at for some time, tackling the problem from multiple angles including working with chip manufacturer industry leaders Qualcomm to create the VIVE Wave platform, meaning powerful smartphones running 5G can drive XR experiences."

- Graham Wheeler, General Manager HTC Vive EMEA
Regardless whether we'll continue on the all-in-one journey or heading into the new realm of all-in-two, we hope you're as excited for these upcoming releases in this brand new year.
---
To stay up to date with VR news, VR headsets and all things Yulio, follow us on Facebook, Twitter or Linkedin. For monthly insights on Virtual Reality in Architecture, Interior Design and more, subscribe to our newsletter here.