In our many conversations with architects, designers, and real estate teams, we hear over and over again that many people (they estimate about 80%) aren't very good at mentally translating design to real space. That inability leads to people being hesitant to sign off on design and to ask the professionals the same questions over and over again. All due to lack of confidence in visual translation. That lack of confidence has real consequences. Choosing to buy a new sweater online without trying it on can be fraught with disappointment. When it comes to imagining a proposed home renovation, the stakes are much higher. Making decisions around the spaces that we will live and work in have high stakes financially and emotionally, and the inability to properly visualize a finished project can either paralyze a design process or worse, lead to disappointment when a project's finished. It's in situations like this that virtual reality significantly impacts people's ability to translate and make decisions, as it has the power to immediately turn 'the proposed' into something that can be experienced as if it is real, removing the ambiguity of translation. But as we watch more and more A&D firms use the power of VR for interior designers to create a shared vision, we've seen some patterns in the things VR most clearly helps clients decide.
Seeing is ... Understanding
A home renovation requires clients to mentally pull together space, functional elements in a room and colors and finishes, typically from drawings and swatches. VR's immersive quality puts all these elements in one image. We recently created bathroom finish configurator which enabled a bathroom design to be viewed in VR and the multiple finishes, including tiles, wall colors, flooring, etc, to be changed at will to different combinations. When designers use VR for interior design, the result lets a client be immersed in design instead of holding up swatches against walls and squinting at them. What was particularly interesting to us when creating the initial VR interior design was that, while each combination looked great when we viewed them on our browser mode, fishtank VR, it was only when we 'put them in a headset' and viewed them in immersive VR that we saw the specific confines of the space and how particular combinations of finishes either improved or took away from the look and feel of the environment. Being inside the space gave a very different and incredibly useful perspective, and really made viewers appreciate the confines of design and the efficient ways the designer had used the space.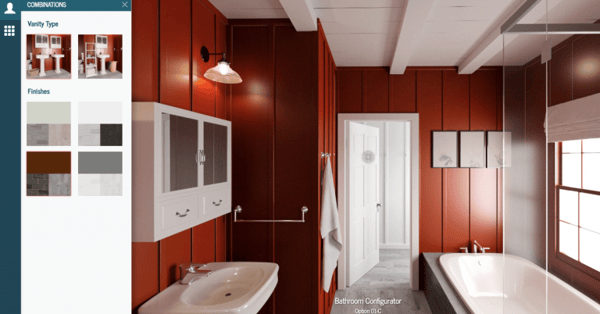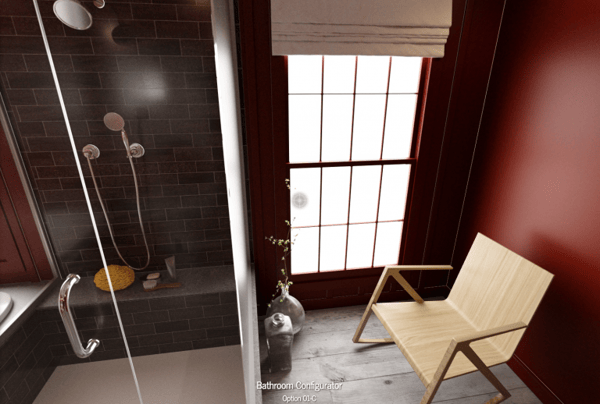 In our office, we're constantly talking about how important it is to put something in a headset. At Facebook, they say "put it on your face" but we all mean the same thing - you will see things in VR you just won't in any other medium.

Putting it in a headset
While putting designs in a headset can help viewers see areas they wouldn't be able to appreciate in the same way using other mediums, VR for interior designers also helps to design 'in full'. Yulio recently ran a competition with young architects to design a new environment in VR and a few submissions came in without showing any floor or ceiling. These areas can often be overlooked as designers first move to VR. They are used to set a viewpoint into a vision and need to re-think VR interior design which gives the viewer greater power - and to look around a completed space. We recently carried out a survey with architecture students at Toronto's Ryerson University who have become familiar with using Yulio's VR technology after it was implemented as a key component of their educational program in 2016. Flooring and ceiling finishes have a major effect on the light and shadow of a room and the vast majority of students felt that using VR has led to them having far more sensitivity to these elements of their designs, along with the sense of the scale of the space, and greater sensitivity to the materials used.
Having the 'whole picture' perspective through putting designs in a headset was felt to help them make decisions on which floor and ceiling treatments worked best within spaces they were creating.
Deciding to Buy
It's not only within VR for interior design that the technology is helping people take the abstract and enable them to experience it as it would be in the real world. Within retail, VR can be used to help consumers see products outside of showrooms and removed from shelves and placed within curated environments that show them in action. Lowes has been using the VR interior design concept with their Holloroom that lets customers create an environment complete with all finishes and colors to experience it themselves.
While a virtual experience will never fully replace visceral ones, what VR is able to do is allow potential buyers of products, experiences, and design to get a truer sense of what they are purchasing. In all cases, it provides an immersive presentation that goes far beyond any printed brochure or 2D drawing To begin using the power of Yulio for VR interior design, sign up for a free account today. To stay updated on the latest in Yulio and VR, follow us on Facebook, Twitter or Linkedin!